Justin reviews the 1986 classic Labyrinth, reskinned by Ravensburger for The Super Mario Bros. Movie!
The Ravensburger game Labyrinth first hit shelves in 1986. Yes, the classic family shape-shifting maze game is nearly 40 years old.
But, guess what is just one year older? The Nintendo video game classic Super Mario Bros., featuring all of the classic characters you remember: Mario, Princess Peach, Bowser, and all of those crafty bad guys. Even though I was a SEGA kid growing up, it was hard to deny the magic of the Super Mario games; they were the best platforming games out there.
In anticipation of the Illumination Films release of The Super Mario Bros. Movie, Ravensburger has reskinned the original Labyrinth to feature all of the video game's characters. Super Mario Labyrinth is the exact same game as the original, in terms of gameplay.
Our team hadn't previously covered the original 1986 game so we thought it was a good time to find out: does the gameplay of Labyrinth hold up?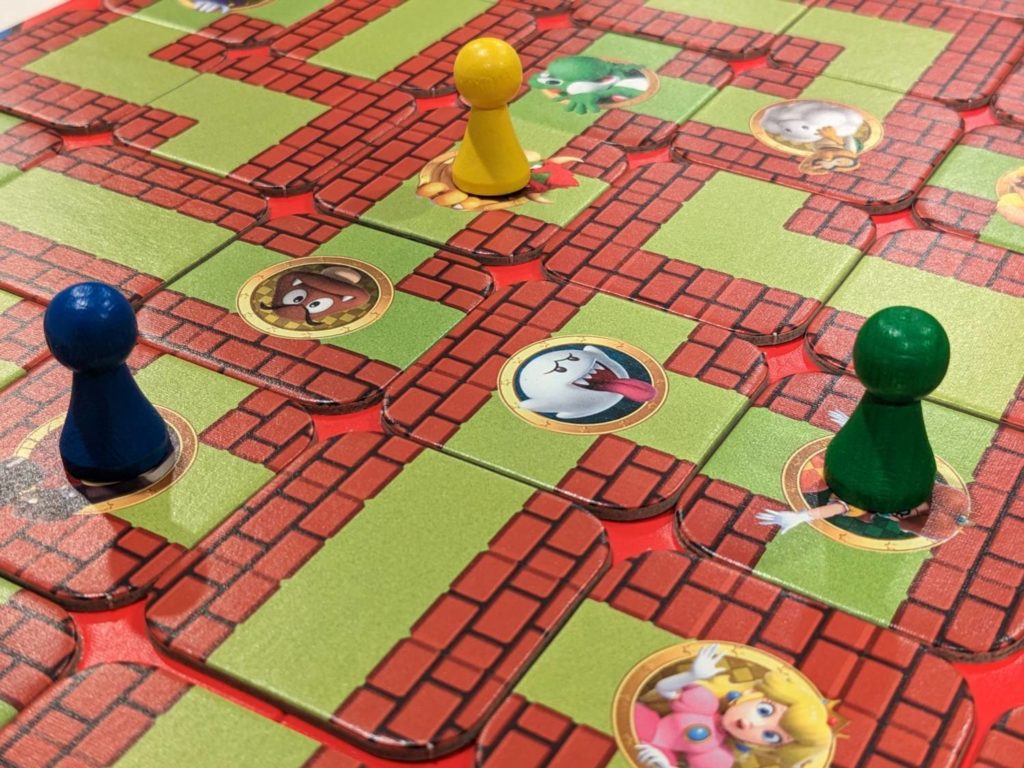 Watch Out, Wario!
Labyrinth's concept is easy to teach. A 7×7-tile grid makes up the game's board, representing straightaways, L-shapes, and intersections of a nefarious-looking dungeon. Three arrows on each of the board's four sides indicate the place where tiles can be pushed off the board. Each player has a pawn and a deck of cards representing targets that need to be touched in a particular order, along with the single tile that was not placed during setup.
In Super Mario Labyrinth, the targets are all of the characters you would expect to see in a Super Mario property: Bowser, Donkey Kong, Wario, Toad, Yoshi, Shy Guy, Goomba, Koopa Troopa, and, well, Boo (the flying ghosts). Of course Mario, Luigi, and Peach are here too, and all of these characters are featured as permanent additions on the map or as tiles that will be added to make the game's maze.
On a turn, a player holding the extra tile—representing a piece of the path that can be inserted into the maze—picks an arrow location where they will insert the tile in any orientation they would like, pushing until a tile drops off of the other end. Then, based on their pawn's location, they can move the pawn as far as they would like towards their current target. If the pawn reaches their target, the player flips over their next target to pursue on their next turn.
Games of Labyrinth end when a player empties their deck of targets then returns to their starting location. My plays typically took about 30 minutes each.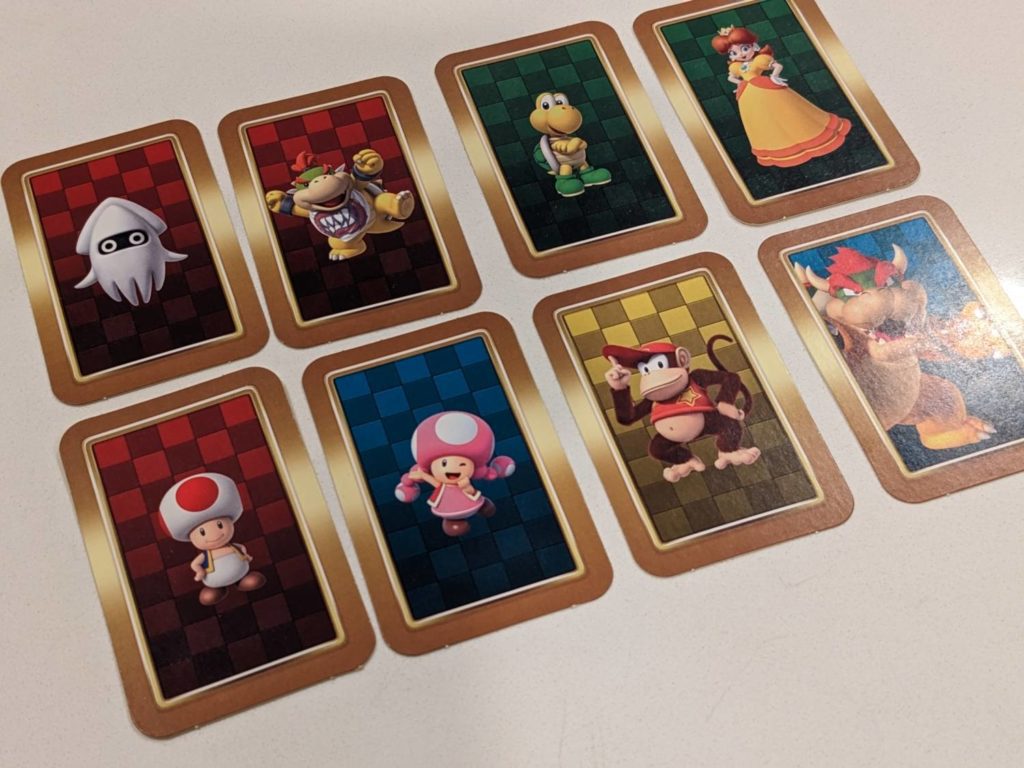 Does it Hold Up?
Super Mario Labyrinth proves that the original Labyrinth still plays well, particularly as a family-weight game that can serve as the night's main event or as a filler with adult players. Turns are quick and it's fun to watch the maze slowly shift over time, as crafty players insert tiles in a way that lets them run all the way across the map to touch their current destination card.
As you would expect, there were games of Super Mario Labyrinth when a player hit their third or fourth card, then flipped their next card and revealed a character that would be easy to reach on their very next turn. There are always going to be moments like that, but so far that has balanced out during the course of a full game.
Our major finding as a family: with young children, play with the variant for younger players. In this format, instead of revealing target cards one-by-one, give younger kids all of their cards face-up to begin play. This way, they can try to grab any of the characters closest to their current location during their turn. As my daughter noted, adults do seem to have a slightly easier time visualizing how their inserted tile will shift the entire board to their needs.
Otherwise, Super Mario Labyrinth (or any version of Labyrinth, really) is a strong recommendation for anyone who has never tried the original. Fans of a good puzzle will enjoy their time with Labyrinth and the movie tie-in works well for anyone who loves the Nintendo games.