Clan Warchiefs descend upon Northgard. Check out Tom's review of Northgard: Warchiefs from Studio H Games.
There are now two expansions for the streamlined 4X game, Northgard: Uncharted Lands, Warchiefs and Wilderness. In this review, I'll be looking at the Warchiefs expansion. (Click here to read my review of the Wilderness expansion.)
In Northgard: Uncharted Lands, (shortened to Northgard for this review) players will add tiles to explore the landscape, add units to their clan, move into new territories, and battle rival clans to conquer lands and claim resources for their own. If you're new to Northgard, I suggest reading my review of the original game, as I won't be going over the base came components or gameplay in this expansion review.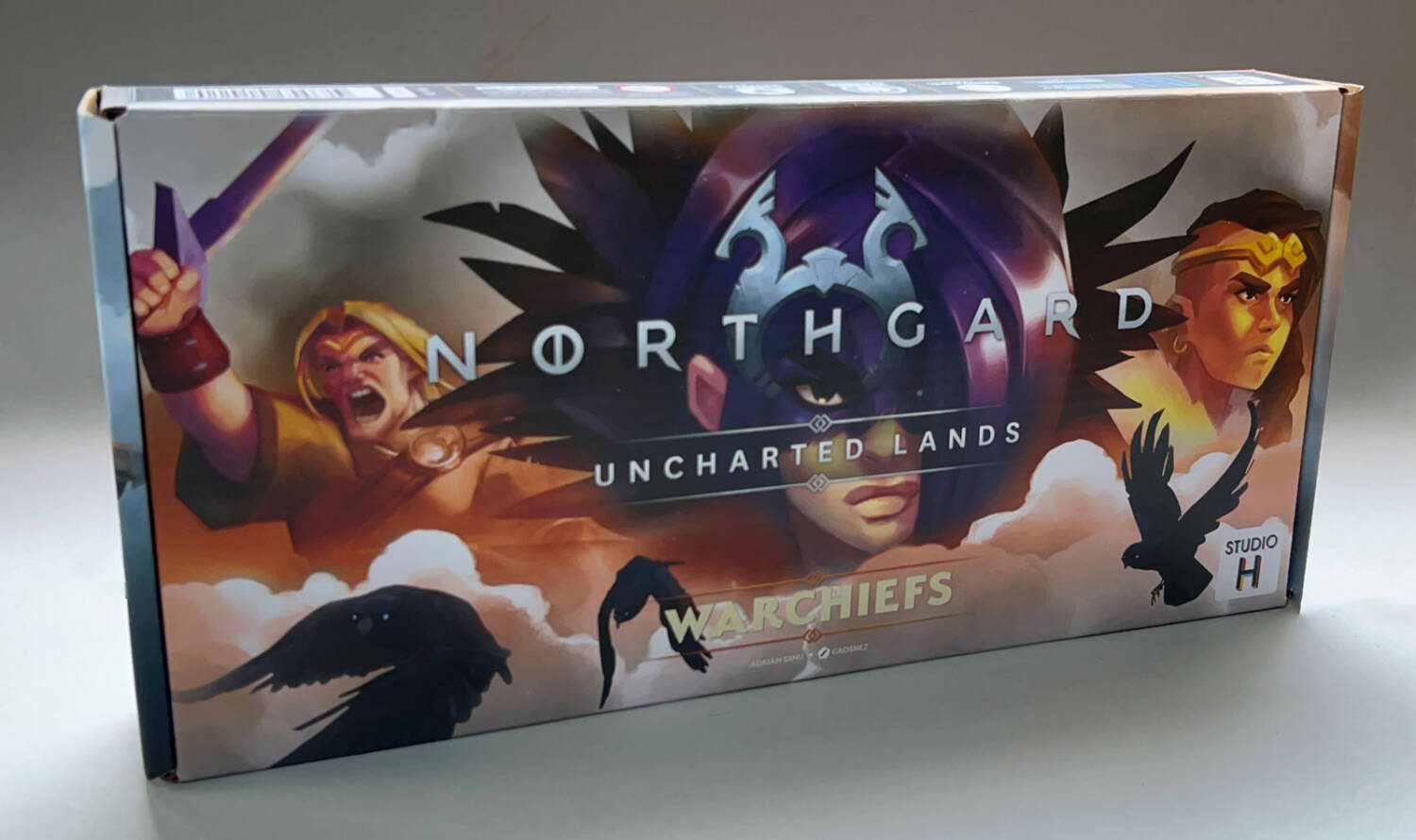 The Warchiefs expansion adds elements that will improve your card management playing area, a clan warchief miniature, and an additional clan upgrade card. 
Your turn options for each round in the game are determined by the cards drawn from your player deck. That draw deck is supposed to be on your left, with cards played that round set down, face up in front of you. Discarded cards go in a pile to your right. In our first play, my group got piles of cards confused, requiring early shuffles of cards. Although minor, it did make me realize a physical reminder of what-goes-where would be helpful.
This is addressed in the Warchiefs expansion with two sets of interlocking cardboard components. On the left edge is a section marked Draw Pile. In the header is a reminder of your card's Active Area. The central section includes a description of the available turn actions as well as the sequence of events for the Creature phase, Harvest, and Winter. 
The right side piece is clan-specific. You'll see your clan's special power, as well as your warchief's special power. This is a welcome addition, as gameplay inevitably slowed each time we had to reference the rules to remember what our clan's abilities were. Then, along the right edge is a reminder for your Discard Pile.
Each clan also gets its own plastic miniature warchief, with the Bear Clan also getting a miniature of Kaija the Armored Bear. These each snap into rings that match the color of your clan warriors for easy identification on the board. Warchiefs can be added to the board in any standard recruit action and count as 2 Axes in battle.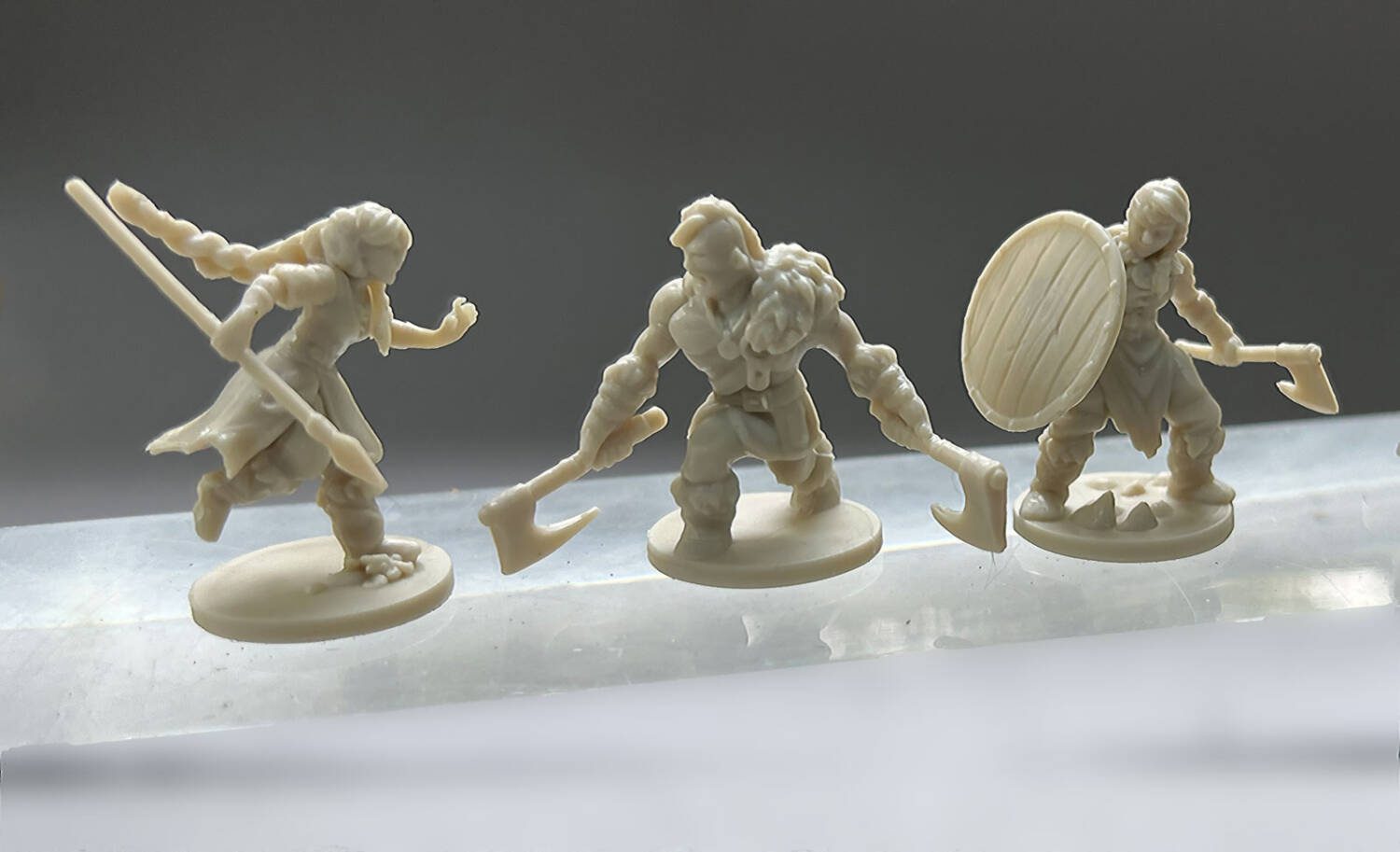 Each Clan also gets an additional clan upgrade card, with powers that align with their clan's extra power.
Thoughts
While largely cosmetic, the Warchiefs expansion does make some helpful additions to the game. The interlocking player aid helps with card management and has aided us with the working of our separate clans. The warchief miniatures are stand-outs on the expanding game board, and their double axes in battle make a notable difference throughout the game. 
That being said, these are largely superficial changes. The player aids are something I would definitely use when teaching the game to new players, but they don't add that much to the game. The warchief miniatures add their two axes, but you could just as easily designate one of your standard units as your warchief with a rubber band around the base or with a special paint job.
The biggest disappointment was in the addition of only a single clan upgrade card. I was hoping for more cards, with a greater range of powers. Reviewing the cards in this expansion, none of them wow'ed me all that much. Nice? Sure. Can't wait to play with them? Not so much.
If you're looking to have Northgard make a bigger visual impression for new players, the Warchiefs expansion is a good starting place. 
While I will continue to play with the Warchiefs expansion, I consider it a Nice to Have rather than a Must Have.