Dropmix from Hasbro is a marvel of music and technology. Read our review of Dropmix to find out more about this unique real time music mixing game.
Some artists play guitar, or drums, or piano, still others play brass or woodwind instruments. But there's a segment of the musical population that use samples as their instrument, mixing and remixing sound, both common and uncommon, with oft times sublime results. Layers and loops of sound, swirling, solid and pumping, rising up in crescendos, then crashing down to barely a whisper.
In Dropmix, from Hasbro and Harmonix, players are given the tools to make their own genre bending mixes, using samples from decades worth of songs, and artists from all over the musical spectrum.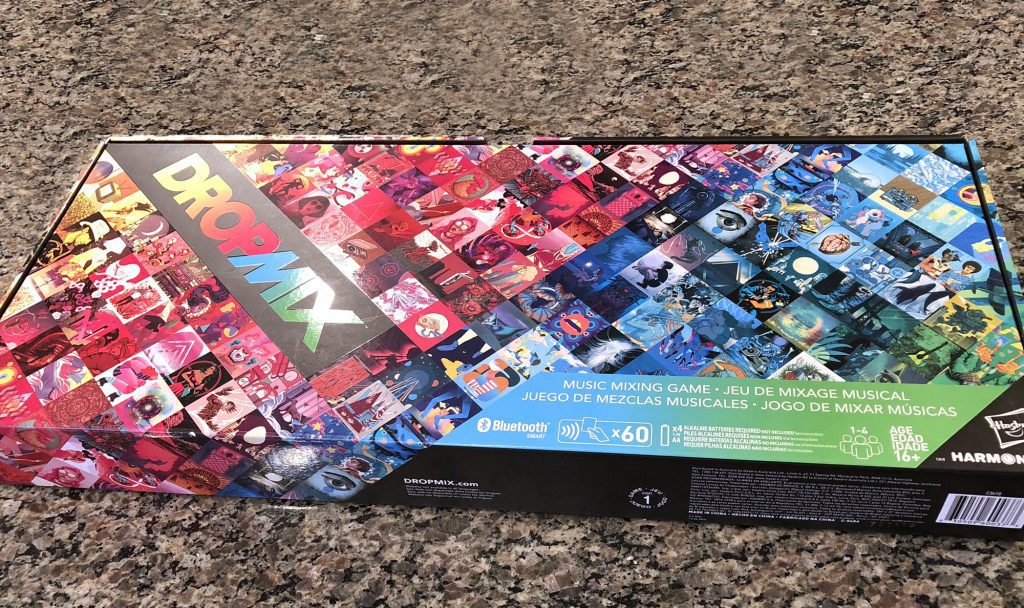 Does it work? You bet it does, and stunningly well. Read our review of Dropmix to find out more about this unique game / musical experiment.
Dropmix Overview
So what IS Dropmix? It's part sampling kit, part musical instrument, part game, and ALL awesome. Dropmix is the brainchild of Hasbro Toys and Harmonix (makers of Rock Band, Dance Central, and the original designers of Guitar Hero). You might say that Harmonix knows a thing or two about music, specifically licensed music. And that last bit is an important distinction because in Dropmix players will be mixing sound clips from some of today's modern tunes alongside music from the 70s, 80s, and 90s.
But never fear, there's no computer manipulation or "real" mixing going on. Each of these sound clips are represented by a playing card containing an NFC chip (short for near field communication). Each card displays information about its audio clip such as artist, song title, genre, type of clip (vocals, guitar, keys, drums, etc.), and volume.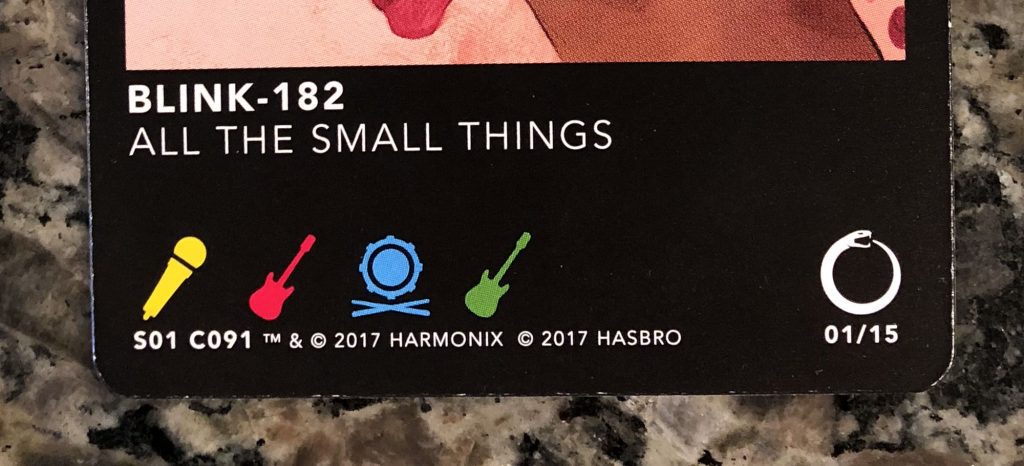 These cards are placed onto the main gaming area, an electronic device with 5 colored pads, and a large "Dropmix" button at one end. Players sync the board to their device via Bluetooth using the free app. Then when they place one of their cards down onto the gaming board, the card communicates to the board what track is being played, and the device beams that to the phone to play the audio.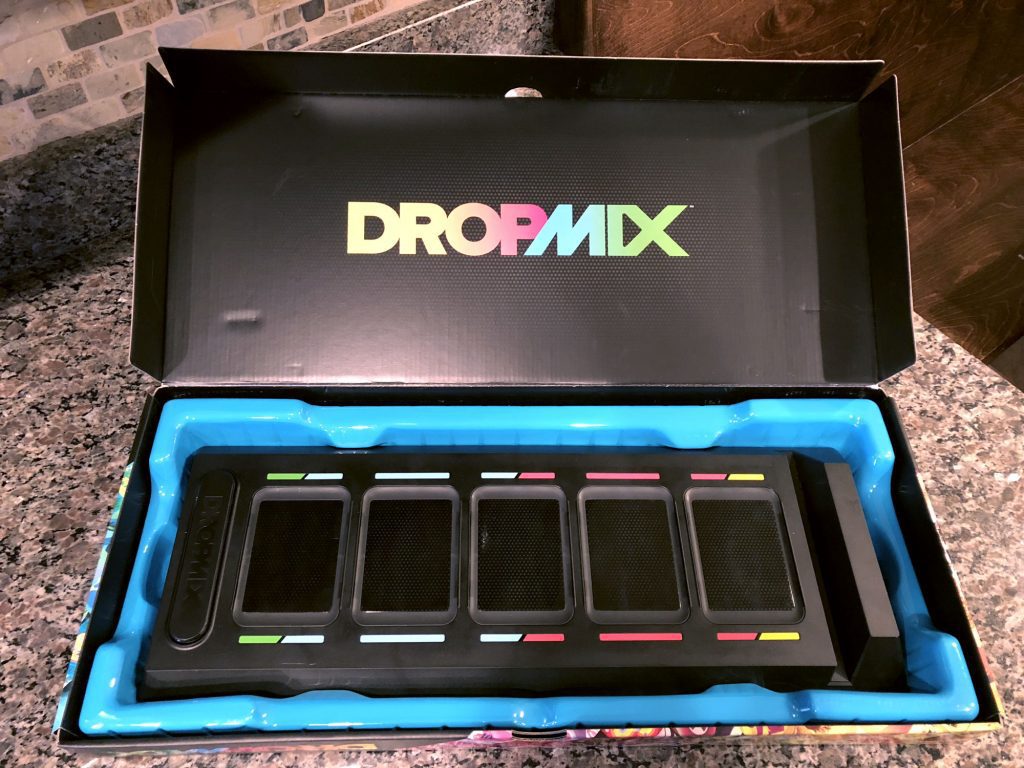 Add a card right next to the first one and the app will not only begin playing both tracks, but will pitch shift both so that they're playing in the same key, AND will shift the tempo so that they're playing in sync. Continue adding cards and the app just handles all of them, with grace and aplomb.
Dropmix Cards
Even though the device and the app do all of the heavy lifting, the cards are where Dropmix really shines. It's clear Hasbro selected Harmonix for their musical acumen and experience with licensing. The game comes with 60 unique cards, but as of this writing there are hundreds more cards in circulation, found in Playlist packs of 16, and Discover packs of 5.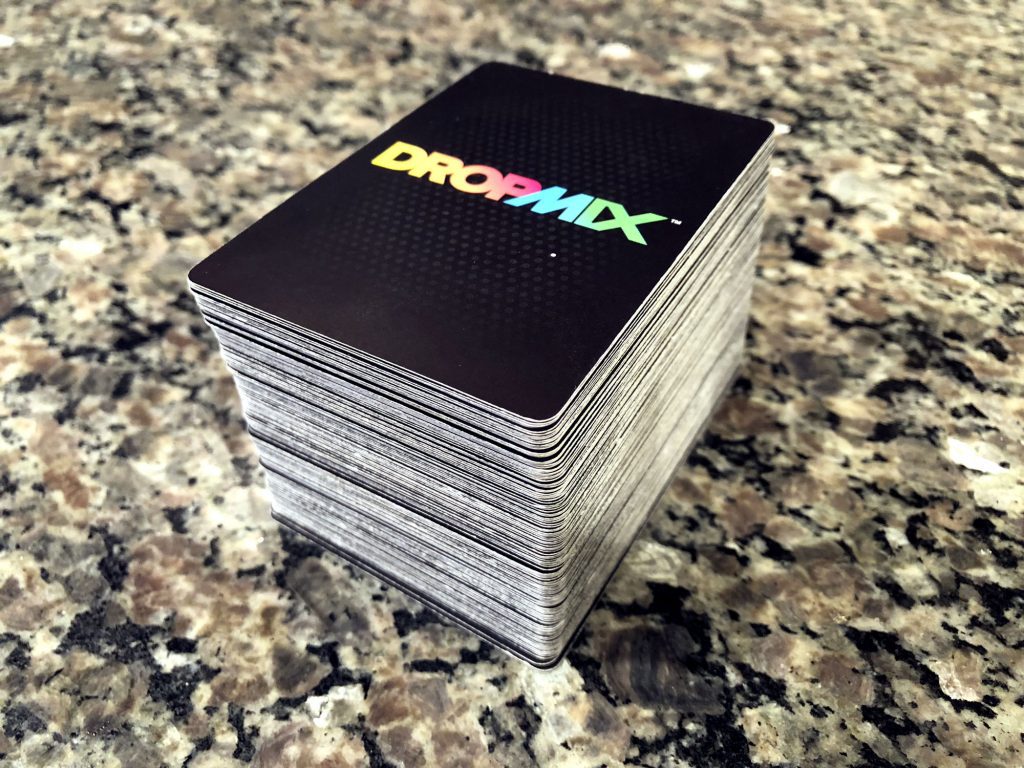 The cards are standard playing card size with an NFC chip embedded in the paper. This chip allows the card to rapidly communicate with the device, which in turn begins playing the song.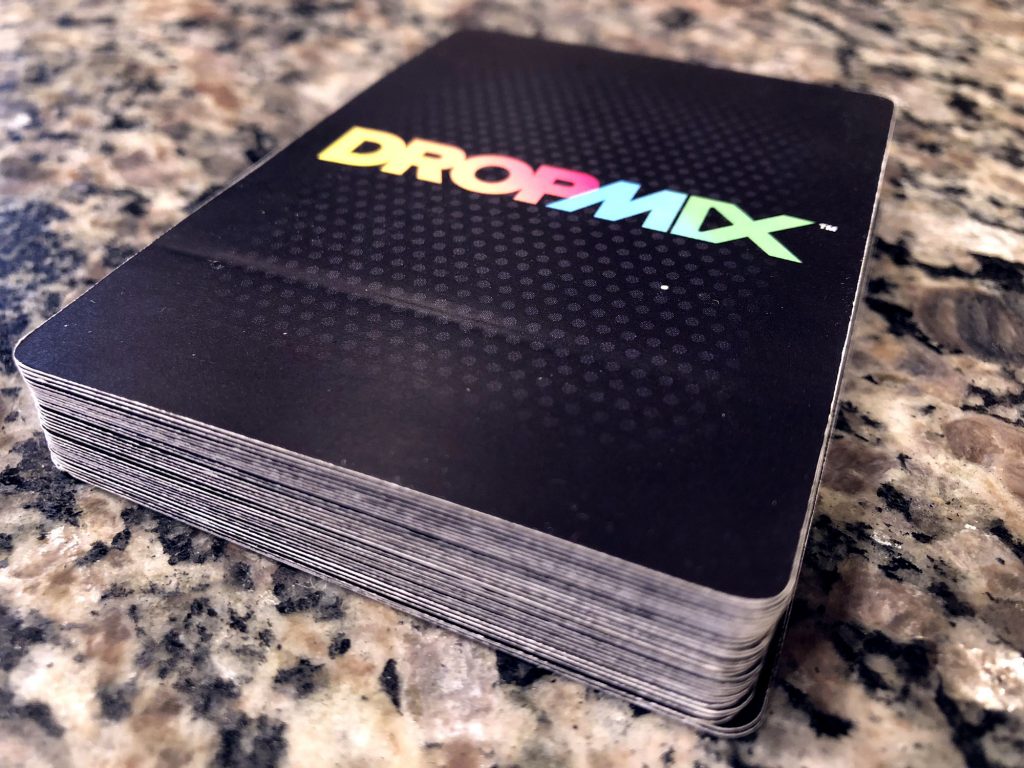 Dropmix cards feature a significant amount of information on the front, along with some details which can be found when viewing the song within the app. Represented genres include Rock, Hip Hop, Pop, Country, and Electronic, which are further broken down into identities (sort of like subgenres as it were).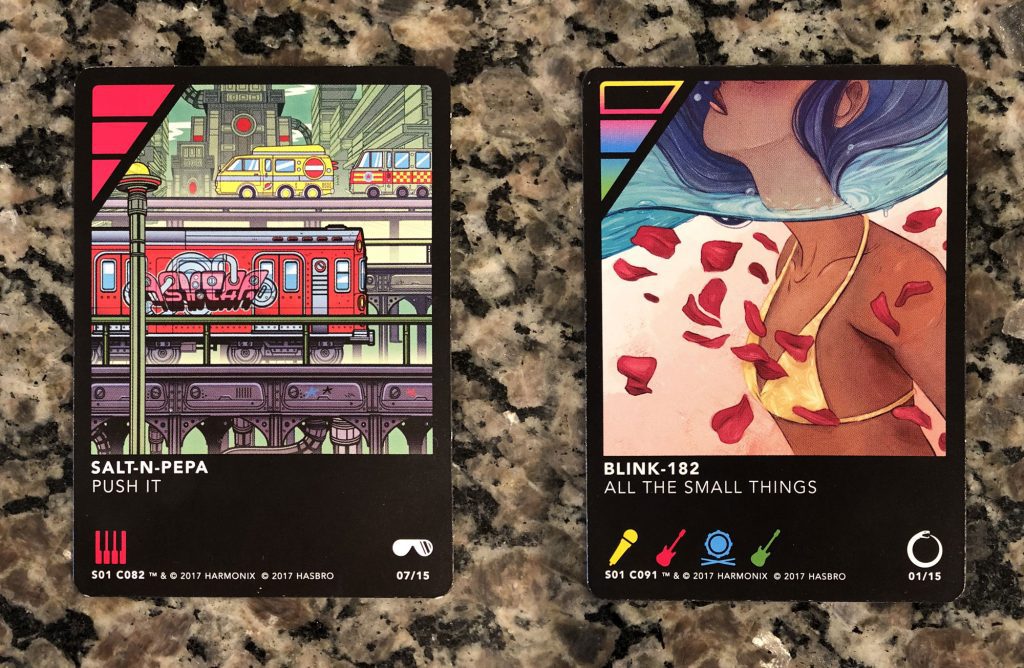 Dropmix Gameplay
Dropmix offers 3 different modes of gameplay: Clash (a head to head game for 2 one or two player teams), Party (a co-op game where each player has their own deck but works with the other players to achieve a high score), and Freestyle (throw down some cards and make some mixes). But how do you actually get started?
The Dropmix App
Dropmix offers a free smartphone app. Download and install the app for iOS or Android, then connect the app to your device by hitting the big Dropmix button.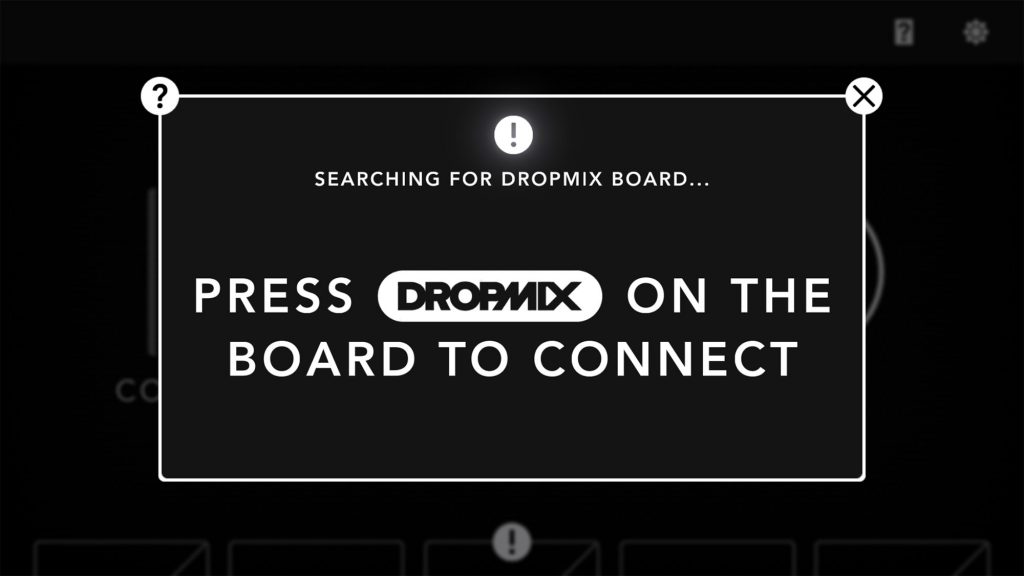 The app has a settings panel which allows you to change volumes, set winning scores, and displays the battery level for the board.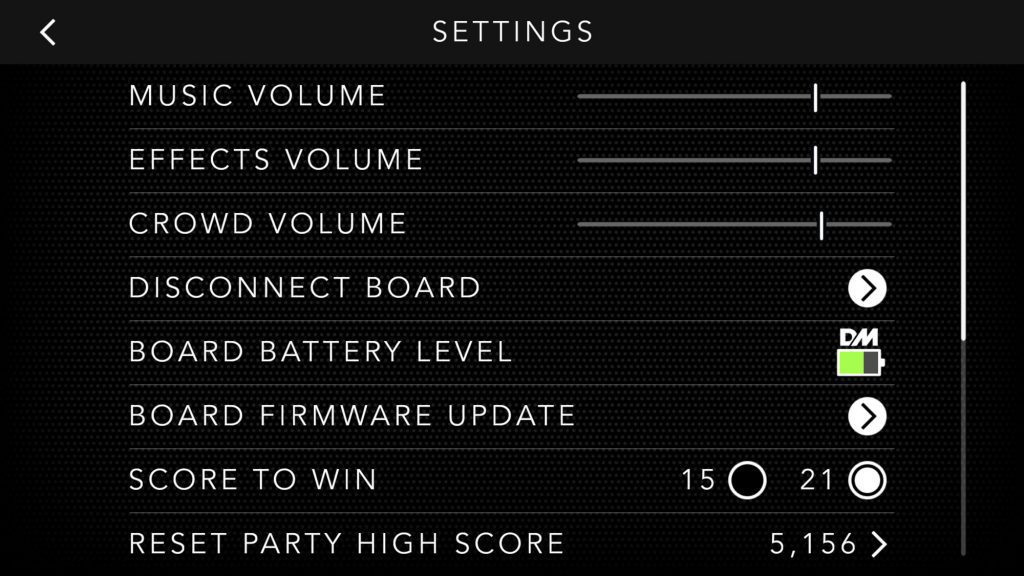 You can choose to review the cards in your collection, or listen to your saved mixes.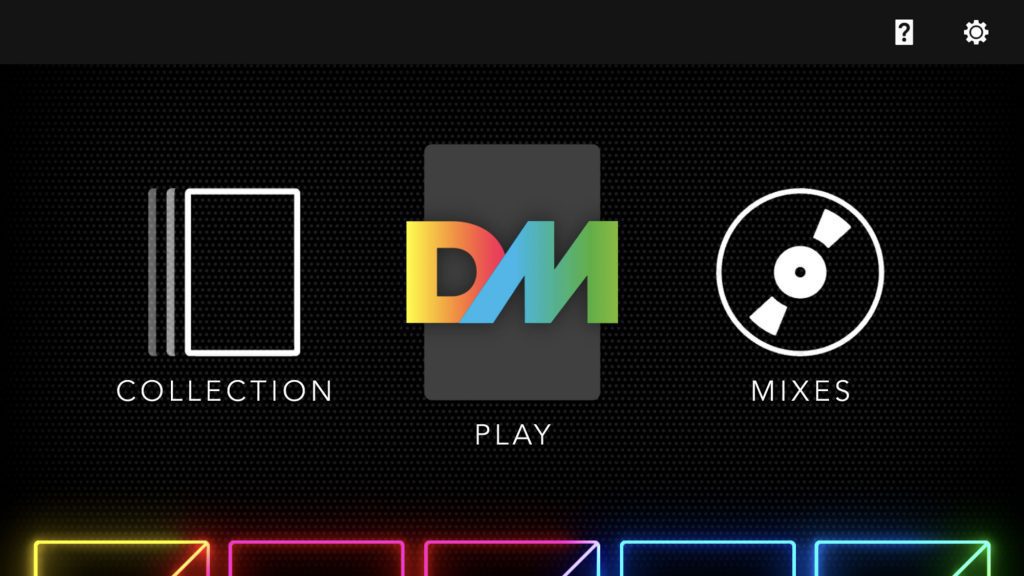 And of course play the game. Selecting the main play menu allows you to select from one of three play style options.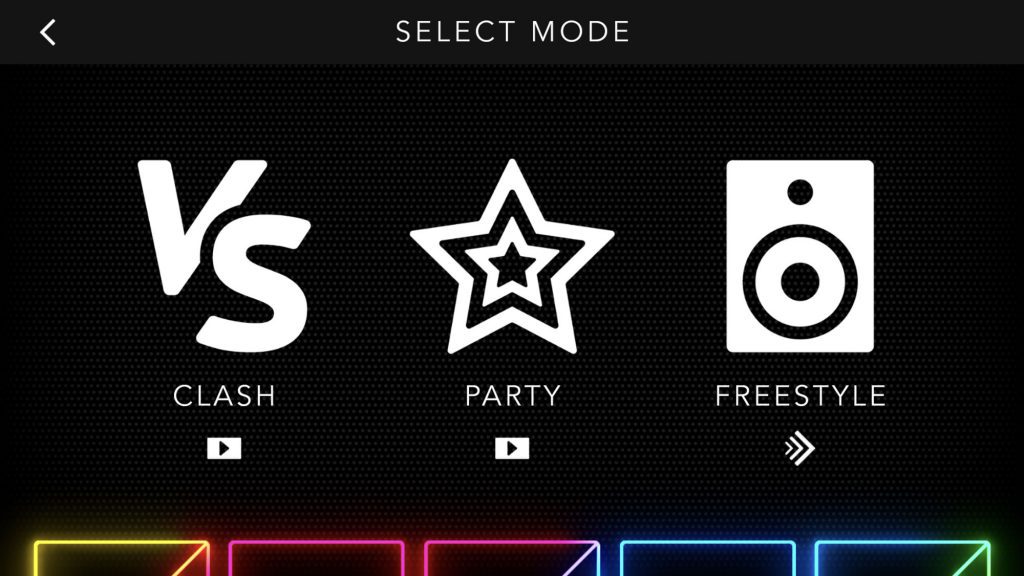 Dropmix "Vs" Mode
Vs mode allows two teams of one to two players to compete head to head with each other, each team trying to be the first to reach either 15 or 21 points (changed in the settings panel).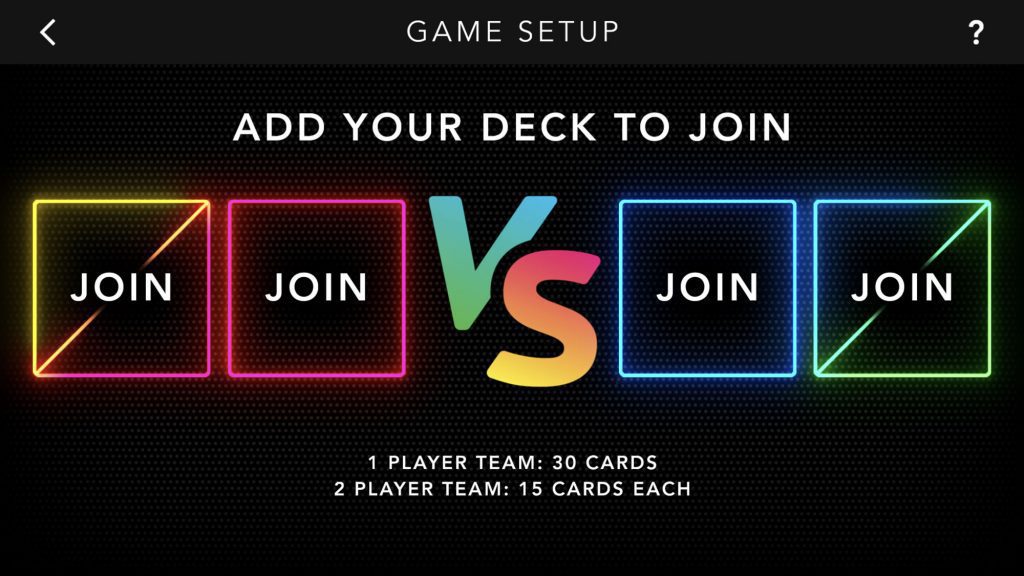 Each team gets 2 cards to play to the board, and each card scores points for the team in various ways. White cards offer special scoring bonuses, so playing them at the right time can let a team rake in a lot of points.
Dropmix Party Mode
Party mode is a co-op game in which the group of players is trying to beat a previous high score. Each player gets their own deck, and the group collaboratively plays to the board while the game spits out "rules" for that turn:
Play a blue card, and a red card. Or play a card with a volume of 2, or play a yellow vocals card. At the end of the game, rejoice in your score and hope that it beat the previous high.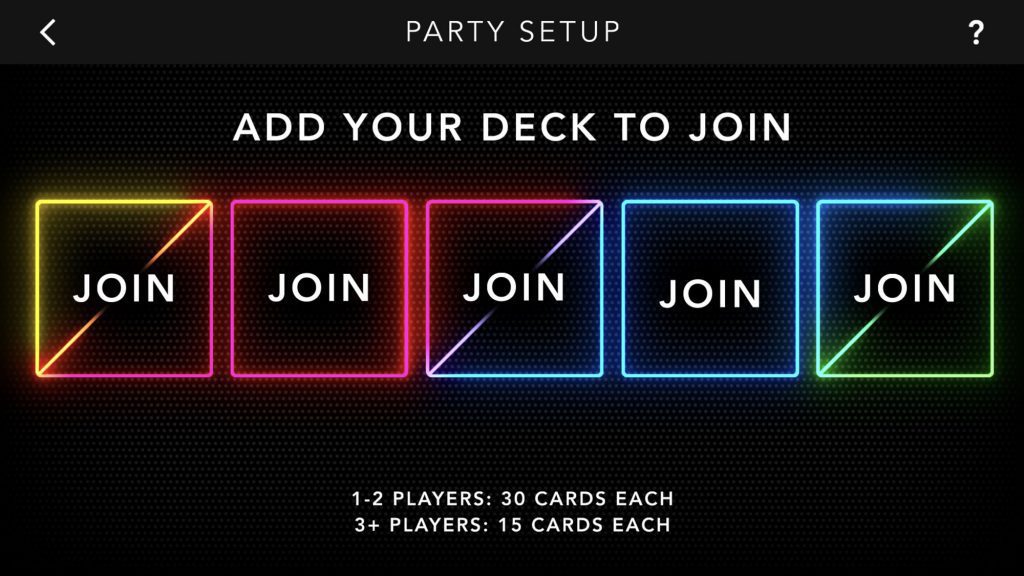 Dropmix Freestyle Mode
Each of the play modes has its own unique appeal, but the Freestyle mode was my family's favorite. There's just something about grabbing a stack of cards and throwing down some tracks. This must be what a samplist must feel like…taking some random disparate audio tracks and making something more than the sum of their parts. Laying down drums, keyboards, vocals, guitars, and even brass, to get a song that is uniquely your own.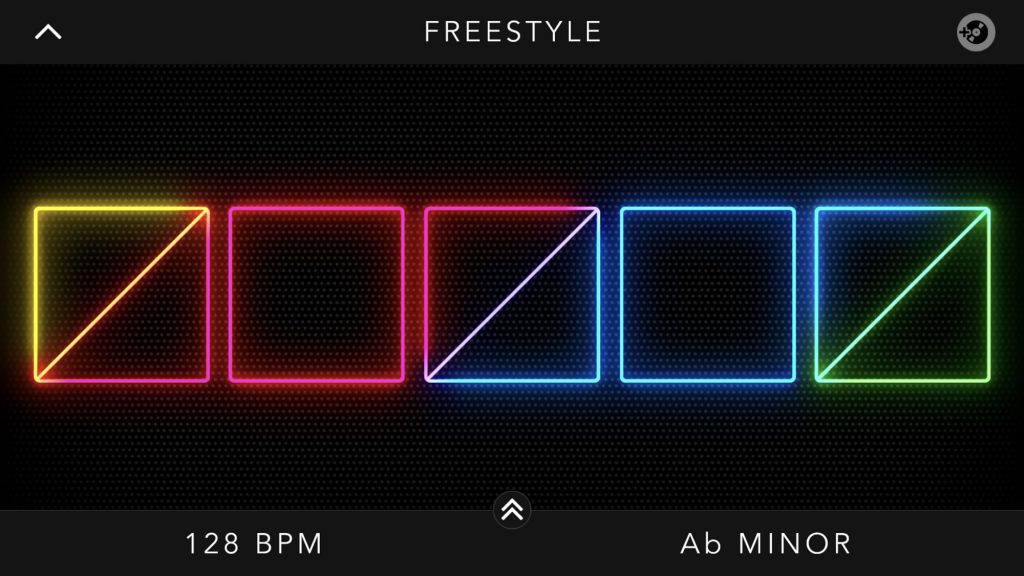 Dropmix, in Freestyle mode, even allows you to change the pitch and tempo of the song on the fly. Incredible for a consumer level "toy".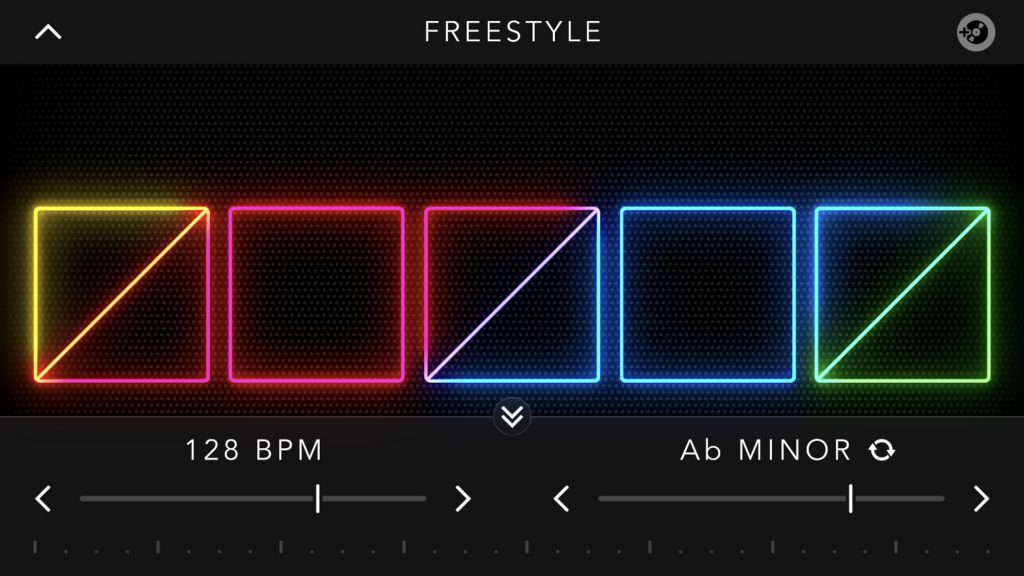 My absolute favorite thing about Dropmix is the knowledge that at some point, the distinct collection of tracks, pitch, and tempo that you're listening to right now…yes, that grouping of audio, has never been heard in the history of the world. It literally gave me chills.
Check out this video of my sons and I playing a quick game of Dropmix.
Community
One of the most powerful things about Dropmix is the community which has raised itself up around this device. The Reddit Dropmix sub (/r/dropmix) is one of the most helpful and considerate Reddit subs I've ever seen. You can find people asking questions about card packs, sharing tracks with each other (via the killer built in sharing panel in the app), and just having a good time.
The Dropmix community has even come up with a fun and unique throwback way to store cards, using old school clear cassette tape cases. More than one user has created elaborate "J Card" templates that you can print out for your personal card storage.
In Closing
Even though I could gush about this game all day, there are a few things that should be noted. The cards in Dropmix contain a chip which means that should the card get bent it would likely stop working (in part or completely). This never happened to me, but I always felt a bit nervous it would happen.
Because of the NFC chip in the middle of each card, the center of the card is ever so slightly taller than the surrounding area. This means that over time you'll see oddly consistent whitening and wear. It doesn't affect gameplay but it can result in unsightly blemishes on your cards. You can sleeve them if you don't want this to happen.
Storage in the game is also a problem. The base game comes with 60 cards which all fit easily underneath the board. But if you add more expansion packs there's no good place to store them. Even should you opt for the cassette case route, the box offers no place to contain them.
It should also be noted that while there are a large number of cards, not all of them are "real" artists. Many of the cards you might play are simply the "house band". This makes sense as it prevents Hasbro from having to pay royalties on every card. But you might be scratching your head at some of the band names, or perhaps just assume that Harmonix is cooler than you and has discovered the next big thing.
Dropmix is amazing.
If you've gotten to this part of the review and you're surprised by that fact then you haven't been paying attention. Not only is Dropmix a technological masterpiece, it's dead fun to play (alone or with friends), and great to listen to. Dropmix constantly engages you…tweak this pitch, shift between major and minor keys, change the tempo. Then mix a little rap and rock, or pop and metal. There's even country music cards that can be added in as well.
Play Dropmix at home, at parties, or anywhere you might have people wanting fun and excitement.