Justin picked up the puzzle game Crystallo from Weird Giraffe Games. Find out how it plays in his review!
Like many gamers, I only discovered the solo mode of dozens of games when COVID-19 broke out.  And now, I probably play a physical copy of a game solo once or twice a week. It's incredible; I have jigsaw puzzles, plenty of video games, and lots of other solo activities at my house, but playing board games alone is a relatively new experience for me.
I grabbed two dozen games at Gen Con this year, but Crystallo was a game that stood out when I stopped by to chat with the team at Weird Giraffe Games. Crystallo has a cool black-and-purple draw bag to hold everything you need to play the game. And when I heard it was solo, I knew I could fit it in when my wife recently skipped town for a girls weekend.
I played Crystallo four times all in the same night, finally winning on my fourth try. But I couldn't stop thinking about it for days.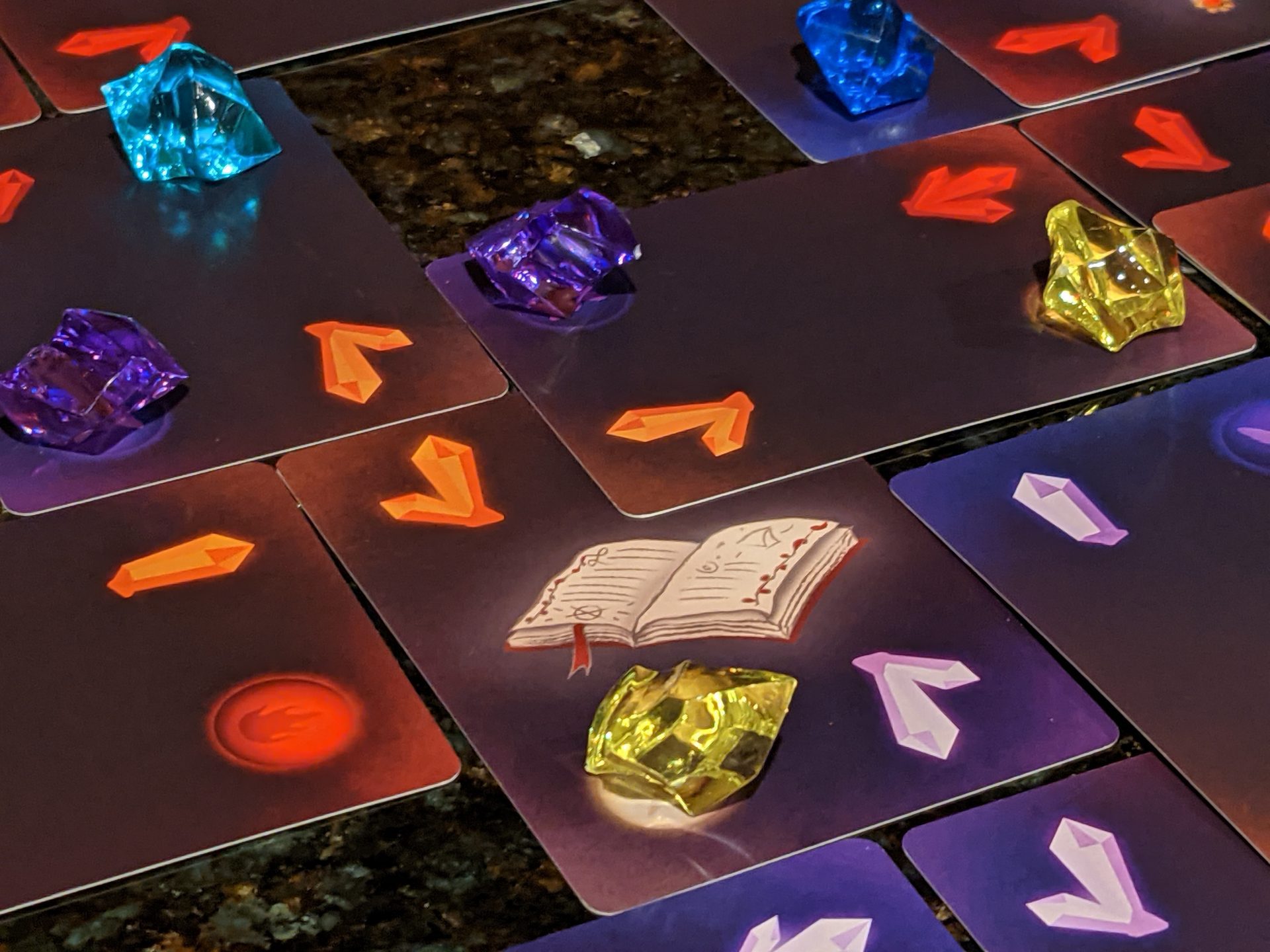 The Black Dragon
In Crystallo, you will need to trap The Black Dragon by first freeing six magical creatures and then facing the Dragon in a desperate attempt to play the same game you've been playing for 15-20 minutes, but with significantly fewer cards than you had for the main game.
Light on theme? You are correct.
But the main puzzle in Crystallo is interesting: there's a deck of 36 cards. Each card in the main deck is different and has a mix of icons: jewels in three different colors and in three different formations, along with gems in six different colors aligned with those magical creatures, which all appear in varying amounts on each card.
On a turn, you will have to place a card on top of, or adjacent to, another card. Placement requires that a player must align a jewel from your newest card on another card, and when you create a box of three jewels and one gem, you capture that gem, helping to slowly free the creatures (the creatures have names, but what's more important is their color). Each creature has three gems that must be removed to free it from the clutches of the Black Dragon, so your job is to capture all 18 gems by the time you have played the 36 cards you have in your starting deck.
And that's not even the end of the game! Once you have freed all six magical creatures, you'll take any cards remaining from the starting deck and add those to the 9 cards you set aside to start the game to try and defeat the Black Dragon. The Black Dragon has one gem in each of the 6 colors, so all you have to do is capture these 6 gems to win. 
It's so simple that I didn't do it for my first three tries!! (So, not simple. Right.)
Just freeing the six creatures in Crystallo is a nice challenge, and even when you complete this first stage you will not do it with many extra cards remaining. That means it's a nice high-score challenge—like taking Donkey Kong for a spin every day to try getting an incrementally higher score, knowing just how tough each round is going to be.
Also, Crystallo is one of those puzzles that really gets into your head, a lot like the video game classic Tetris does for me. The card-laying mechanic in Crystallo is one that I've seen in games like Honshu, but used in a different way to create endless opportunities to capture gems and score.
Lighter Fare
Crystallo is a nice dalliance; I don't know the MSRP on the game because I was given a review copy, but this feels like a $10 game that will keep you occupied for 5-10 plays. The game is always close: even when I beat the Black Dragon, I did it with my last card, in a game where I had 11 cards for the final encounter instead of the usual 9.
The manual details ways to achieve higher scores, thanks in part to the 9 cards in the 45-card main deck which feature treasure printed in the middle of those cards. If you are able to light up the gems on each half of a treasure card, and you do that for all 3 cards in one of the treasure categories, you'll get a bonus, like an extra card to use against the Black Dragon if you make it that far.
I found that beating Crystallo was a nice challenge, so I didn't need to play Crystallo again and again. That said, Crystallo still is sitting on the top of my lighter games pile just in case I have a few minutes to burn!