Did you binge-play through the entire catalog of Chronicles of Crime cases and now you need more? Look no further than its expansion. Read our review of Noir to see if this is a must-have.
Chronicles of Crime: Noir expands the app-driven 2018 hit with four new scenarios, new components, and a new theme. Dust off your fedora, throw on your trench coat, and don't forget to take a jorum of skee as you jump into the role of a private detective in post-WWII Hollywood and Los Angeles.
This review assumes the reader is familiar with the Chronicles of Crime base game and only dives into what the Noir expansion introduces to its gameplay. If you're unfamiliar with Chronicles of Crime, check out our preview to learn how the game works.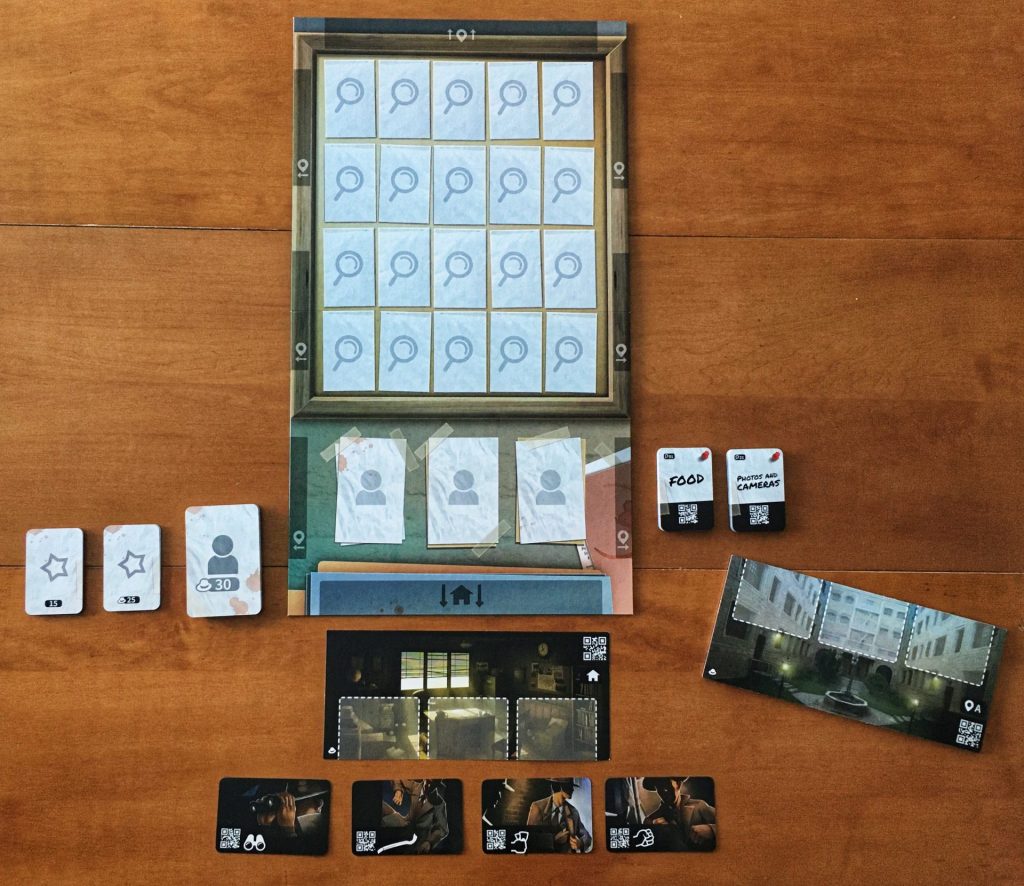 Chronicles of Crime: Noir Gameplay
In Chronicles of Crime: Noir, you're playing a private detective so you don't work for any police department (unlike in the base game). Unfortunately this means you don't have the same access to field and medical specialists like you do in Chronicles of Crime. In some Noir scenarios, you might have allies or informants such as a journalist, a coroner, or your secretary — but, in typical noir fashion, these allies could disappear, betray you, or even be killed.
The Chronicles of Crime: Noir expansion plays almost identically to the base game except for the following two changes: the importance of time and the introduction of Action Cards.
The Passage of Time
In Chronicles of Crime, some scenarios played with the passage of time; a suspect might resurface at a crime scene late at night or return home from work, or maybe an event was triggered after a certain amount of time had passed. In the Noir expansion, time is very important. Public places like bars and shops have opening and closing times, suspects conspire on their own schedules, and coppers could get in your way — or punish you for getting in theirs. Most scenarios must also be solved in a limited amount of time; you are acting as a paid professional after all.
Action Cards
While time could work in your favour or against you in Noir, it is the Action Cards which really give players a sense of control over their scenario's gameplay. The 4 Action Cards introduce new ways of interacting in the Chronicles of Crime setting (app). They are:
Intimidation: When interrogating a suspect, you can invoke Intimidation to press them for information. The downside of this action is that some suspects respond very poorly when intimidated.
Break In: It's not always easy to get answers lawfully so you can choose to Break Into a location. The downside to Breaking In is that you can get caught, sent to jail, or even find yourself in a Chicago overcoat if you spend too much time illegally kicking around a location.
Shadowing: As a seasoned private detective, you know suspects lie under interrogation so you can choose to Shadow (follow) them. Unfortunately Shadowing takes a lot of time and could wind up being just a trip for biscuits.
Corruption: You can also spend your hard-earned scratch to corrupt or bribe a character into making them talk or give you an item. Money is tracked in the app (just like time) and it's difficult to come by. Once you break the bank, that's it and this action is no longer possible.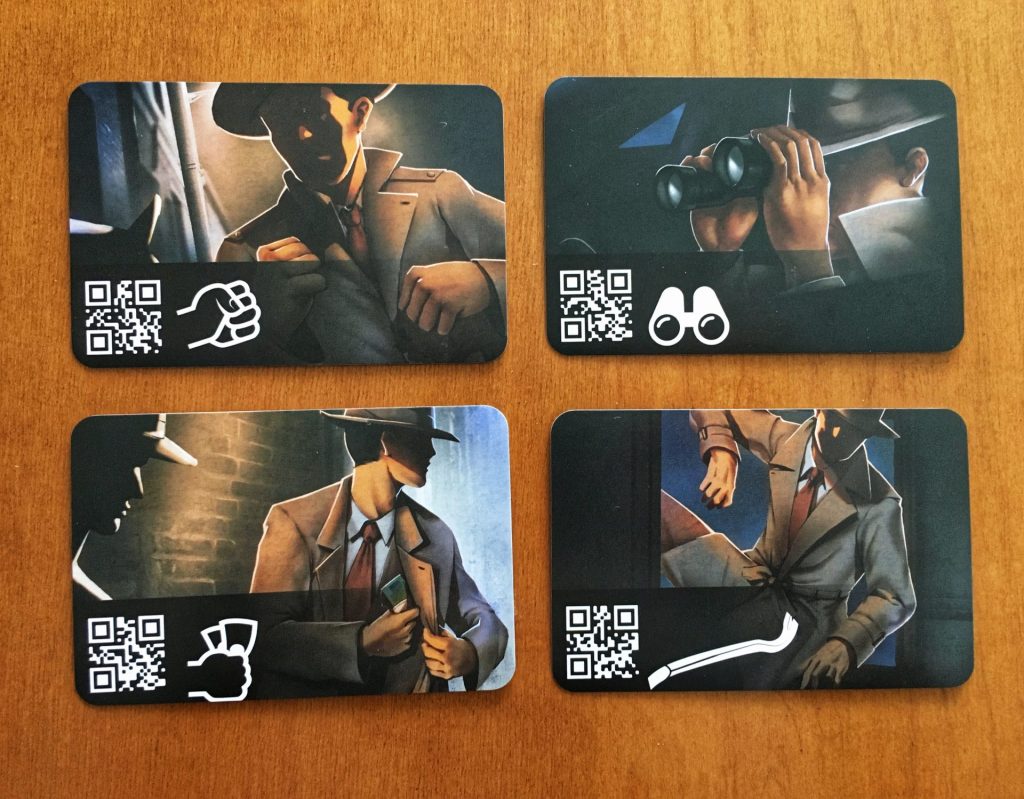 Since these Action Cards represent your behaviour as a detective, be prepared to face the consequences. An ally might turn against you when met with Intimidation. A business owner could enact a plan for revenge when they find out you're Shadowing them. A suspect might change their tune and sing when you show them the evidence you've gathered. However you choose to act in Chronicles of Crime: Noir, just know that you are likely changing the course of events in the game.
Final Thoughts
I was sold on Chronicles of Crime the moment I played the tutorial while doing some beta app testing for Lucky Duck Games. The final product didn't disappoint — it soared to #4 on my top 10 of 2018 (and continues to sit comfortably in my top 20 favourite games of all-time). I expected the Noir expansion to be as good as the base game, but I didn't expect it to exceed it. Chronicles of Crime: Noir is awesome and what I would consider a must-have expansion (and this is coming from someone who hates expansion content).
Everything about Noir makes it shine: the cases are harder, the money element is interesting, and the 4 Action Cards add another level of decision-making to the game. The way in which these work together gives players such a strong sense of control over the gameplay, the case's story, and its resolution. Just like Chronicles of Crime, the cases in Noir are so immersive and thematic that you feel like you are gumshoeing around 1950's LA.
Chronicles of Crime: Noir is more than an expansion with a few cases; it includes new components to use with these cases and replaces most of the base game's components. Bonus: they can even be stored in Chronicles of Crime's original insert.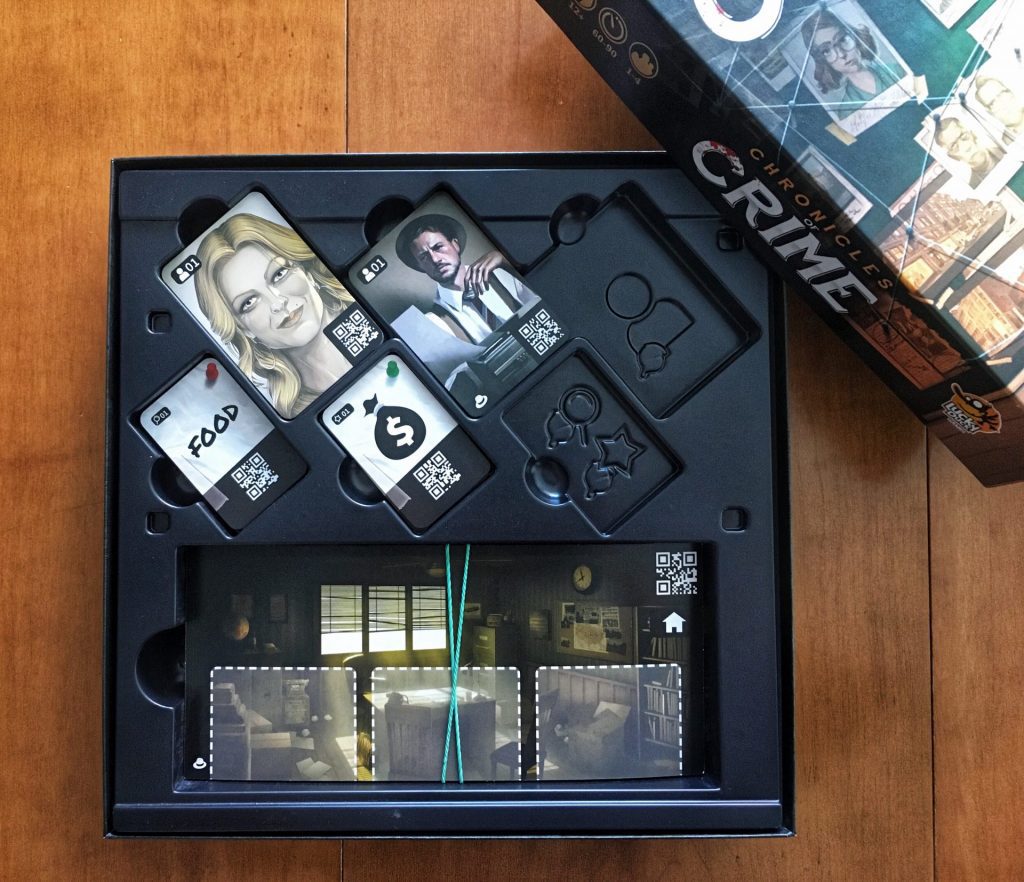 While the writing isn't as strong in Noir as the original — elements were likely lost in translation — and you will stumble upon a few spelling mistakes, neither of these two things distract from the thematic gameplay experience.
One thing to also bear in mind with Chronicles of Crime: Noir is that it's set in post-WWII America, specifically Hollywood and Los Angeles, and with that comes some of the views of that time. The designers not only call attention to this in the rulebook, they make concerted efforts to include diversity among the cast of characters. It's definitely not perfect…but neither were the 50s.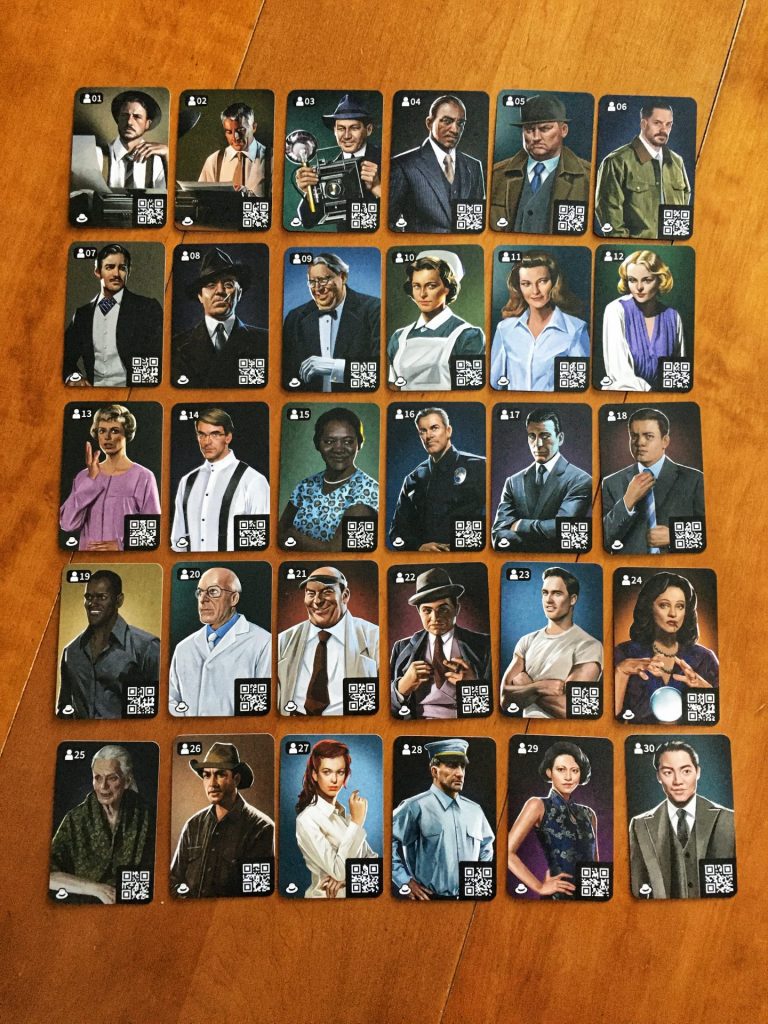 If you couldn't get enough of Chronicles of Crime and all the base game's content (and add-on cases), this expansion is for you. Chronicles of Crime: Noir dives even deeper into the game's thematic nature and offers new, exciting elements to the gameplay that you wish were also included in the original game.
Thematic Music for Playing Chronicles of Crime: Noir
While the Chronicles of Crime app has music for the cases, here are some other suggestions which come from the "film noir" legacy.
Touch of Evil (Original Motion Picture Soundtrack) by Henry Mancini
Laura (Original Motion Picture Soundtrack) by David Raksin
Chinatown (Original Motion Picture Soundtrack) by Jerry Goldsmith
Taxi Driver (Original Motion Picture Soundtrack) by Bernard Hermann (While Taxi Driver is considered a "neo-noir" film, I think its score still fits here.)
---