Santa's Renegades Promotional Pack for Renegade Games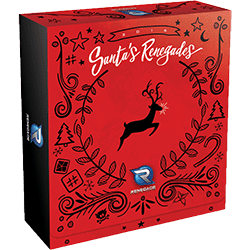 Renegade Games plans to partner directly with local game stores to release a "Santa's Renegades holiday gift box". This box will contain promos for nine different games including never-before-seen promos for Lotus, Lanterns: the Harvest Festival, Covert, FUSE, Apotheca: The Secret Potion Society, Snow Tails, World's Fair, Dicey Goblins, and Clank!.
Stores will be encouraged to sell the promo item at an MSRP of $10 separately, or free with Renegade Games purchases of $30 or more. They won't be available online, but will show up in stores beginning in mid to late November.
---
Z-Man Releases Movement and Mechanic Details for Pandemic: Iberia

Hot on the heels of the official release of Pandemic: Reign of Cthulhu Z-Man releases details about the next game in the Pandemic universe, Pandemic: Iberia. Set in the mid 19th century, players will embark to the Iberian peninsula as part of the Second Royal Philanthropic Expedition.
In Pandemic: Iberia players will be able to move by carriage, boat, or train. Players will be also be able to build railroad tracks, and purify water along with the now common actions of treating disease and sharing knowledge.
This game is high on our list of must plays. Look for a release this fall in a one time print run. Get your credit cards ready!
---
Stronghold Announces Release Date/Price for La Granja: No Siesta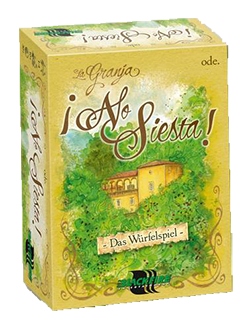 Stronghold has announced a street date for La Granja: No Siesta, a stand alone dice game follow up to the brain-burning hit game La Granja. No Siesta distills down the dice mechanism from La Granja and turns it into a lighter game. Players will roll dice and draft them to form sets for scoring. Hire helpers and build barns, then take some time off and have a Siesta!
Pre-orders start this month, and the game is set to be released on November 23rd, 2016.
---
Official: Hanjinn Shipping Bankruptcy Affects Board Gaming
As you might recall in a previous report Korean shipping company Hanjin is filing for bankruptcy. Given that they transport a whopping 7% of the cargo between Asia and the United States, this is a massive problem.
WizKids has released a statement about the Heroclix release of Teenage Mutant Ninja Turtles: Heroes in a Half Shell:
We are in communication with the company and are working on a resolution to retrieve our product. WizKids is one of many companies being affected by the situation with a reported 85 ships being barred from docking due to Hanjin's inability to pay port fees. Our only release involved is the upcoming Teenage Mutant Ninja Turtles HeroClix: Heroes in a Half Shell Gravity Feed.

In the meantime, we will be launching the HeroClix release without the missing container. This means that we expect to have an initial shortage of Teenage Mutant Ninja Turtles HeroClix: Heroes in a Half Shell Gravity Feeds. The majority of the product has arrived and all pre-orders will be filled.
We'll keep you updated as we hear more details
---
Mombasa wins the International Gamers Awards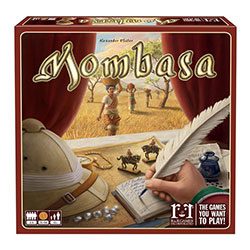 The accolades continue to roll in for Alexander Pfister. First Isle of Skye wins the prestigious Kennerspiel des Jahres. Then Mombasa wins 2016 Deutscher SpielePreis. And now Mombasa wins the "multi-player International Gamers Award". The man is unstoppable!
---
Nashville Game Night Breaks Attendance Record!
Wow! Thank you all so much for making this months #NashvilleGameNight a success! We had about 80 people showed up! pic.twitter.com/7fpziiAWse

— Meeple Mountain (@meeplemountain) September 16, 2016
Last night we had 80 people in attendance for Nashville Game Night, breaking our previous record of 65! Thanks so much to Formal Ferret Games and Nashville Software School for sponsoring and hosting us!
Congratulations to Aaron on winning a copy of The Networks from @gilhova! #NashvilleBoardgameNight pic.twitter.com/TLKVWZo8yw

— Meeple Mountain (@meeplemountain) September 16, 2016
Be sure to check out our Facebook Page for more pictures and information. We'd love for you to join us for our October event at The Iron Yard. Make sure to follow us on Facebook and Twitter for more information!