Millions of people play Wordle each day. Did you know it has its roots in board gaming? Read on to learn more.
Wordle has become one of those Internet Sensations. It's a simple word-guessing game where you enter words to try to match the letters in the sequence of the daily word. It's simple, challenging, and fun. 
The game was designed by Welsh software engineer Josh Wardle as a love letter to his partner. It's popularity has skyrocketed; from just 90 people a day in November of 2021 to over 2 million people a day at the end of January 2022,
When I first started seeing friends posting their redacted Wordle games for the day I was curious. After a few weeks, I decided to see what it was all about.
"Hey, this looks like a cross between Jotto and Word Mastermind!" I said.
Not familiar with those games? Fear not, I've got you covered.
Jotto
Let's start with the older of the two games.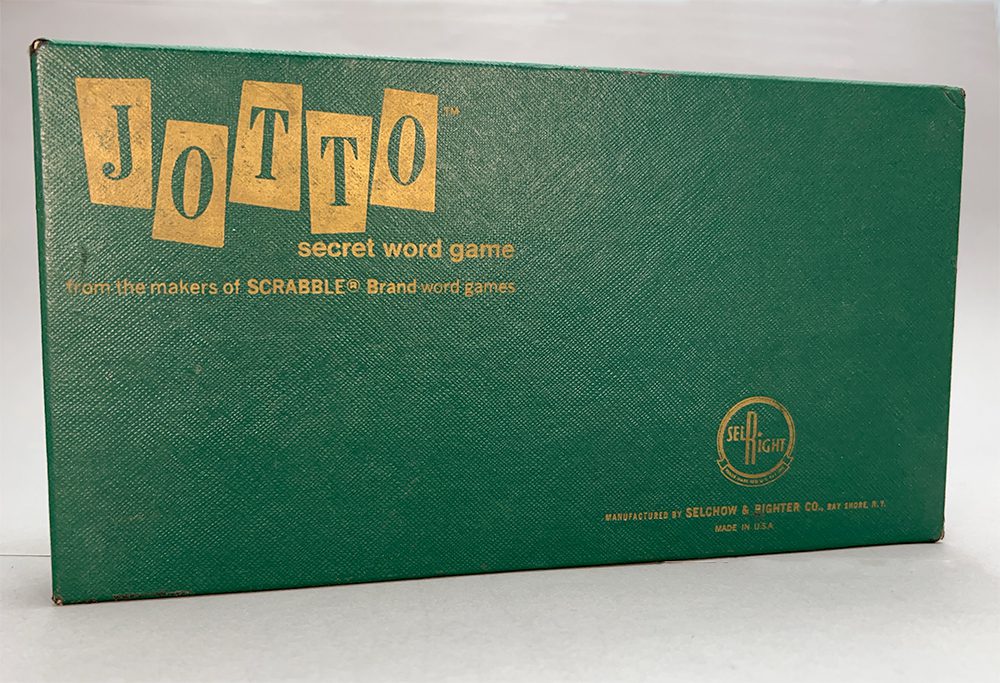 Jotto was invented in 1955 by Morton Rosenfeld, who marketed the game under his own Jotto Corporation. In the 1970s, the copyright was picked up by Selchow and Righter (the original Scrabble company). Being something of a collector of Selchow and Righter games, when I saw Jotto in a local thrift store, I grabbed it right away.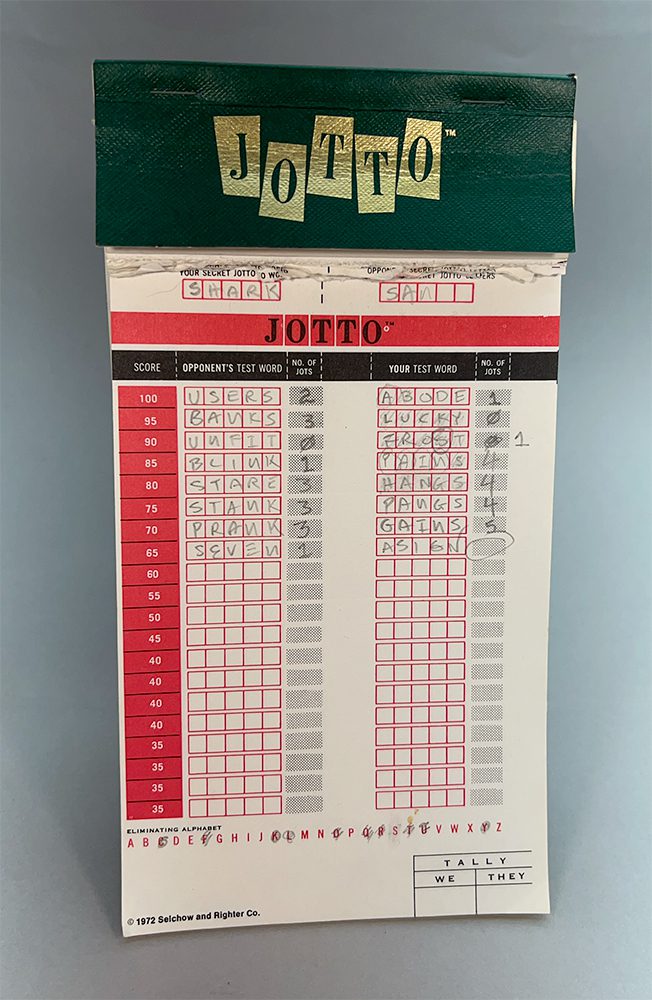 What comes in the Jotto box is minimal: two pads of paper and a pair of small pencils. 

What you're really paying for is the idea.
Each player takes a Jotto pad. At the top of the left column, they each write in their five-letter Secret Word. The remainder of the left column is devoted to their opponent's guesses. Each guess gets written down and the number of correct letters in any position (known in the game as Jots) gets written down beside the word.
The column to the right is for the player's guesses at their opponent's secret word. As with Wordle, the guesses are written in descending order. 
At the bottom of the Jotto pad is a helpful list of the letters in the alphabet for you to cross out when you've eliminated a letter from consideration. (I also circle letters I'm certain of.)
Starting at 100 points, each guess costs a player five points. Therefore, the faster a player guesses their opponent's word, the more points they score. The rules suggest playing to 150 points but, as with Wordle, we usually find that one game is sufficient for the day.
Before we get to Word Mastermind, let me remind you of the original game: Mastermind.
Mastermind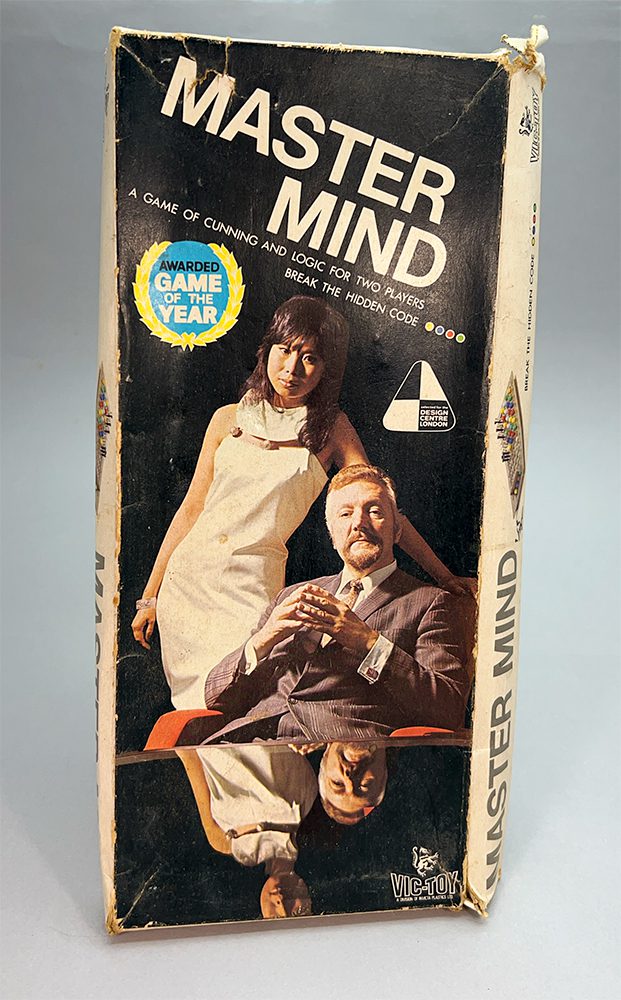 First appearing in 1971, Mastermind is a simple hidden code game. We've touched on it in one of our Board Game Step Ladders, but just in case you don't remember how it plays: one player secretly takes four colored pegs and places them at their end of the board. Those pegs remain hidden behind a plastic screen for the entirety of the game.
The code-breaker player then takes turns placing colored pegs in rows on their end of the board. Each row has four spaces for pegs and there are six colors to choose from.
After each guess the code-breaker makes, the coder gives the code-breaker feedback on their guess. Similar to Wordle, a correct color in the wrong position gets one response (a white peg in the spaces to the left of the row) and a correct color in the correct position gets another (a black peg).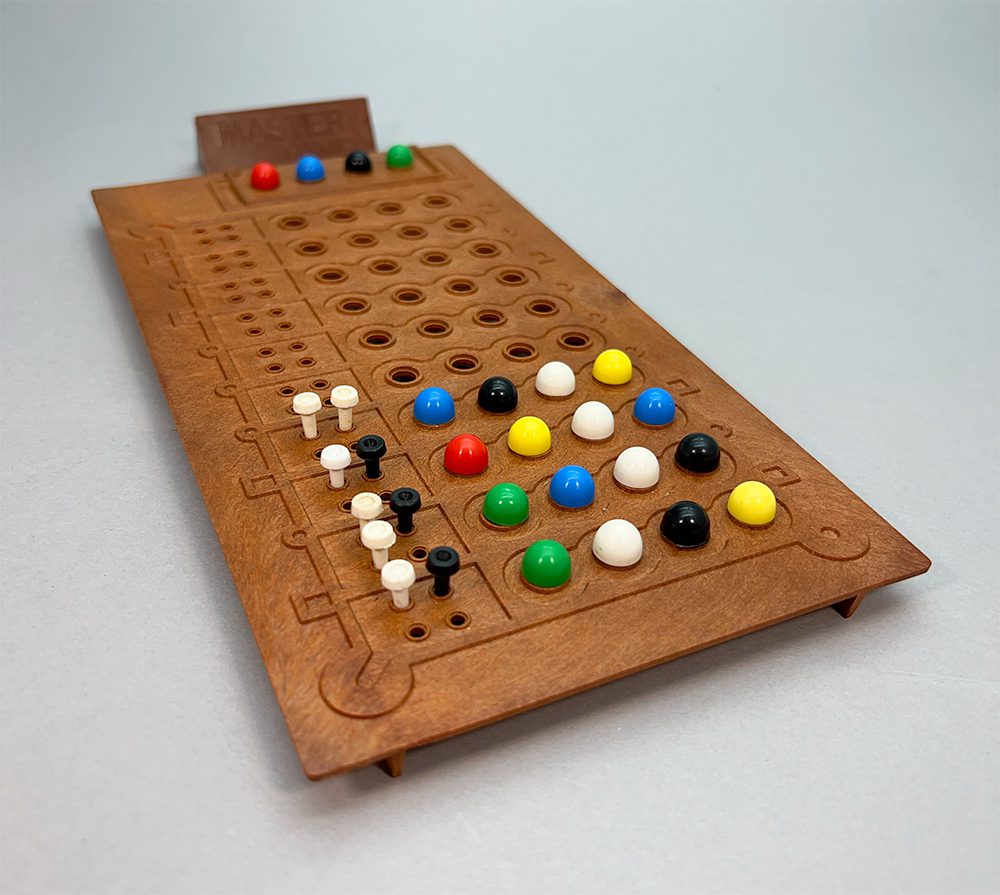 As a ten year-old kid, I was fascinated by this logic puzzle and convinced my parents to play it with me on a regular basis. Since Mastermind is really only a game for the code-breaker, they would create the code and be rewarded by long stretches of silence while I was trying to work out the solution in my head.
The next year, hot on the heels of Mastermind's success, Word Mastermind was released. (And immediately made an appearance in our home.)
Word Mastermind
Word Mastermind took the concept of a color code and exchanged the six colors for twenty-six letters. 
In keeping with the four colors in the original game, only four-letter words are allowed. Also in keeping with the original game, white pegs are used to denote correct guesses in the wrong position, and black pegs show a correct guess in the correct space—just as Wordle does.
Thoughts
Wordle is an entertaining puzzle that is successful, I think, because it provides the five-letter challenge of Jotto along with the same helpful feedback that Mastermind does. And, by limiting players to a single game per day, it follows the old showbiz adage "always leaving 'em wanting more".
Whether Wordle is a passing fad (albeit, one that recently sold to The New York Times for over a million dollars), its ancestry in boardgames is clear. As an update to older word game systems, Wordle also points back to games worth trying should its once-a-day offering just not be enough for you.
Personally, I'm a big fan of all three of these games and recommend you giving them a try.