Justin met with Clay Ross to dive into the Capstone philosophy and learn more about the Ohio-based publisher to see what the future holds
It was January, 2021. The phone of Clay Ross, president of Capstone Games, rang; Feuerland was on the line.
Feuerland is a premier publisher of medium-to-heavy strategy games, based in Germany. Their team had been developing a game by a new designer for months. They reached out to Clay because Capstone is the North America distributor for other Feuerland "Black Label" games such as Terra Mystica and Gaia Project.
The team at Feuerland was direct: this new game was one of the best games they had ever seen. They inquired if Clay would like to publish it in North America.
Clay didn't hesitate; sight unseen, he trusted the team from Feuerland because of their many shared successes. Over the summer, everyone was sure this game was going to be a hit, and at Essen Spiel 2021, the world got to see the game Feuerland was so excited about: Ark Nova.
The rest, as they say, is history.
Capstone Games has had quite a run the last few years. Even in 2018, when Meeple Mountain's first interview with Clay went live on our site, we knew that Capstone was destined for something special as a US-based publisher of medium-to-heavy weight strategy board games.
In the last two years, it's been amazing to watch the success of Capstone from a distance. The blistering success of Ark Nova has certainly been the biggest win for Capstone over the last 12 months—and a source of some of its only problems—but the laundry list of other well-designed games is hard to ignore.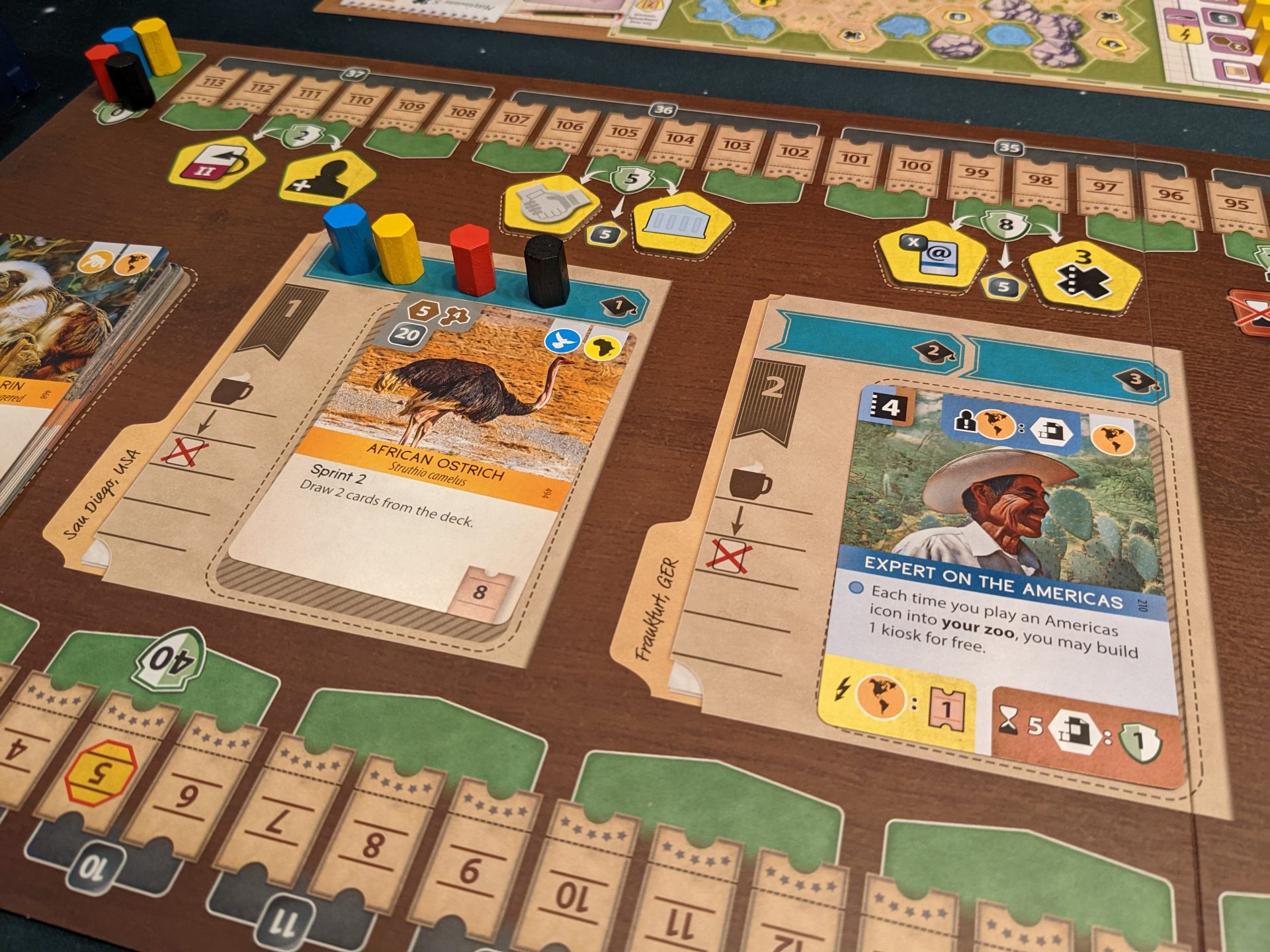 The Philosophy
I've had the chance to meet with Clay five times over the last 12 months. Each time I chat with him, I grow more and more convinced that he cares most about one single thing: logistics.
In this way, Capstone as a publisher shines most to me as a reliable provider of goods and services. Certainly, I know what I'm getting—a quality game that is well produced and a bit of a brain burner—but I've been impressed even as a customer when I have bought games from the Capstone website. The comms are on point. I still haven't had a box show up with missing pieces or packaging problems.
The focus on logistics was further cemented when I saw the Capstone warehouse and offices. Obviously, Clay cares about the games, or the Ark Nova train would have surfaced with a different publisher. But it's the staffing and logistics angle that we talked about more than anything else, a bit of an obsession around that piece of the pie.
That showed further when we spoke about the only real hiccups for Capstone this year, the ones that all publishers are facing: shipping delays. While everyone has their fair share of stories, it was intriguing to hear about how delayed and/or damaged crates of Ark Nova affect the gaming world in a unique way, since, um, EVERYONE has been trying to get a copy of Ark Nova this year.
And while I'm sure some people are upset over a delay in getting other Capstone products ("Where the heck is my copy of Juicy Fruits?"), someone, somewhere must have said this year: Ark Nova is the cash cow.
Although Capstone has worked with designers to crowdfund other projects—Pipeline and The Estates, for example—the firm has mostly worked with partners such as Feuerland and Deep Print Games to identify the kinds of games that fit Clay's heavy strategy tastes.
What about Kickstarter, or crowdfunding in general?
Clay smiled. "I don't think that's the model for us" was his initial response, before admitting that crowdfunding would be an option for games that are slightly outside of the core Capstone audience. (As we now know, Capstone is making a fresh foray into crowdfunding with a project soon.)
And what about that audience? Capstone's Simply Complex line doesn't seem like the future, both in terms of the existing line of lighter games and the lack of announcements for any upcoming games in that vein. Capstone looks like it is going to lean harder into their sweet spot—games for serious hobbyists—that has led to the creation of Capstone+.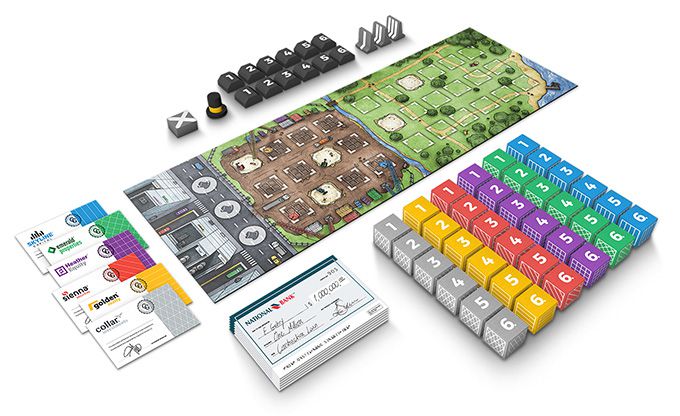 Capstone+, You Say?
Like all publishers, owning a larger share of each and every dollar is a big part of the path to not just profitability, but really being able to build a business with a long-term view on customer loyalty. Clay is leaning into this strategy with the new Capstone+ program.
For $20 a year, customers will get 20% off every Capstone game purchase, plus the real reason gamers might join: Capstone sends the first shipments of all games to Capstone+ subscribers before anyone else, including retail partners. There's a newsletter and likely some sales that go to the Capstone+ community first, so there will be perks for sure.
How is Capstone+ membership going? "It's going great, I can't give you an exact number, but well into the hundreds for sure," Clay updated when I spoke with him at Gen Con 2022. "Setting this up was always a no-brainer for us." If you have visited the Capstone site in the last 3-4 months, there's a link to Capstone+ right on the front page, and my sense is that things are going well with this program because their publishing output has been so massive the last few years.
Right now, riding the Ark Nova magic has paid lots of dividends, and this subscription service is no exception. Don't you want to get your Ark Nova map packs or expansion content before your friends?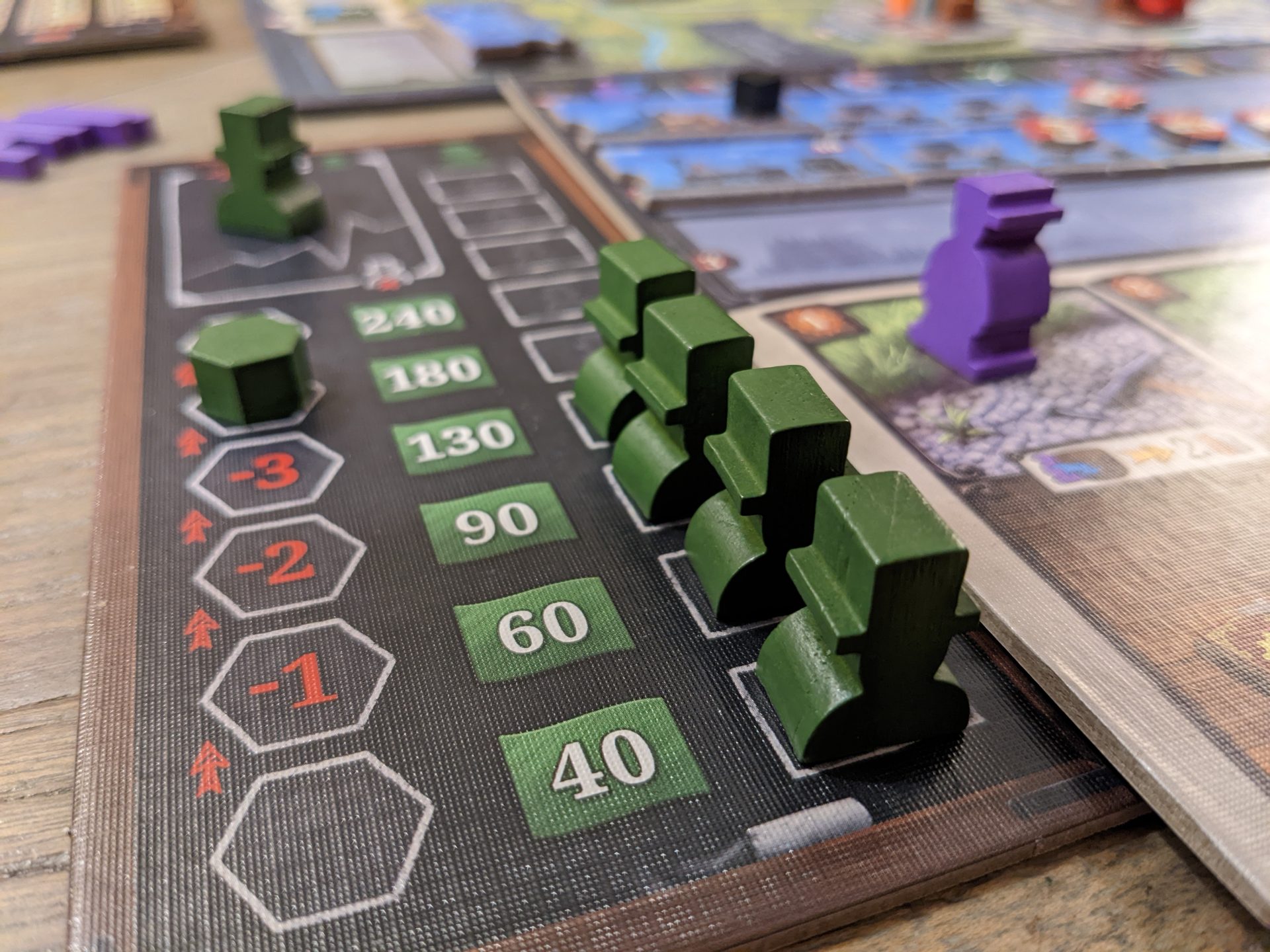 Beyond the Ark
Whether you enjoy the gameplay of Ark Nova or not, we all agree that the game is selling like hotcakes. But Capstone now has a somewhat massive catalog. Where do we land on some of their other games?
The Meeple Mountain team has covered more than half of the games in Capstone's current catalog:
There are a couple of other Capstone games I've played that don't have full reviews just yet: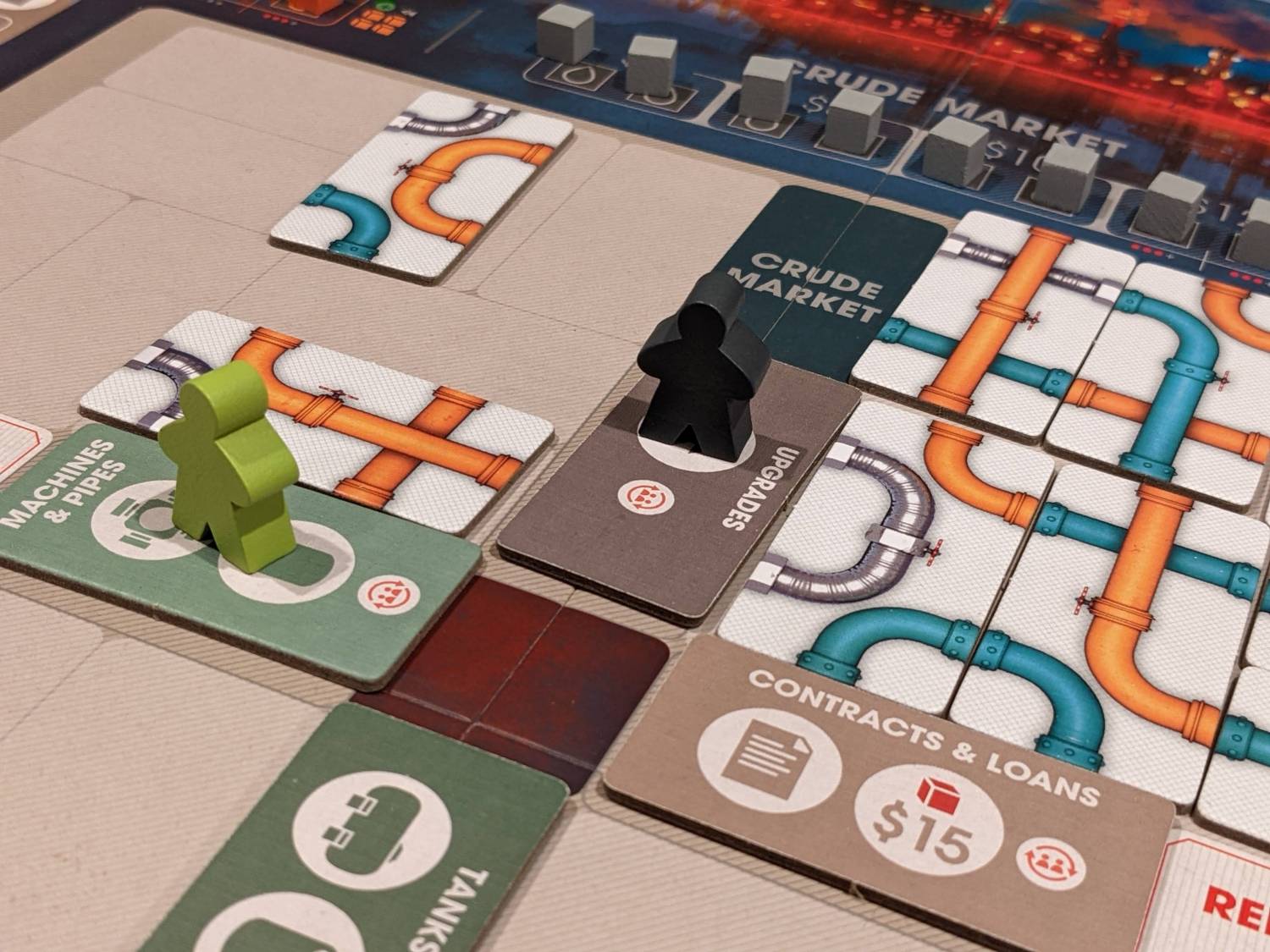 Pipeline
Just as heavy as you expect for a Capstone release, Pipeline is tighter with money than any game I have played in a while, maybe ever. During my single play, I mused out loud about why anyone would start a business with so little cash, knowing that you might need to take a loan on like the second turn of the game!
But Pipeline's gameplay landed well for most of my heavy strategy gaming friends. There's a little too much going on (this, strangely, is a good thing for these players). There's a spatial puzzle with moving pipe around to accommodate your energy flow, but then you also have a very intense economic game that needs to be solved too. Player powers reminded me of the milestones from Food Chain Magnate, which is a major inspiration for Clay and his tastes.
Artwork by Ian O'Toole? Check. O'Toole's work here is really striking, starting with the fantastic cover of the game's box. I'm told the expansion, Emerging Markets, is a must.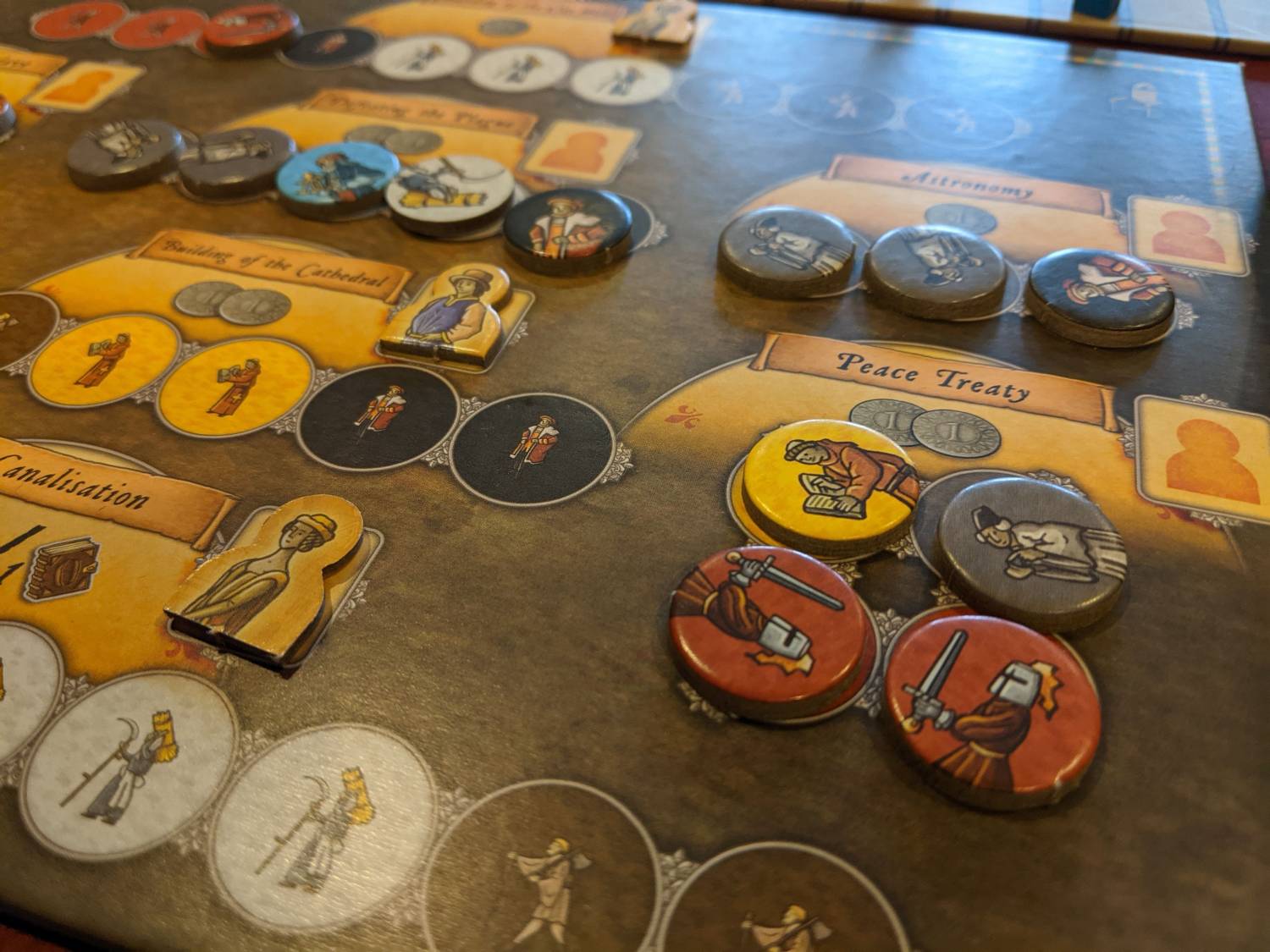 Orléans
Capstone is now the publisher of Orléans, Reiner Stockhausen's 2014's classic "bag builder", taking over from Tasty Minstrel Games last year. But even though the publisher logo on the front of the box has changed, Orléans feels like a Capstone game to me. The game was still selling well enough to attract Capstone for US distribution, so the fact that the market is still there for Orléans is a testament to its fantastic design.
In Orléans, players get 18 turns to make the most of their actions, building up their cloth bag of followers that must be used to gather resources, build settlements around the board, and advance on tracks that provide chances for higher end-game scoring multipliers in the game's setting of medieval France. Each round's event changes some of the game's rules, but the game really shines as you slowly build from almost no actions in the first couple of rounds to putting lots of followers to work late in the game.
Orléans is one of the games that cemented my love of the hobby. A full review is overdue!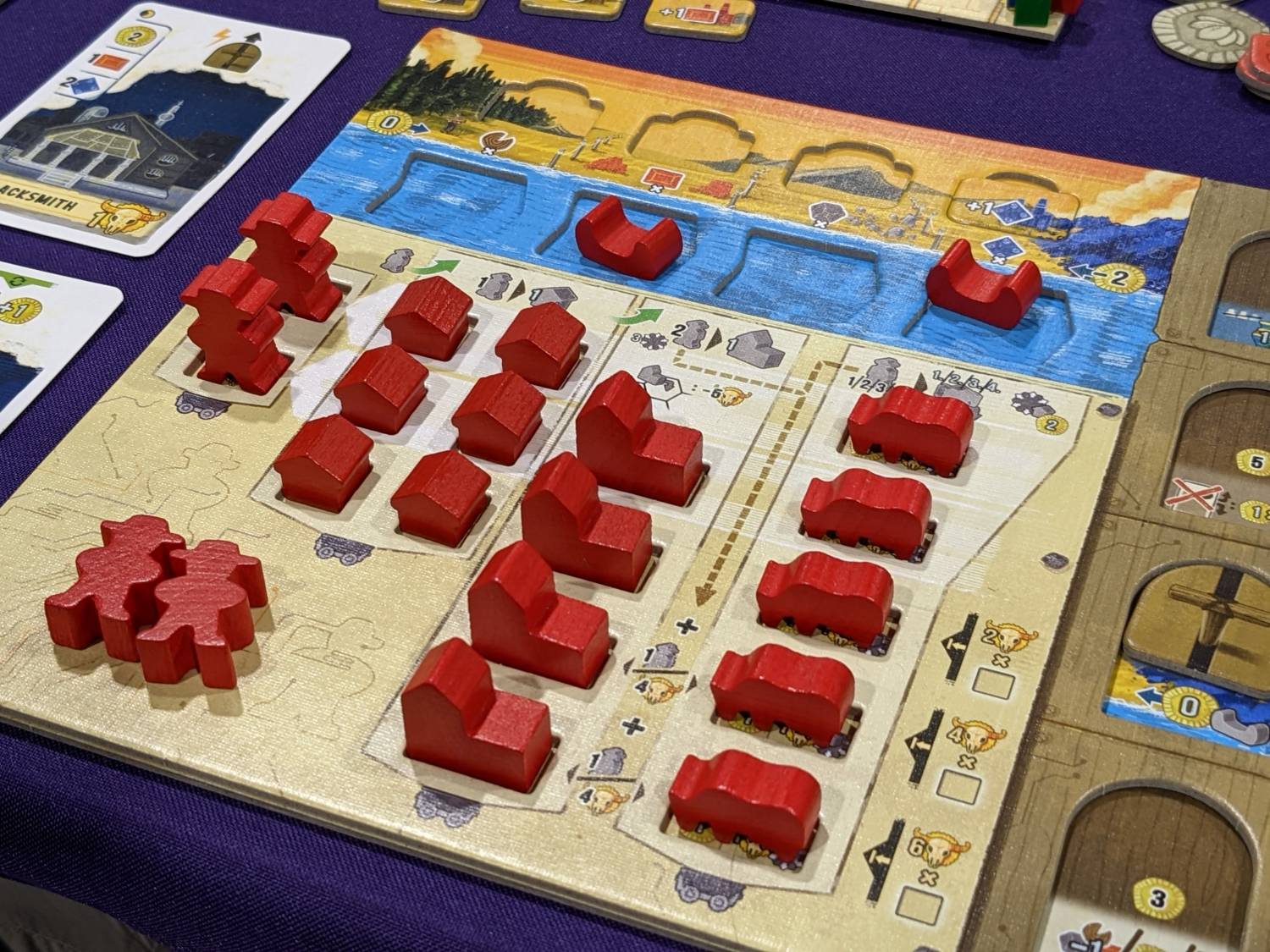 Boonlake
Some people love Boonlake. I will grant Boonlake this much: it has that look and feel of a Capstone game: solid production, a box almost too heavy to believe, and Alexander Pfister's name on the box.
But I don't think Boonlake represents the best of Pfister's work. Games like Great Western Trail and Mombasa work better, but more importantly, they work shorter. Boonlake can spiral out of control in the wrong hands and lead to rounds that last an hour or more each (there are only four rounds in the game). Playing as, well, a "group" leader in a new "territory" trying to gather resources and make a life for your community, I was never hooked on the game's theme despite the incredible player boards, fun action selection system and massive deck of cards.
I'm all for a good, themeless Euro, but Boonlake never felt like it broke away from Pfister's other greats to me (and Maracaibo is probably my favorite of his designs). Boonlake is a disaster, but also not a game I'm aiming to play again soon, if ever.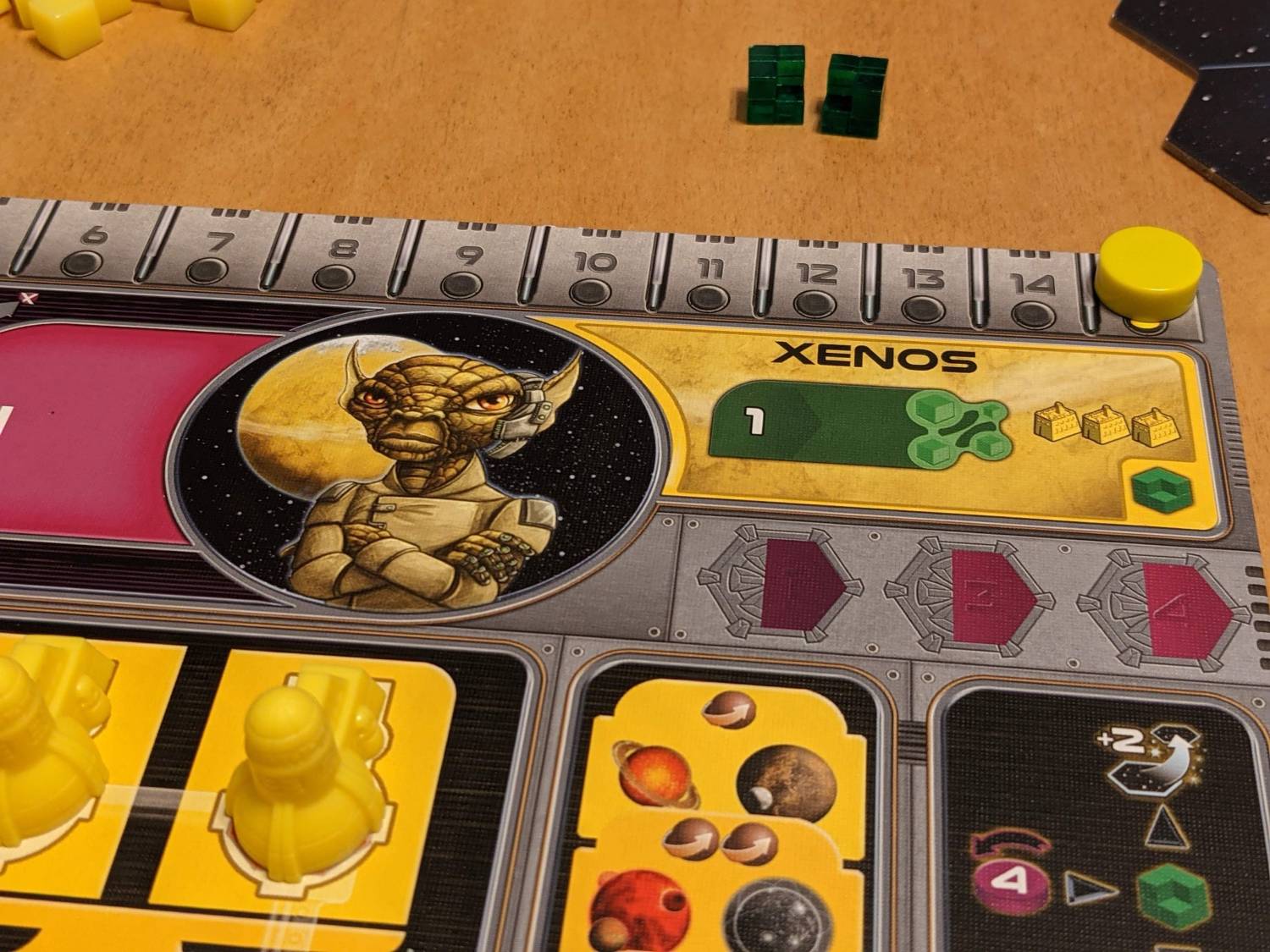 Gaia Project
Everyone likes to pick a side on this one.
I can acknowledge the strength of the design and the same tight focus on making every decision matter in Gaia Project. I don't think of Gaia Project as a reskin of Terra Mystica, but instead as two distinct games. I've probably logged 40 plays of Terra Mystica between live plays and the app, while I've only played Gaia Project twice.
But both times, I thought Gaia Project was just a bit too much game for me, and that's where I land on it now. For me, Gaia Project is a space exploration game with a few too many tracks and artwork that is undeniably worse than most of the other games I have played with this level of production. More than anything, I think of Gaia Project as the kind of game that exemplifies what a Capstone fan is looking for, maybe even more than Ark Nova: a thinky experience, roughly $75 MSRP, plays best at maybe four players, solid production, serious gamers only.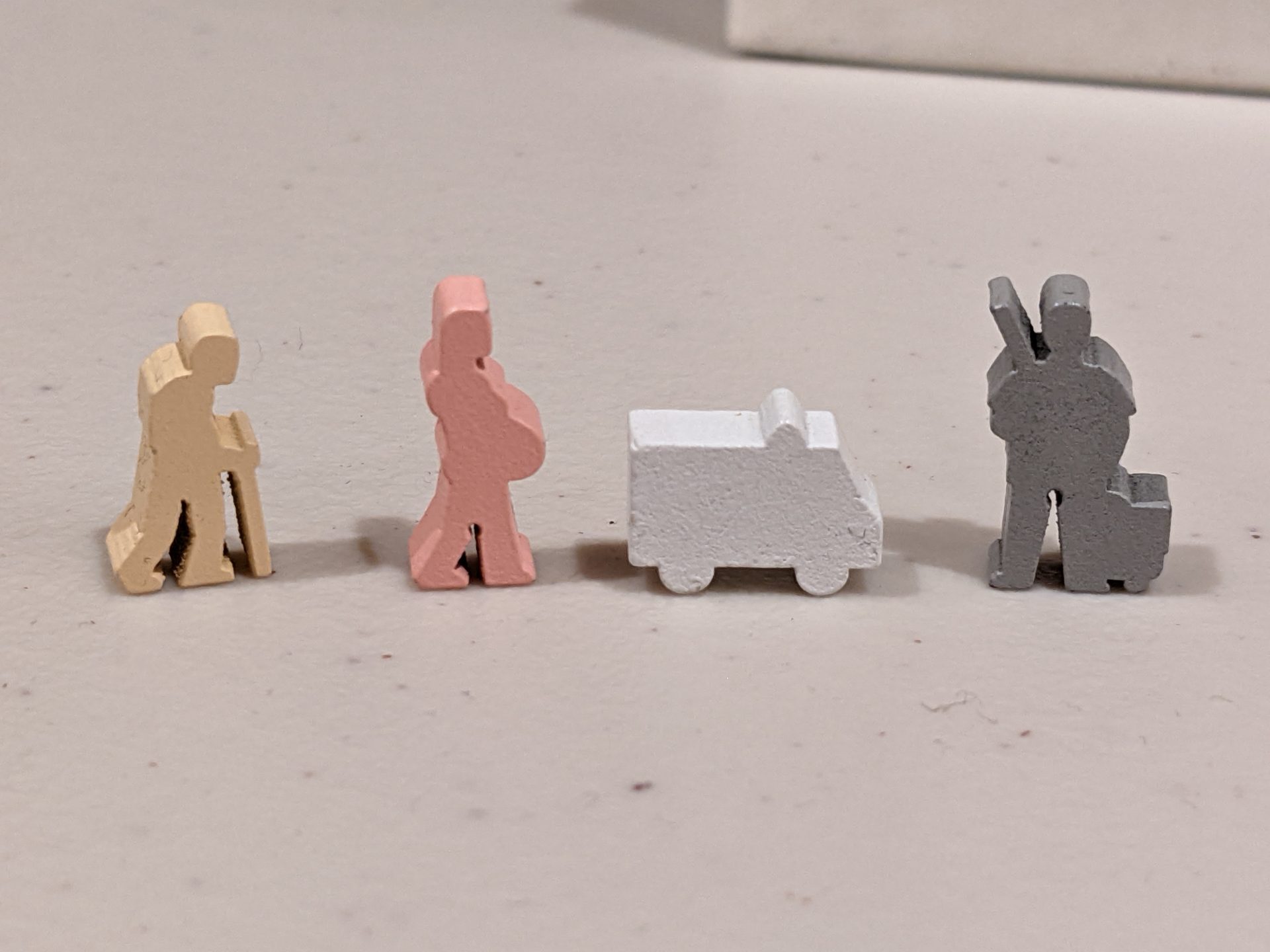 Playing Games, and the Future
Capstone has plans. That starts with getting Clay more time at the table.
"I really don't have time to play games right now" was a comment I heard often during our 3-hour conversation in April, and it's easy to see why: Capstone's business both with and without Ark Nova appears to be booming.
Still, I pushed. You must play games sometime, right?
"I love Pax Porfiriana," he started. "Lots of interaction, but not as much chaos as a game like Pax Pamir 2E because the card market in that game changes so frequently at high player counts."
What else? "Clinic: Deluxe Edition is in my top 3 right now. We are going to work with [designer] Alban Viard on other properties; he's a really passionate designer and is truly invested in all of the games he has worked on."
Games that are coming soon for Capstone? Whew, so many!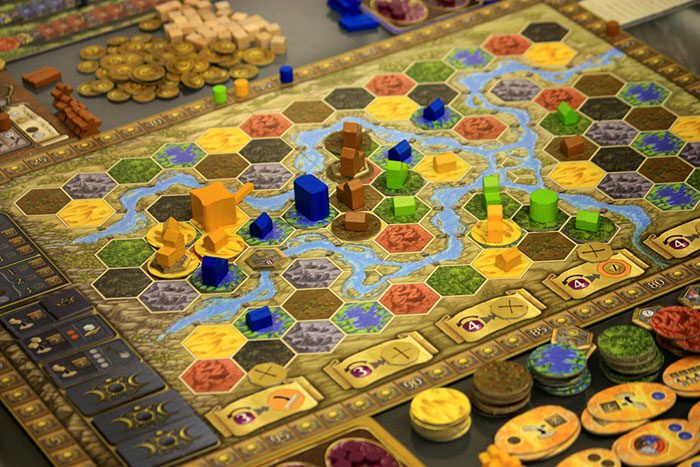 Some of the games that Clay and I spoke about this summer have now been officially announced, such as Terra Nova, the simplified version of Terra Mystica arriving soon. For those lucky enough to get a spot, Terra Mystica's lead designer, Helge Ostertag, was at the Capstone booth at Gen Con showing off the new version of the game for anyone who signed up well in advance.
Maybe you've heard about Ark Nova: Aquarius? (We know, you have.) We'll also have reviews going up soon on Catherine: Cities of the Tsarina, Fire & Stone: Siege of Vienna 1683, Riftforce: Beyond, and a few other upcoming games.
In late 2022 or early 2023, another addition to the Capstone family will arrive: physical gaming space at the offices outside Cincinnati. When I saw the space, it was just a big, empty room, so I'm excited to make a return trip to see how the build out looks. With a full library of Capstone games plus the ability to network with others who clearly enjoy these products, it would be exciting to have the Capstone HQ within range for gamers who live in Ohio.
Clay shared that Capstone is already hosting tours of the warehouse for interested parties; sounds like another opportunity to connect directly with gamers, building loyalty, and providing a photo opp for the social media-obsessed gamers out there looking to one-up people in their network. It's all a game, right?
The future of the Capstone games library relies heavily on the games coming from their German partners, but that pipeline appears to also be very strong. I get the sense that there will be more to share on this front in the months ahead; strategy gamers across the US are following Capstone's every move. Count Meeple Mountain amongst those excited to see what's next!