The Meeple Mountain team came to Philadelphia for PAX Unplugged, the analog event in the Penny Arcade convention series. Was it always sunny? See below to find out!
Three of our Meeple Mountain team members—Andy Matthews, Justin Bell, and Andrew Lynch—converged in Philadelphia for this past weekend's PAX Unplugged (known as "PAXU") to play games, meet with other content creators in the tabletop media, and discuss current and upcoming titles with publishers, designers, marketing leaders, art directors, and a collage of other luminaries in the world of gaming.
Here's the executive summary: we loved it.
And there was so much to love.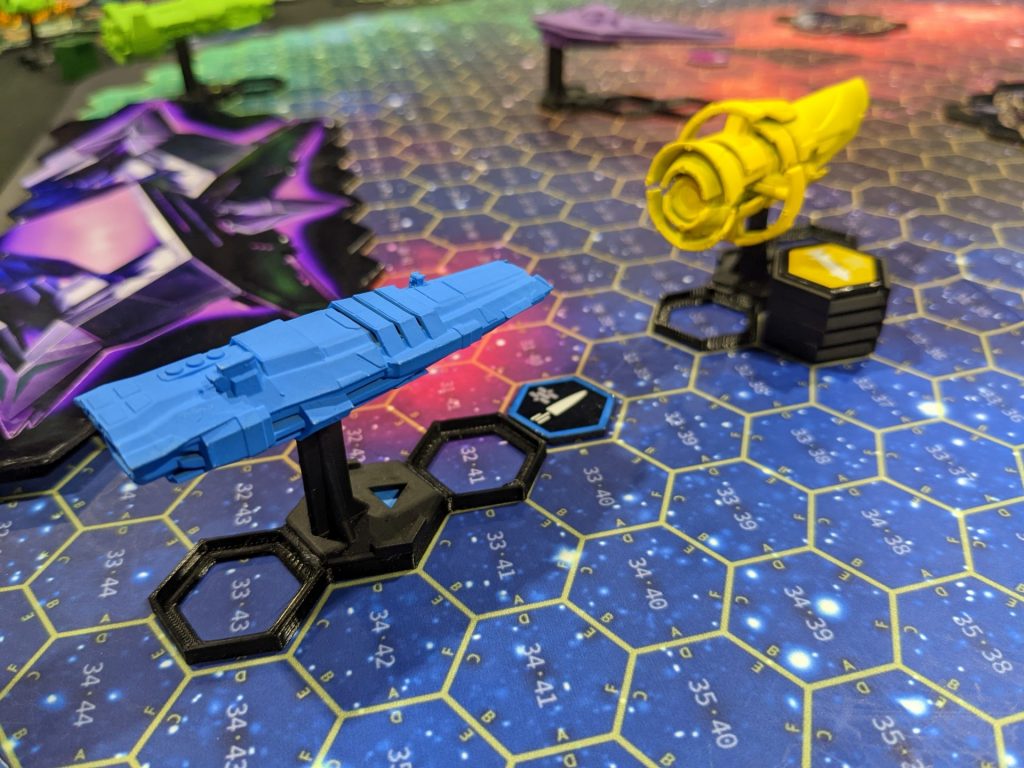 The Vibe
Justin Bell
PAXU straddles an interesting space: it is still relatively new (the inaugural event was in 2017), but it is treated almost like a more accessible Gen Con in terms of expo hall size, gaming space, location, and activities. Coming on the heels of other larger/more established tabletop conventions this year, and with extremely strict health & safety protocols, we spoke to many attendees who made this their gaming "coming out" party. That led to a lot of fun moments where people seemed excited just to see other people this weekend.
PAX Unplugged unofficially kicked off with a pair of media/content creator events on Thursday night. Both events were open to media, designers, publishers, and other industry folks. Each were well attended and gave everyone a chance to preview titles from some of the event sponsors, talk to everyone else in a relaxed atmosphere, and get face time with others before PAX opened the doors on Friday morning.
Mask adherence was solid. The use of the CLEAR verification system (you've seen CLEAR at your local airport, if you are based in the US) made uploading facial recognition, vaccination and personal information a breeze, and the PAXU's paid "Enforcer" staff allowed for quite easy traffic flow and shepherding of people from place to place. The addition of metal detectors and multiple K-9 support teams? PAXU might be more secure than the White House!
The attendees at PAXU were just a really friendly bunch. The three of us sat down for a couple dozen different demos with different crowds and all of those crowds were just excited to play games. We even had a random attendee join us for a game of Boonlake to help fill out our player count (thanks Sacha if you're reading this). The open gaming space was plentiful; the game library process was easy, and we never had to fight to get access to a game in the "First Look" area with new game releases. Publishers were fired up to talk about games and almost all reported strong sales at their booths.
Andy Matthews
PAX Unplugged was a solid experience, but I also had small bouts of melancholy. As someone who writes about board games it can be hard to "stop working" and just enjoy yourself. Thankfully I took charge of that feeling and decided to sit down and play some games. As Justin mentioned, the other attendees were great, and it was never a problem to find someone to game with.
I lean towards the lighter end of the spectrum, but the two standout titles for me were 2Can, an upcoming light card game from AMIGO and Origins: First Builders from Board&Dice.
Amigo previewed 2Can for me at one of the mixer events on Thursday and I was intrigued. So when I found it on one of the First Look tables I had to sit down. And as soon as I did 5 other people hopped in and we all learned the game together. As soon as I finished that game, 3 other people approached and asked me if I could teach them, so I got to play 2Can twice in a row. There were lots of laughs from both groups, and a good time was had by all.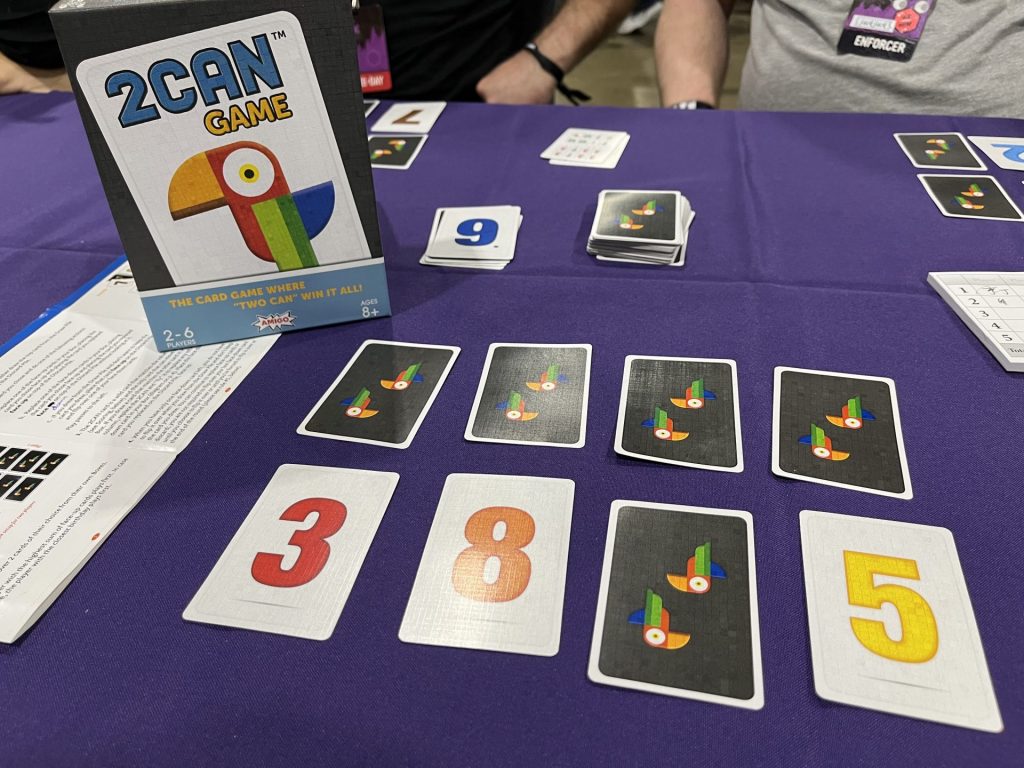 Origins: First Builders from Board&Dice is a mid-weight dice worker placement game with a sci-fi and civ building theme. It's a little meatier than my usual type of game but Justin was so excited about it that I had to jump in. Thankfully Rainer from the Board&Dice team did a killer job teaching us the game and we closed out Saturday night and JUST squeaked out a finish before the hall closed. Origins: First Builders is a really solid game. It's not too heavy, coming in around 1.5-2 hours, and mechanically speaking it made a lot of sense. In typical euro fashion there are multiple progress tracks, with lots of opportunities to score points. Add in the cities you're building that give you in-game scoring, as well as setting you up for some great end-game scoring, and you'll be able to get points with nearly every move. I highly recommend it.
Andrew Lynch
I was only present for the last day of the convention, but I had a great time visiting all of the publishers on the floor. Andy and I spent some time with the developers of Blinks, a system that Andy's quite familiar with but I'd never seen before. We also played two full games of Riftforce, a sharp little game from Capstone that I'll be reviewing in the near future. We finished both games in less than 25 minutes with a teach—now that is how you do it. The first quarter of Boonlake took 90 minutes and two experts to get across—a shout out to the PAXU team member who taught us a game she was absolutely positive she didn't know how to teach—and if I'm not sure I'm itching to play it again, it's been a while since I played a new game of that weight, so that was nice in and of itself.
I was most struck by the relative ubiquity of good feeling in the hall. I grew up attending conventions with my mom, and the last day is often a low-energy bummer, with everyone burnt out. People at PAXU seemed genuinely happy to be there.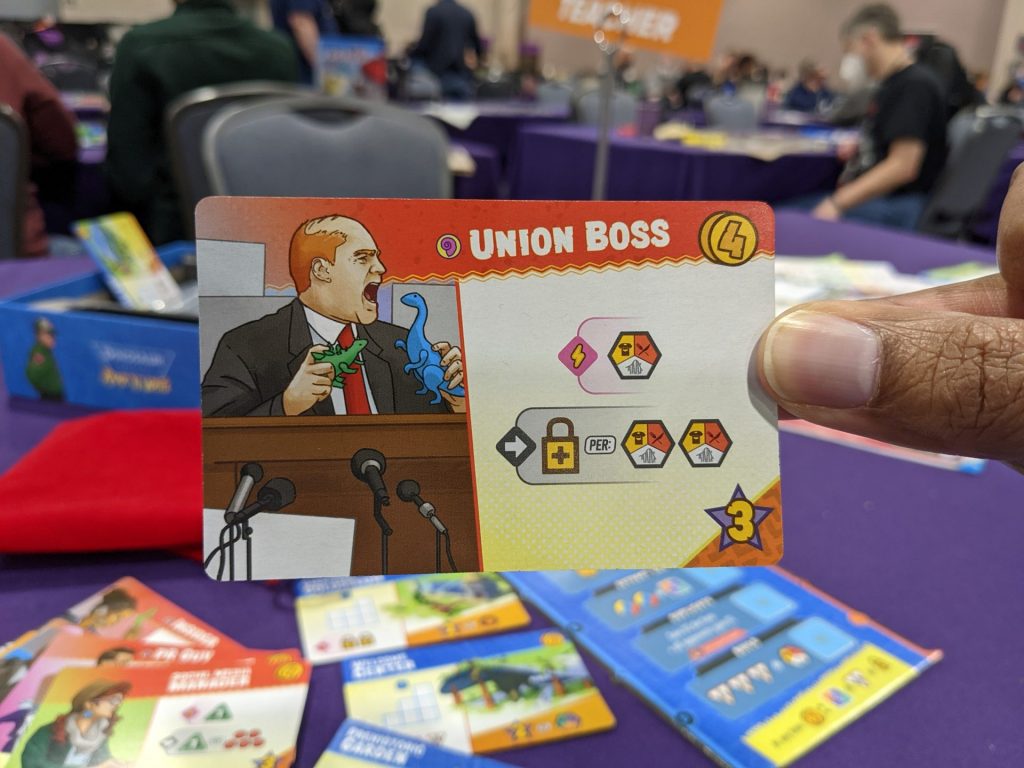 The Expo Hall
As a team, we collectively scheduled many less meetings than, say, Justin's Gen Con trip back in September. But that didn't mean we were any less busy walking the floor and getting the latest scoop for all of our readers.
Funko Games
Prospero Hall wasn't selling any games at PAXU this year, but for our money they made the biggest splash of the show. The Legacy of Isla Nublar, a legacy game based on all of the Jurassic Park/Jurassic World films, had its own booth complete with a look at the game's tutorial mission. The minis were spectacular, the location maps reminded me of some of my favorite Advanced Dungeon & Dragons games growing up, some of the movies' signature characters are featured in the game and the comic books used as rules for each scenario look incredible.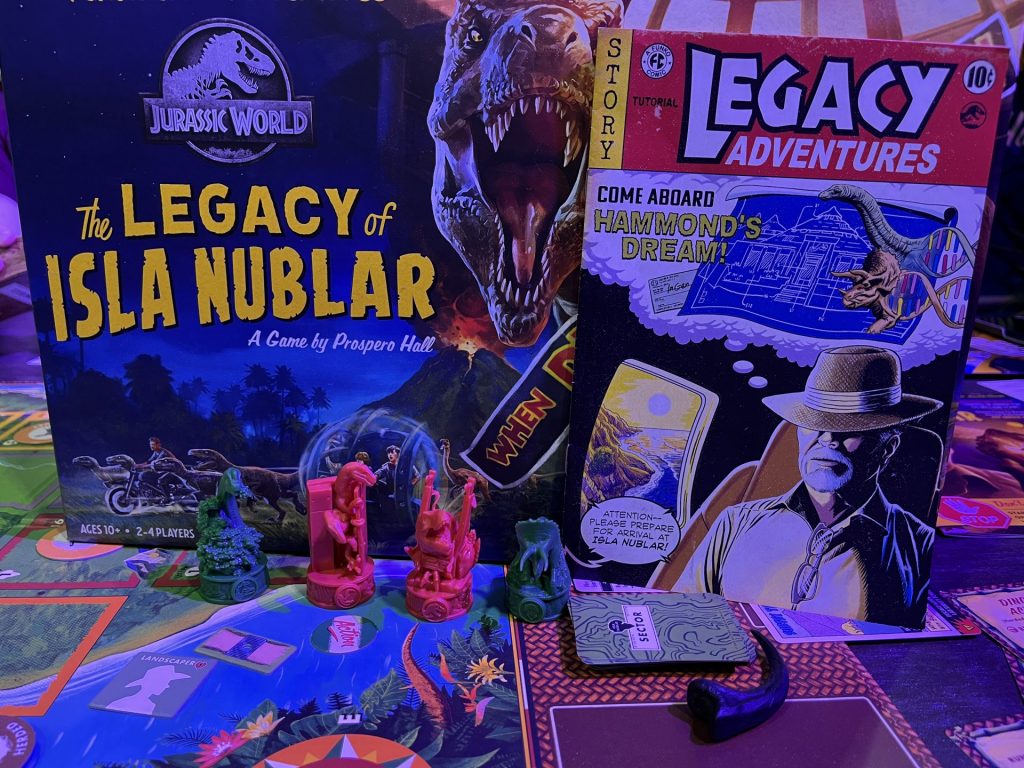 The Legacy of Isla Nublar is coming to Kickstarter early next year with a price tag of $120, nearly 4 times the price of any existing game in this publisher's catalog. Personally, I believe 2022 will be the year Funko Games is taken more seriously by hobby enthusiasts thanks to just this one game.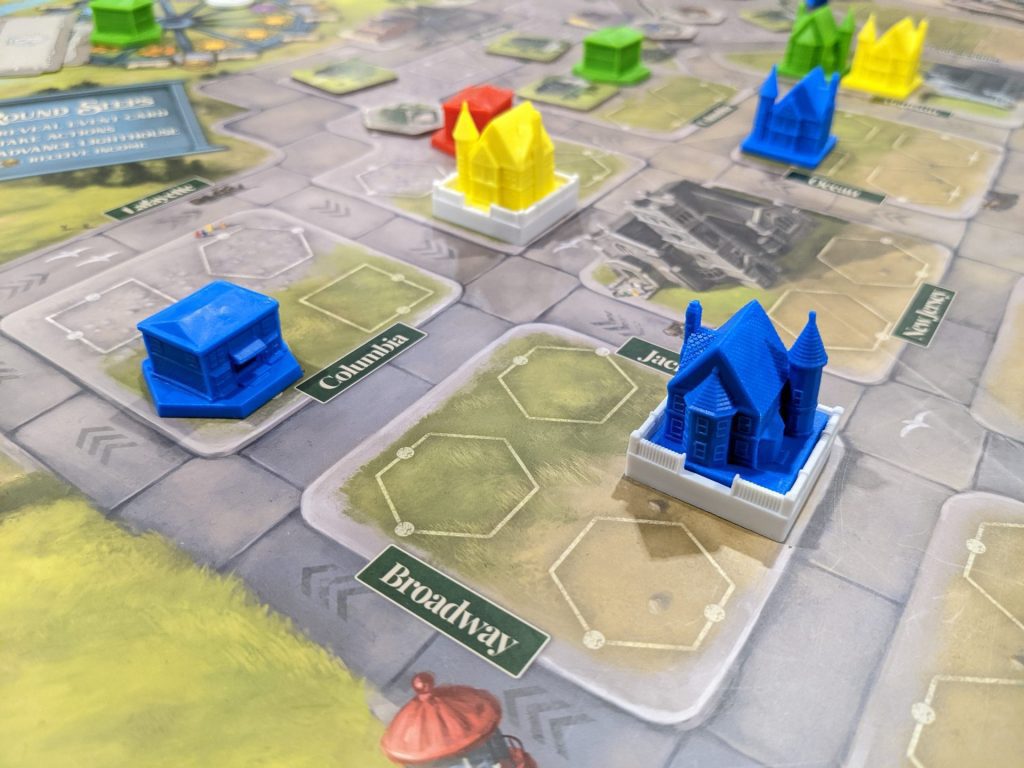 Thunderworks Games
Justin had the chance to meet with Keith Matejka and Tim Virnig about their 2021 successes and what's coming up for their 2022 slate. (Shameless plug: Justin used Keith's appearance on the Tabletop Merchant podcast to study up before this meeting because he appeared on the same podcast just a week later!) Our team is very excited about Cape May and Roll Player Adventures, particularly the latter after all of the media buzz this fall and our thoughts on the original Roll Player series.
Keith talked extensively about the process of getting Roll Player Adventures to shelves, and he talked openly about TW Games' commitment to pushing inclusivity both in their games and in the industry at large. 2022 will also feature the TW Games' release of Tenpenny Parks, a light-to-medium weight game with fantastic art (it gave Justin a Bioshock vibe, for those familiar with the video game series) and a sharp attention to production elements that give the board and components quite a sturdy look. Justin will be getting a review of Cape May up in a few weeks; Keith and Tim were both very generous with their time as we caught them right when the show floor opened on Saturday.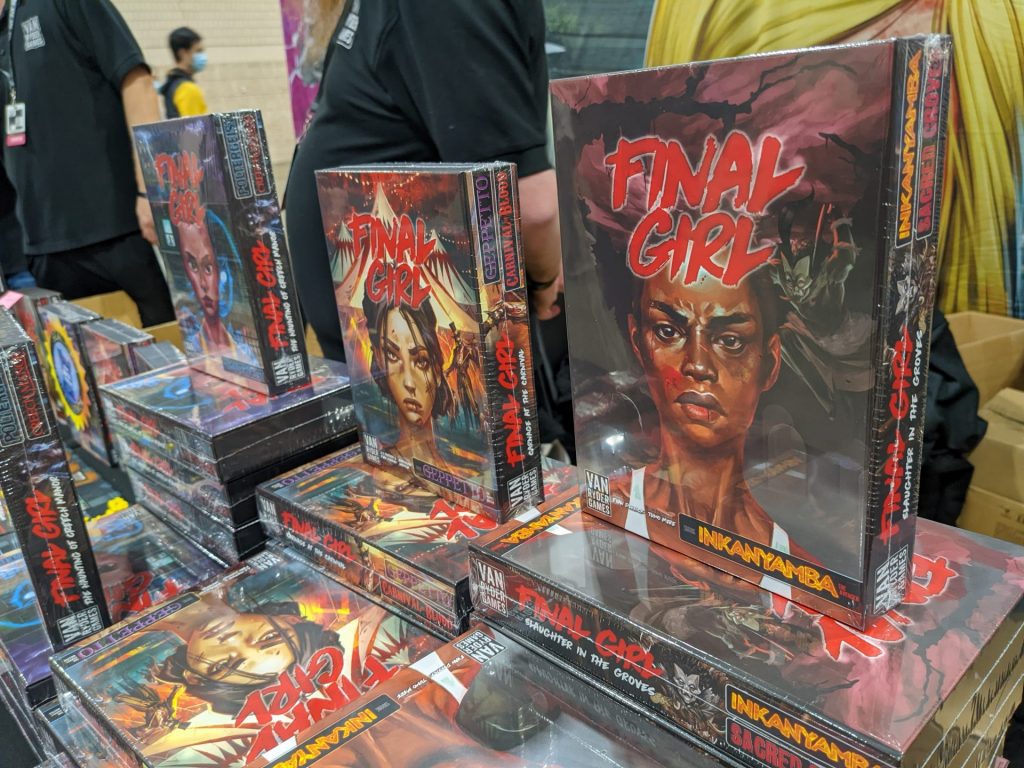 Van Ryder Games
Final Girl, a solo game series with a core box to go with a bunch of optional expansion content, was selling like hotcakes at PAXU and with its distinctive art style, it's easy to see why. Justin spoke with AJ Porfirio at the Van Ryder booth about the games, as well as the Detective: City of Angels series; we love profiling smaller publishers and it's fun to see the buzz around games like Final Girl to bring attention to great games.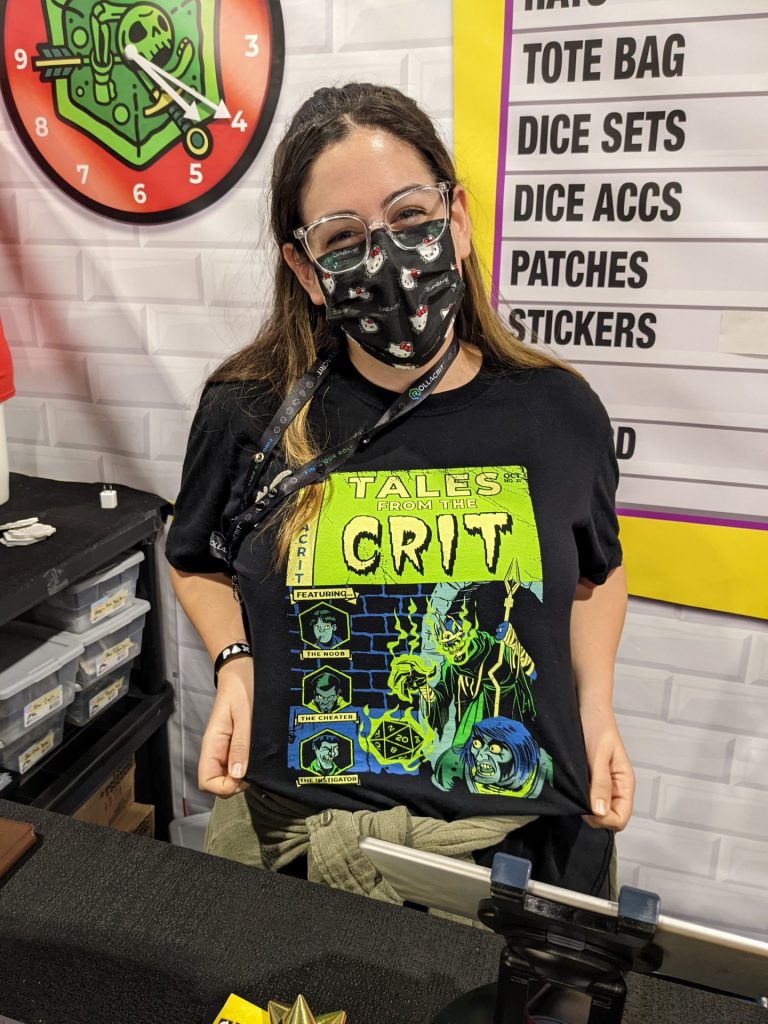 Rollacrit
The team formerly known as ThinkGeek was having more fun than almost anyone on the expo floor. Meeple Mountain doesn't cover much of the merch/swag/accessories space, but the art direction of the t-shirts we saw at PAXU was exceptional, and oversized dice sets made of bone or jade don't hurt either! (Fact: even though we are privileged to get review content from many publishers, Justin happily shelled out $50 on a bunch of merch at the Rollacrit/Thinky Dice booth!) Give Rollacrit a look if you are in the market for fun gear and spicy components.
Azure Horizon Games
Justin met with Jim Kavanaugh, the founder and game designer for Kleos, the first release from Azure Horizon Games. The release cycle for Kleos sounded like an adventure—maybe that was because Jim's voice was nearly gone after talking about the game through a mask for more than 2 straight days!!—but Jim was excited that the game was getting into backers' hands this week. Jim is sending our team a copy of Kleos for review soon; a big shout-out to Jim's wife and friends, who were at the booth and helped to describe the game so that Jim didn't lose any more of his voice while discussing Kleos!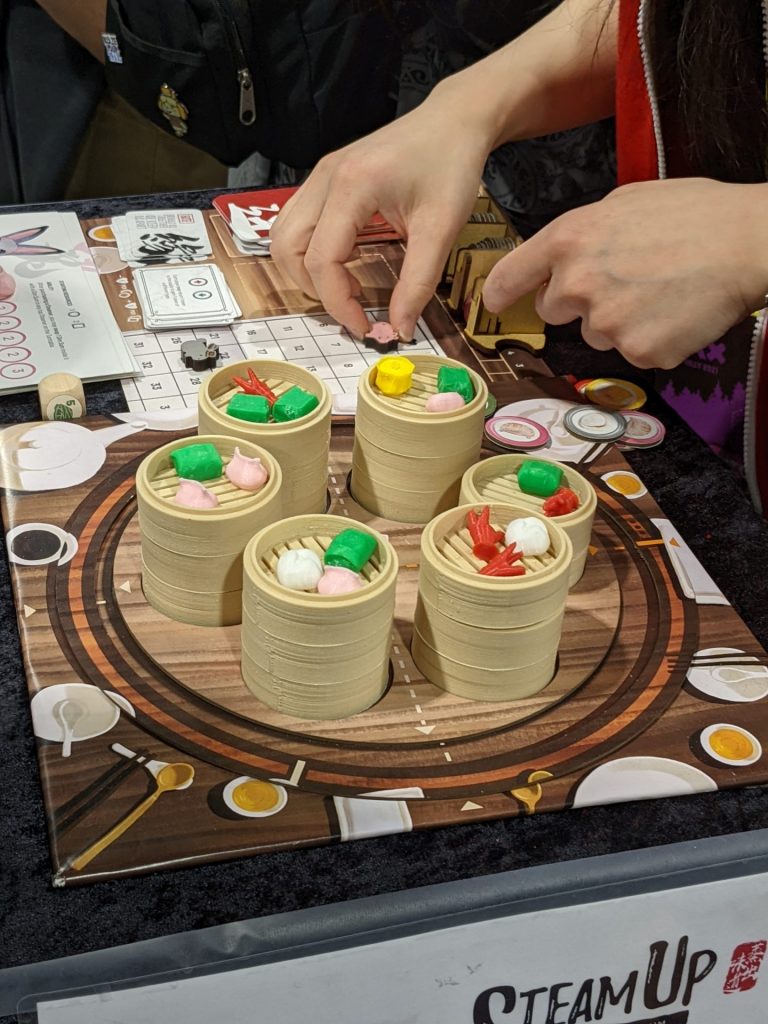 Alderac
Andy was able to get a sneak peek at Rolling Heights, an upcoming meeple-rolling, city-building game from John D. Clair, the designer of Ecos: First Continent and Space Base. After the gameplay was done, Andy spoke with Luke Peterschmidt from AEG about some upcoming titles including an app driven game which had an accidental success when one of the developers went too fast through the gameplay. Accidents can sometimes lead to the best results!
Pandasaurus
Our time at the Pandasaurus booth was almost completely occupied with a preview of their upcoming release Skull Canyon: Ski Fest. This one's a worker placement game with a killer skiing theme. Send your skiers up (and down) the mountain to land difficult runs, pick up killer gear, and earn major points. Skull Canyon: Ski Fest mixes some classic gameplay mechanics with a new theme and the same great graphic design we've come to expect from the Pandasaurus team. Our time was also spent chatting with the delightful Danni Loe, their marketing manager, about their successes, the Dinosaur World franchise, and how annoying it was to wear masks and glasses when the heat in the building was turned up too high!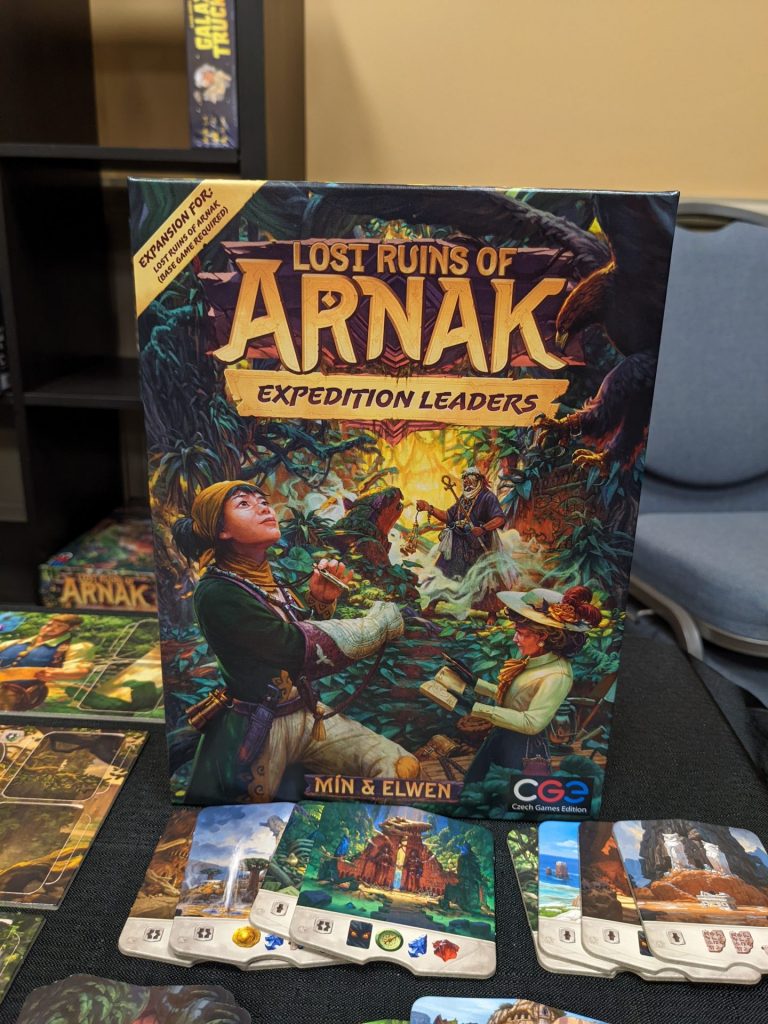 KOSMOS
It's always a pleasure talking to Tom Wetzel from KOSMOS. He's a genuinely nice guy, and really knowledgeable about his product line. He spent time talking to Andy about the recent release of The Crew: Mission Deep Sea – the follow up to the smash hit, award-winning The Crew: The Quest for Planet Nine, and Andor: The Family Fantasy Game, the follow up to the hit title Legends of Andor. Tom confirmed that while he prefers the follow up to The Crew, there's absolutely room for both titles in your collection. Tom and Andy also discovered that finding the wolf cubs in Andor: The Family Fantasy Game isn't as easy as you might think.
HABA
HABA USA has a super power named T. Caires – Games Manager. T. is deeply knowledgeable, organized, capable, and runs the HABA booth like a well-oiled machine. During Andy's short talk with T. the two of them discussed maintaining HABA's position at the top of the young children's space while also continuing the company's push into the strategy gaming space with titles like Miyabi, and the new The Key series line of games (The Key: Theft at Cliffrock Villa, The Key: Sabotage at Lucky Llama Land, etc.).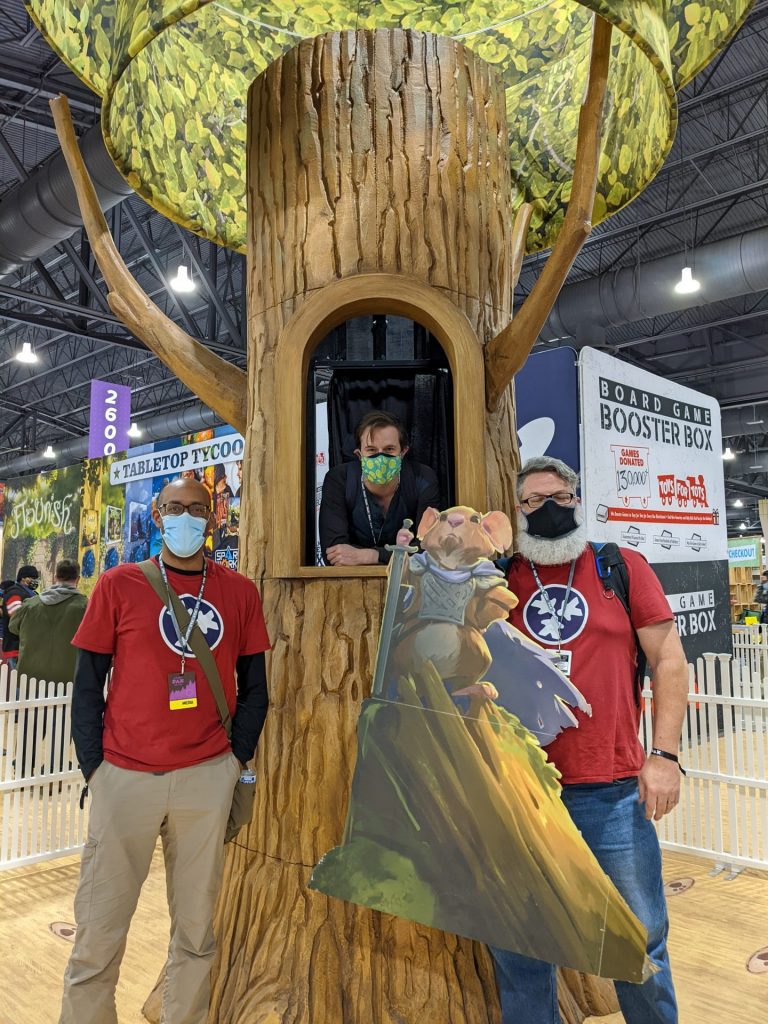 A Few Additional Thoughts…
Justin
I loved PAXU because it was the perfect sweet spot for me—conduct a few meetings with great people in the industry, meet some new people in the media space, and play a bunch of games with familiar and fresh faces. I demoed or completed full plays of more than 20 games, including Corrosion, Boonlake, Velocity: Vanguard, and my favorite game of the show, Origins: First Builders.
Being part of the tabletop media has many perks, but I'm quickly learning that the biggest perk of all is the shared connection around the aggressive pursuit of having fun. Spending time in person with Andy and Andrew was also a blast because our team works mostly through Slack; seeing real people in real places is very cool. And it didn't hurt that it was almost 70 degrees one day this weekend; who knew I could leave Chicago and fly to the sunny confines of Philadelphia??
Andy
All in all PAX Unplugged 2021 was another successful event for me. This year I decided to go lighter on the meetings with publishers in favor of being able to wander around. But I don't think I enjoyed myself quite as much as when I had more meetings in 2019. So I think next year I'll adjust the balance a bit and give myself more structure to my schedule while still leaving blocks open for personal exploration and surprises.
As Justin mentioned, getting a chance to see other members of our own team in person, some for the first time, was a delight and a real honor.
Andrew
I have to give a special shout out to the Capstone booth for my favorite thing I saw that day: You could pay $20 to roll a big ol' chunky D20, and win a game according to the result. 1-12 netted you any small box game, which were all worth around $25. The higher rolls would win larger games. It was a silly, fun idea, and the fact that there was no real risk associated—who wouldn't be glad to underpay $5 for a copy of Watergate or Riftforce?—made it a no-brainer. I rolled a 9, and I'm looking forward to trying my new copy of Curious Cargo.