Join a mother and daughter as they enjoy the positivity and inclusiveness found at Dice Tower Con 2018.
One of the most exciting times of year for gamers is convention season. We look forward to seeing the new hotness on display at Origins, Gen Con, Essen, and dozens of others. Publishers time their releases around these convention dates, often offering their latest and greatest there as early releases. Gamers get to demo and playtest new titles before the general public. Publishers are out on the floor greeting guests, networking, and generating buzz. I, like millions of other gamers, eagerly scanning social media for glances of others basking in the glory of attendance.
If you've never attended a board game con, check out our Board Gamer's Guide to Board Game Conventions for suggestions on where to start.
Part of the Scene
This past Christmas I was given tickets to Dice Tower Con. Located right here in Florida, it was a hop, skip, and a jump for me. I was excited to finally be going to a gaming convention and, as a blogger, to get to meet some people as well. My 5 year old daughter immediately announced that she would not be left behind. Someway, somehow, she was going, too! As the months passed, the excitement began to build.
Then it all came crashing down as I began seeing things that turned my excitement into building dread. Accusations of sexual harassment, unwanted advances, exclusion based on gender, and other allegations, at a recent convention were suddenly filling my news feed. It seemed like this was all anyone was talking about. Let me put a disclaimer here, I don't know if anything was true or not, nor what the eventual outcome was, or is. I had to stop reading. It was too much for me to process. If you want to know more about what happened, where, and when, I'm sure you can google all the details, I'm not going to go into all of that.
Building a community is hard, with so many voices and opinions. But as long as you're true to yourself and to the others in your group, it can be a very fulfilling and rewarding experience.
Who Am I?
I am a female gamer. I know that I am in the minority in my chosen hobby. I know that when I walk into a gaming store most employees ask me if I'm looking for something for my boyfriend or husband. I know that my daughter is mostly ignored by the same people. For those of you who are unfamiliar with me or my work, I run a solo gaming blog.  My daughter also has her own gaming blog and recently launched a YouTube channel.  My daughter's first YouTube videos were a Too Many Bones playthrough. Yeah, she's that serious. This is my truth, these are things have happened to me, and to my daughter. It is something that I know and deal with with politeness and, I hope, grace. What I was reading went beyond that and concerned me a bit. Instead of submitting to the fear, I chose to have faith in the community and to go into Dice Tower Con open-mindedly. I'm glad I did.
Our Experience at Dice Tower Con
My daughter and I had the most amazing experience at Dice Tower Con. We were fortunate enough to be surrounded with people who were welcoming, kind, generous, and, above all else, respectful. My daughter arrived at the convention in her princess dresses each and every day, ready to play some games. She walked with confidence into the booths, introduced herself, and then proceeded to fire off questions about their games, asking for demos, as well as pricing on the products.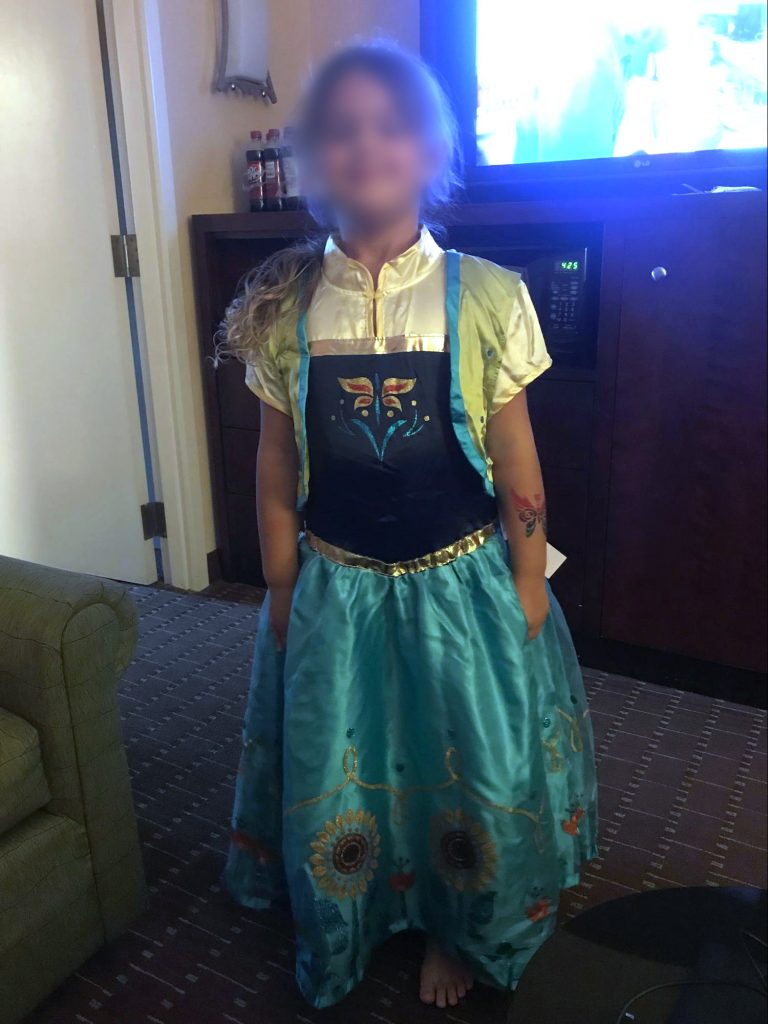 I stood back and watched as she handled herself, as well as the reaction from the publishers, con workers, and other attendees. We did not come across a single individual who was rude, dismissive, or derogatory to us. Vendors became her friends and sought her out during open gaming sessions after the exhibit hall closed. I was proud of my little girl. I was proud of every person she met.
I was proud of my community.
Good Guy Adam Carlson
Since the day my copy of Too Many Bones (by Chip Theory Games) arrived on my doorstep, my daughter has been intrigued by it. Despite her age, I taught her to play. She is now a better player than I am and their biggest fan. There is nothing that CTG has made that she does not own, play, and love. We found out that Adam Carlson, one of the founders of CTG, was going to be attending DTC, not as a vendor, just as a regular attendee. My daughter made it her mission to meet him.
When she finally saw him from across the room, she was overcome with excitement. She was going to meet her idol. Adam greeted her with such enthusiasm that I wasn't sure who was more excited. She presented him with a drawing, and he sat and talked with her for at least half an hour. We ran into him again, the last day of the convention, and he sat and chatted with her for a very long time, full attention focused on her, what she was saying, with complete interest.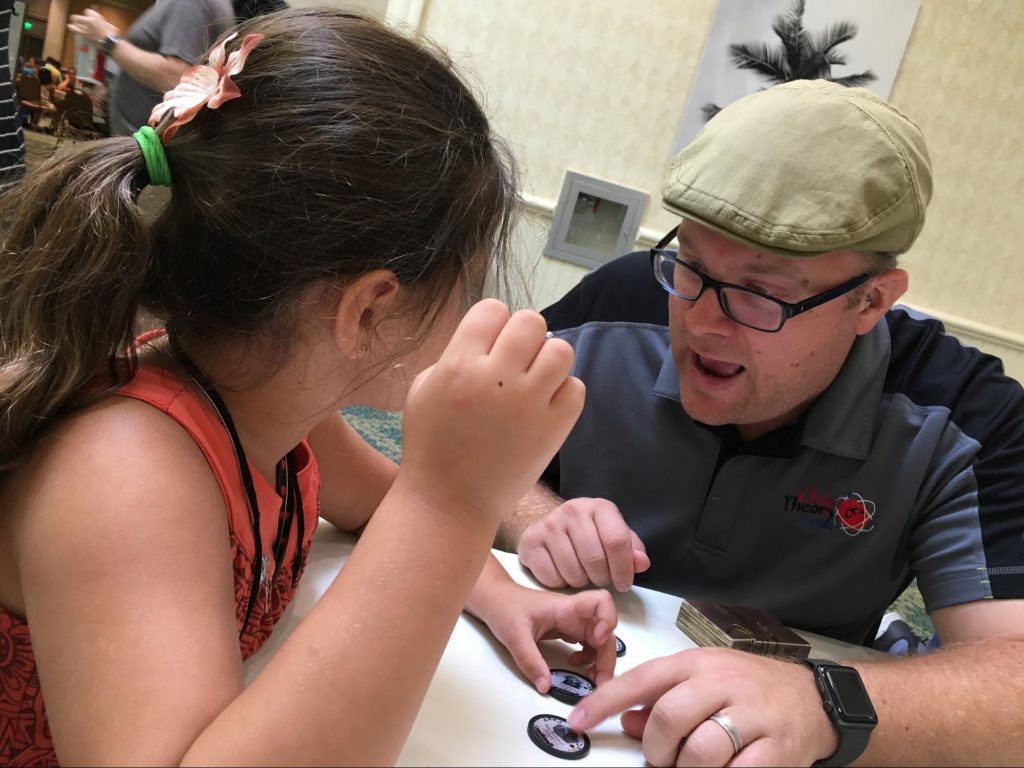 His lovely wife was so gracious to allow her husband to be stolen away from her, while my daughter took all his attention. My daughter has talked about nothing else than meeting "Mr. Adam Carlson". He was even kind enough to present her with his own neoprene Undertow dice tray, and play a round of the unreleased sequel to Too Many Bones, Undertow. I could not have asked for a better experience for her. I loved CTG before, but now I love not only the company but the wonderful people behind it as well.
Devir Impresses With More than Games
Minutes before bumping into "Mr. Adam Carlson" we had stopped by the Devir Games booth, our first stop when we arrived at the convention that first day.  They were demoing a game that caught my daughter's eye, Gretchinz, an Ork racing game. While the game originally called her over, the employee working there, Vladimir, made her stay. He taught my daughter the game, played it with her, and chatted with her along the way. Vlad was charming, charismatic, and a wonderful person to talk to.
We visited Vlad each and every time we went to the Exhibit Hall, making sure to let him know that she added his game to her collection. Walking by our table in the open gaming room, Vlad stopped by to say hello to us and chat with my little one a bit more. I cannot thank him enough for setting the tone for the rest of the convention. He immediately made her feel at ease, listening to each of her questions, answering them in a thoughtful way, and complimenting her as well. He was an asset to Devir Games, and made me a fan of theirs as well.
A Personalized Touch from Kenneth Shannon
Not all of the games at Dice Tower Con were aimed at my little one. As a solo gamer, I was excited to head over to see WizKids Games. They were selling copies of a new game by Kenneth Shannon, Maiden's Quest. I was very excited to be able to snag a copy before they sold out. Maiden's Quest is a really cool card game, played entirely from your hand. Although it is a solo game, you can also play competitively, as well as cooperatively, by jumping in and out of games with others playing the game. It was a perfect game to play at a convention, and I was lucky enough to meet Ken at DTC one evening.
The next morning, when we saw him at breakfast, my daughter instantly recognized him and wanted to go say hi. Ken was more excited to see my daughter than he was to see me, not that I can really blame him. She's infinitely cuter than I am. He introduced her, and I, around the table, telling everyone about our blog, and her YouTube channel.  My daughter chatted with him for a while and Ken showed her how to play his game, gave her some tips, and even signed my copy of the game, personalizing it to her! He made her feel like a true princess. My game has now become property of my daughter, and she is enjoying it immensely.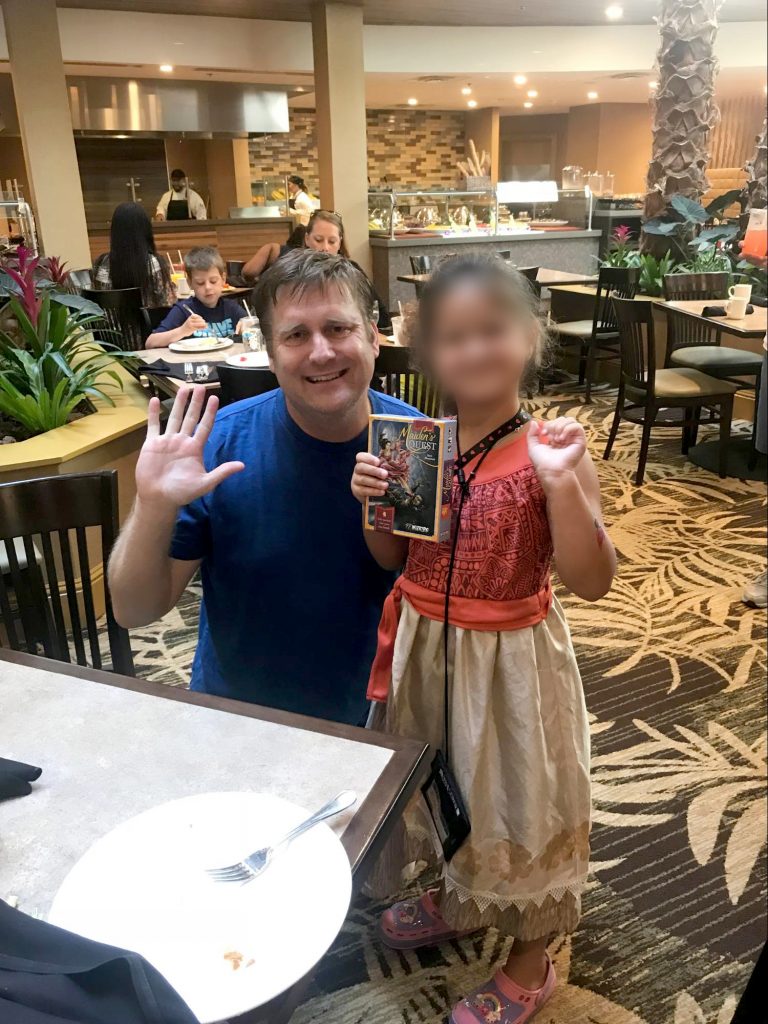 Luma Games Brightened My Day
The last encounter I want to share (there are many more) was with a Canadian company called Luma Games. During one of my trips to the Exhibit Hall without my daughter, a friend and I had played a game called Gaia. We both enjoyed the game so much that we both bought a copy. The next day I returned to the hall and ran into the people running the booth again. This time I had my little one with me. She made instant friends with Steve, Marie, and Marc. They taught her to play another of their games, Color Addict, and even presented her with a copy. After the game, the staff stayed around to chat with my daughter, talking about all sorts of things, most of which were not remotely related to boardgames. They chatted like old friends, making plans to meet up in open gaming later that night, this time for my daughter to teach them to play a game.
Don't Let Negative Press Prevent You from Loving Your Hobby
Wherever we went we were met with smiles. People were kind. People were thoughtful. People were respectful. I know I spoke of mostly vendors, but there was an attendee that asked my daughter if she were a real princess and, when she replied in the affirmative, he asked her for her autograph. It was the sweetest moment and just another example of how wonderful our community is. I was anxious about attending DTC because of what I had read. I am mad that I wasted that much energy on entertaining those thoughts.
We started this piece with a take on an old joke, however, this joke has no punchline.  Don't let anything you read or hear scare you away from doing what you love. My daughter and I were embraced, made to feel welcome, and that renewed my faith in us and our community. To everyone that we met, thank you. Thank you for being the awesome people that you are, for making my daughter have a wonderful experience. She has now asked if we can attend "Orange-ins" next year, and Gen Con this year. We can't wait to go to another convention, and meet all of the people we missed this time because now I know I have nothing to fear, and neither does she.