Justin reviews the new abstract puzzler Qawale from Gigamic!
My new "friend" Rawan took it easy on me.
Rawan, one of the marketing reps from the team at Gigamic, asked if I wanted to try the new abstract puzzle game Qawale while standing with me at their booth at SPIEL '22. It was clear that I was in trouble right after I accepted Rawan's offer to play.
Qawale is a two-player-only game that is so quick, it becomes perfect as a glass-of-wine activity with a partner while waiting for dinner to cool. A game that rewards creativity, Qawale's quick eight-round playtime makes it shockingly easy to get to the table.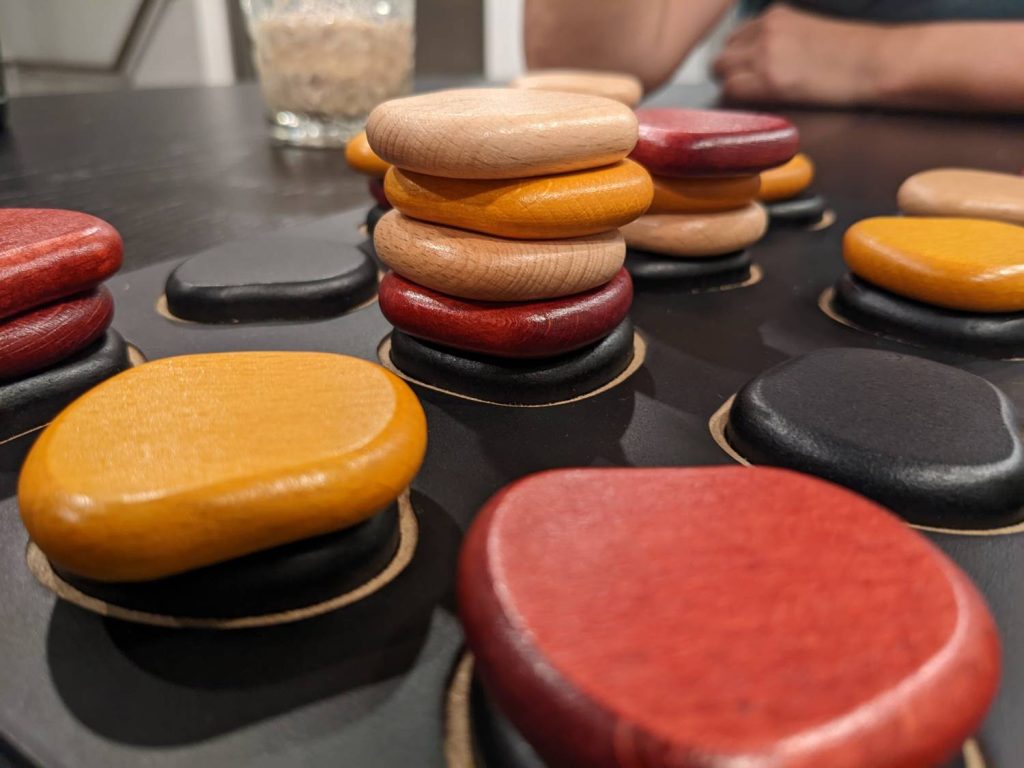 Stack Those Rocks
The teach for Qawale is so simple that it is shown in full on the bottom of the box.
On a 4×4 grid, each corner has a stack of two tan stones. Each player has eight stones in their own color. On a turn, a player must take one of their stones, stack it onto any number of other stones on a single space (so, you can't start a new turn on a blank space), then move the stack orthogonally, dropping off the bottom stone each space along the way. Get four of your stones in an orthogonal or diagonal line, and you win. If no one does this within eight rounds, the players draw.
Each game of Qawale that I've played has turned out differently. In my play with Rawan, she won on the second-to-last turn with a move that basically boxed me out of blocking her movement, by setting up a diagonal check and an orthogonal check to give her some options no matter what I did with my stones.
In another game that I won, I was able to get creative by moving my own stones around, with a stack of four stones composed of three of my own color. I've had other games where a player won on the last turn and games that ended in a draw. No matter what, moving from spot to spot while keeping the other player one stone away from victory has always been interesting.
And a full game takes 10 minutes. Win, lose, or draw, resetting a game of Qawale and going again is simple.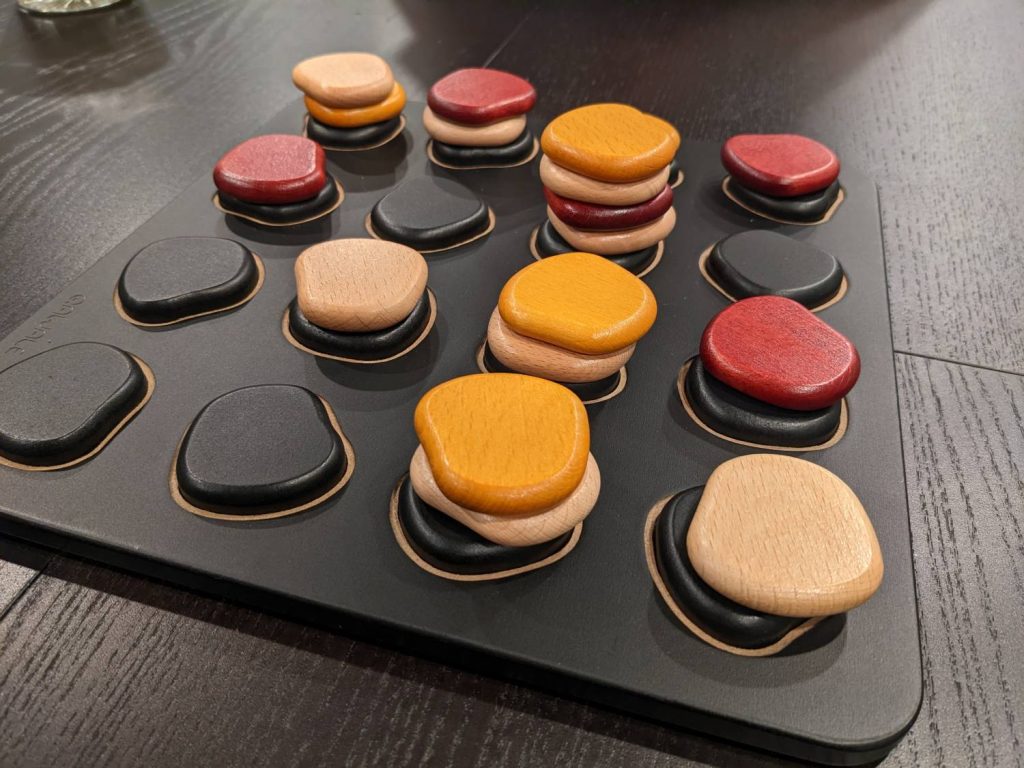 Coffee Table Fare
I still don't quite know what the word Qawale means (the back of the box seems to hint at the idea of pebbles drifting along the side of the road), but the game means simple, puzzly fun that is family age appropriate and a breeze to teach.
This game reminds me a little of the two-player stone-moving dance SHŌBU, but with a lighter ruleset. I know that Qawale, like other abstracts from Gigamic such as Quoridor and Quarto, is just as beautiful as SHŌBU and I will always welcome a chance to move past Tic Tac Toe and into a handsome tabletop duel with someone from my family.
My only issue with Qawale is its price point; I think this is a $20 game, but the MSRP is double that. The game is elegant, but not that elegant; however, each gamer will have a differing opinion on that point. Otherwise, Qawale is highly recommended!