Gamewright has released another great game: Happy City! Join Justin for his review to find out what makes this one a winner
The tagline for Happy City, a tableau builder for 2-5 players published by Gamewright, really hit me:
"A Delightful Building Game"
Now that I've played it, Happy City is in fact delightful, especially if you are a 7-year-old girl and you are crushing your dad by 20+ points.
My family is the proud owner of three other Gamewright titles: Sushi Go! Party (maybe my second-favorite party game after Wavelength), Forbidden Island (the prequel to Forbidden Desert) and Outfoxed. 
When Gamewright offered me a copy of Happy City for review, I jumped at the chance to see if they could keep the streak of great family games going.
Mostly, Gamewright has succeeded. Read on to learn more!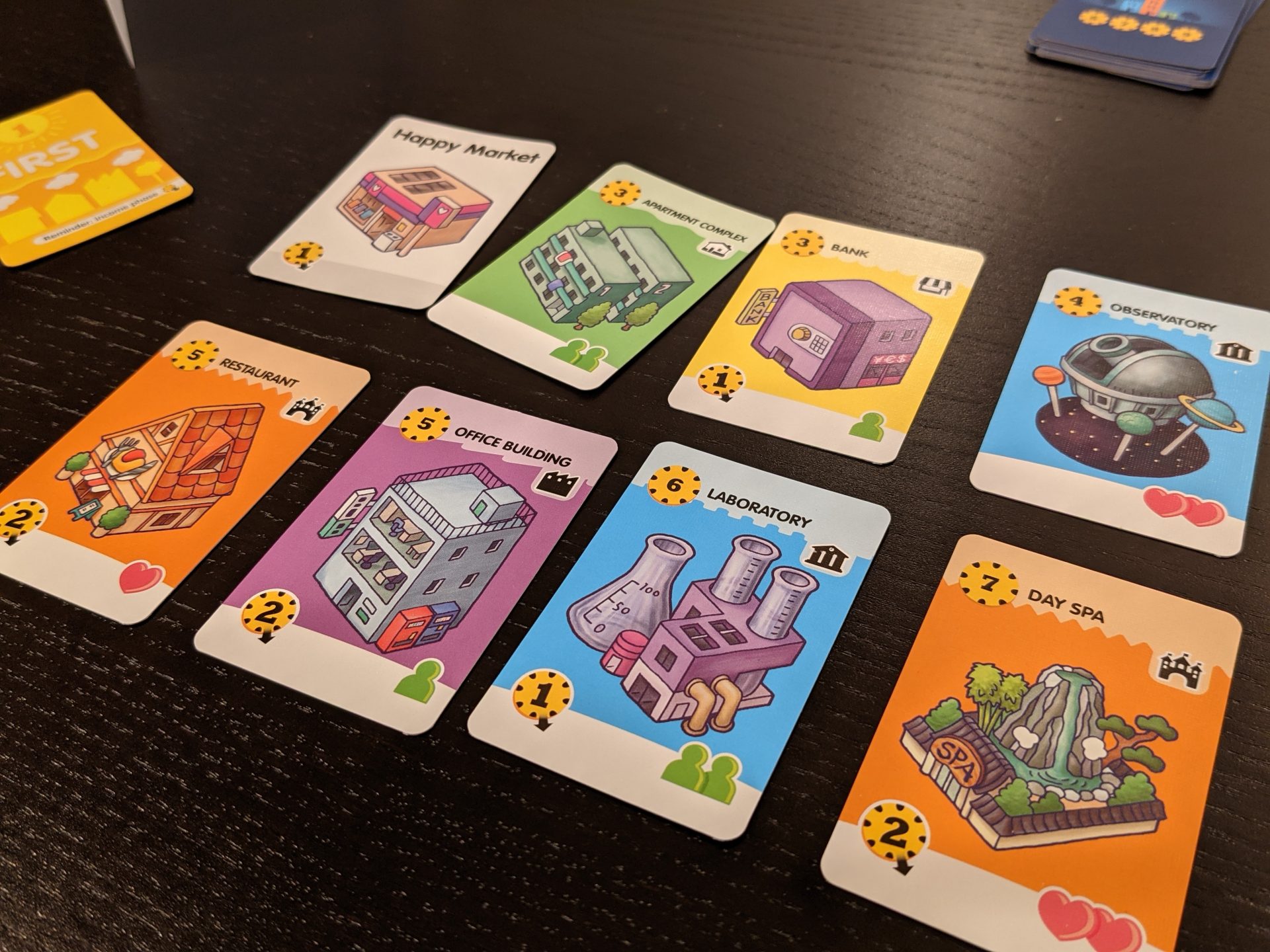 Ages 10+? Try Again
Gameplay in Happy City is so simple for an adult that I read the rulebook then did a 2-player complete game self-teach in less than 10 minutes.
On a turn, players collect income to try and build cards from a shared marketplace. Players begin the game with a single building—the Happy Market—and must build 9 more cards over the course of the game. When one player builds their 10th card, that round triggers final actions and a winner is declared based on one mechanic: multiplying the number of hearts on your cards by the number of citizens on your cards.
Income is marked by a number of coins in the bottom left-hand corner of certain cards; after collecting that income, players have access to up to 3 cards from a market of buildings as well as any residence cards still available in that game. All cards have a cost, from 1-9 coins; some give you -1 to 3 hearts, -1 to 3 citizens, or nothing except for a bump in income.
Players can buy a card or sit tight with their income, triggering a bonus of 1 coin to use in future rounds. There's a set collection element in Happy City tied to the color of your cards; when you have enough of the required colors, players can build a max of one bonus building per game that will give you hearts, citizens or income.
In my first game of Happy City, I misread the rules. Instead of what I tried—having access to 3 buildings in each row of the 3-row marketplace, sorted by the cost of each building—you will only have access to 3 cards TOTAL in the marketplace. This gives the game a slight tilt towards tactical gameplay when playing with other adults; making the best move with cash in hand is critical, since the game ends in the round when anyone builds their 10th building.
However, when playing with kids, the decision space of only being able to choose from 3 cards is magnificent. My daughter struggled over which cards to play when we misplayed the rules; now that there are only 3 cards in play, she typically makes a decision on which card to buy fairly quickly and usually sorts out which one is best for getting the highest score. (I am also teaching my kids how to save money for the best deals in the process! Go Daddy!)
Happy City is really quick. Games take about 15-20 minutes!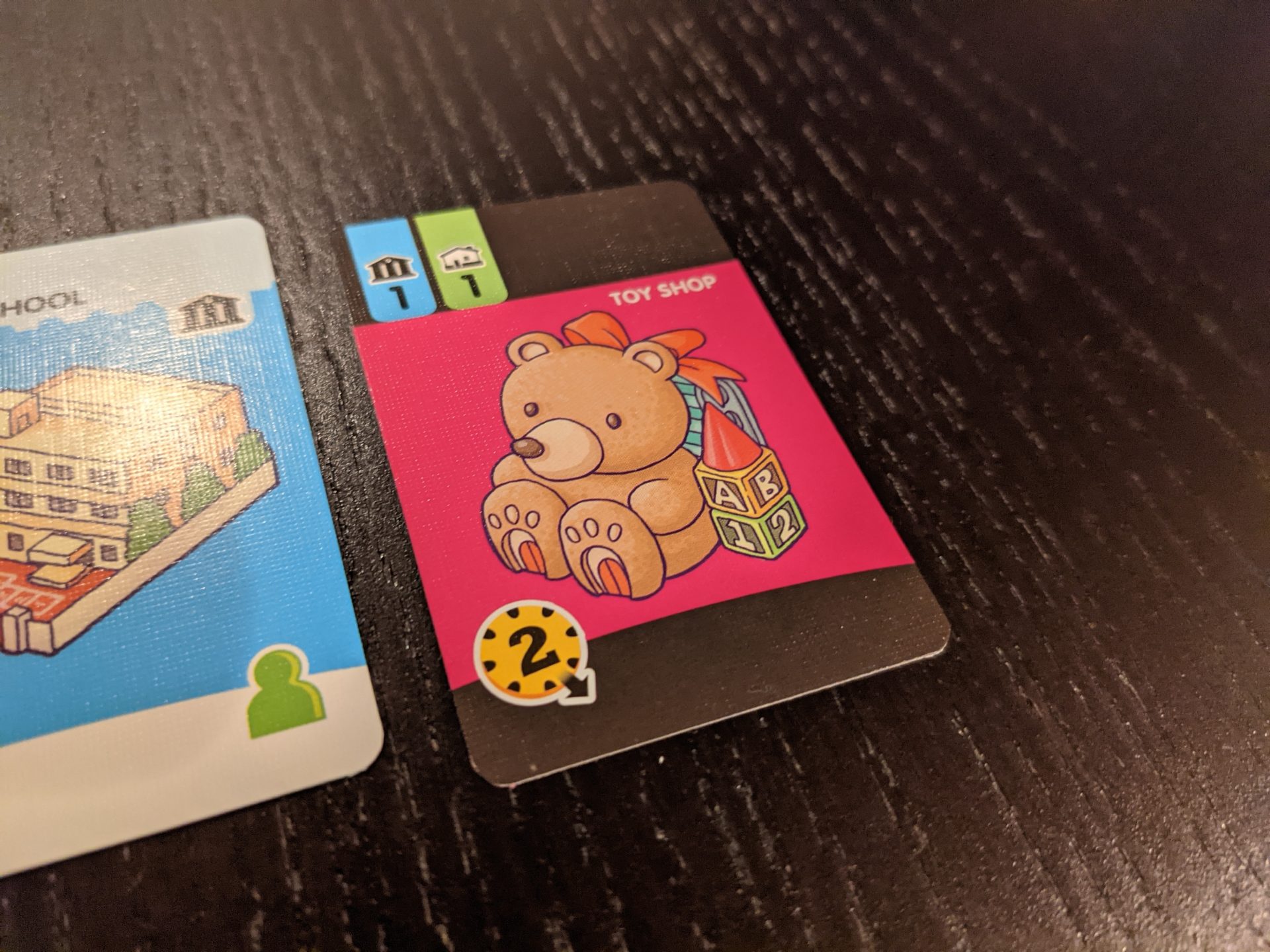 No family? Try the expert variant
Happy City is clearly intended to show kids ages 7-12 how to best survey a public market of cards before buying one to add to your collection. And the basic variant is good at that; heck, even my 5-year-old was able to pick up the basics of the game and which cards to buy during our first play.
But Happy City also includes an expert variant; which is the only way I'll play this game with my adult game groups. The only thing that changes in the expert format: players draft their initial Happy Market using the colored back sides in order to get a headstart on the expert bonus buildings. These expert buildings have conditional requirements for use, so more reading is required than in the base game, which has no reading requirements at all. (The expert variant is where Happy City really does push into "Ages 10+" territory.)
The expert variant is tougher, but not necessarily challenging; it just means that now you'll find yourself planning on which bonus building fits your strategy and which ones definitely do not. This variant adds 5-10 minutes to the playtime; not a dealbreaker, but for a game that can be played in less than 15 minutes with 2-3 players who have played before, you will notice this slight increase in turn time.
It IS Delightful
Happy City is a great gift idea for the gamer who has children turning the corner into more advanced gaming experiences. The art is cute, the general theme is uplifting and there are choices to be made as you consider how to amp your multiplier to achieve the best score. (I brought home 80 points in my most recent game, on the expert variant level.)
Now, while Happy City is delightful, it's never truly going to hit that wow moment for most gamers, even the kids. My son loves the artwork, as do I, and the card art makes for fun moments. Just don't come in expecting any of those very high highs that other games provide; you won't pump your fist while building an expensive building, but you will be satisfied with the end result of your winning tableau.
I expect Happy City to reside comfortably in my family gaming closet, alongside Outfoxed and the other Gamewright family games in my collection. If you want to try this out online, Board Game Arena has an excellent implementation of Happy City available now!