Pheasants! Eggs! Foxes! Join Justin as he reviews the new small-box card game Fancy Feathers from 2-F Spiele.
Quick card games have a special place in my house nowadays, mainly because I have so many longer games that need reviewing. In between plays of a longer game like Tiletum, it's great to have a 15-minute filler that warms up the strategic part of my brain before diving into something serious.
Enter Fancy Feathers (2022, 2-F Spiele), a game that was not on my radar until the kind folks at 2-F handed me a copy. Technically, they handed me two copies—not because they wanted to gift me an extra game, but because Fancy Feathers is a two-player game out of the box. It takes a second copy to create a 3-4 player game with the extra cards! Or, yes, three copies to create a 5-6 player game!
Fancy Feathers is a surprise. It's easy to teach (although the rulesheet's writing left one point a little hazy), it really does play in about 10 minutes with two experienced players, and the card art looks great.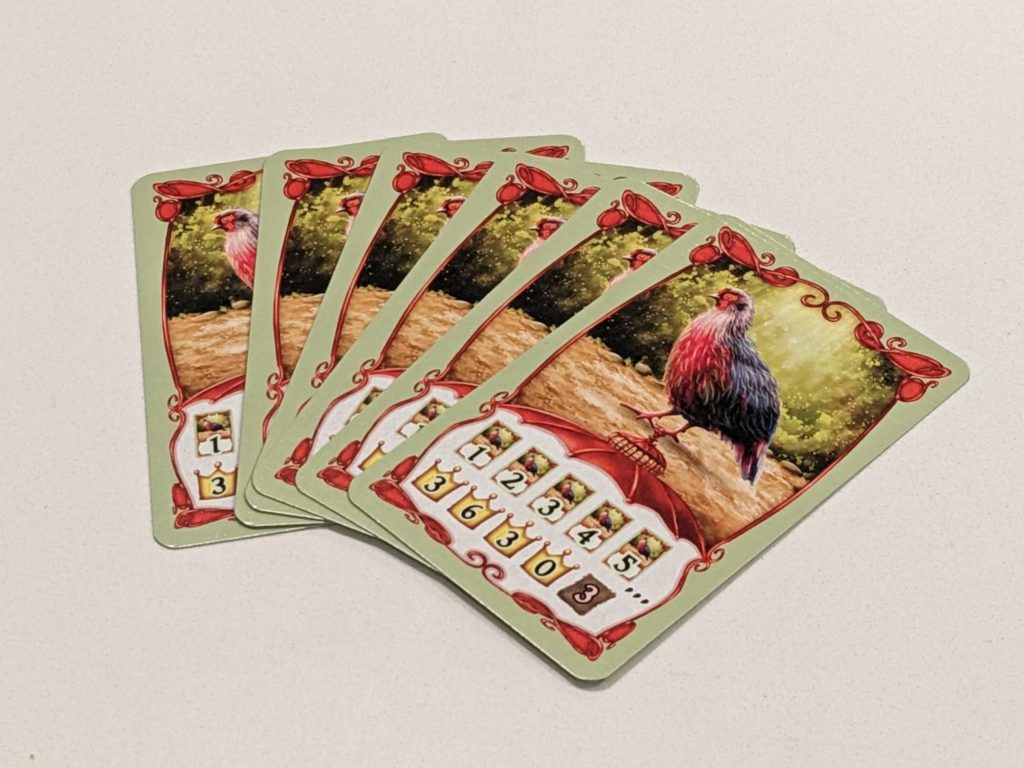 Grab 'dem Pheasants!!
"By order of your baroness, you begin to search for noble pheasants for the pheasantry…sadly, you are not alone."
That's the flavor text from the rulesheet, and that's all you need to know. Grab some birds, and score some points. Fancy Feathers is a race to score more points than your opponents by collecting sets of birds. (Yes, bird games are hot, so why not make your game about birds?)
Some birds will score you points in bunches, and others will lose you points in bunches—it's all about setting yourself up for taking only the best cards.
The gameplay revolves around a "Path" of five cards in front of the players. Each player will have a disc that represents where their servant character is standing on the Path. The player currently farthest behind on the Path (or if the discs are stacked, the player whose disc is on top of the stack) takes the current turn, and has to first take every card at and behind their disc. That could be one card, or it could be five cards; all of them are taken facedown and kept by the active player.
Then, the active player moves their disc at least one card ahead on the Path. If there is another disc there, they may be taking the next turn if there is no one else behind them. If there is no disc there, but they are still in last place, they take that card and every card behind it, then move again.
If they move ahead of other players, they place their disc on the card they want most, then wait. Cards are added in front of the lead player until there are five cards ahead, unless the draw deck accommodates only a partial refill. Hopscotching like this happens until each player has left the Path, and cards are all scored.
The meat of the decision making in Fancy Feathers comes down to grabbing the right cards. I have really enjoyed that specific part of play: how do I make sure that an opponent doesn't get the fifth of a series of cards that may score nine extra points? How do I pick a space on the Path that makes sure I don't take those two negative-point cards?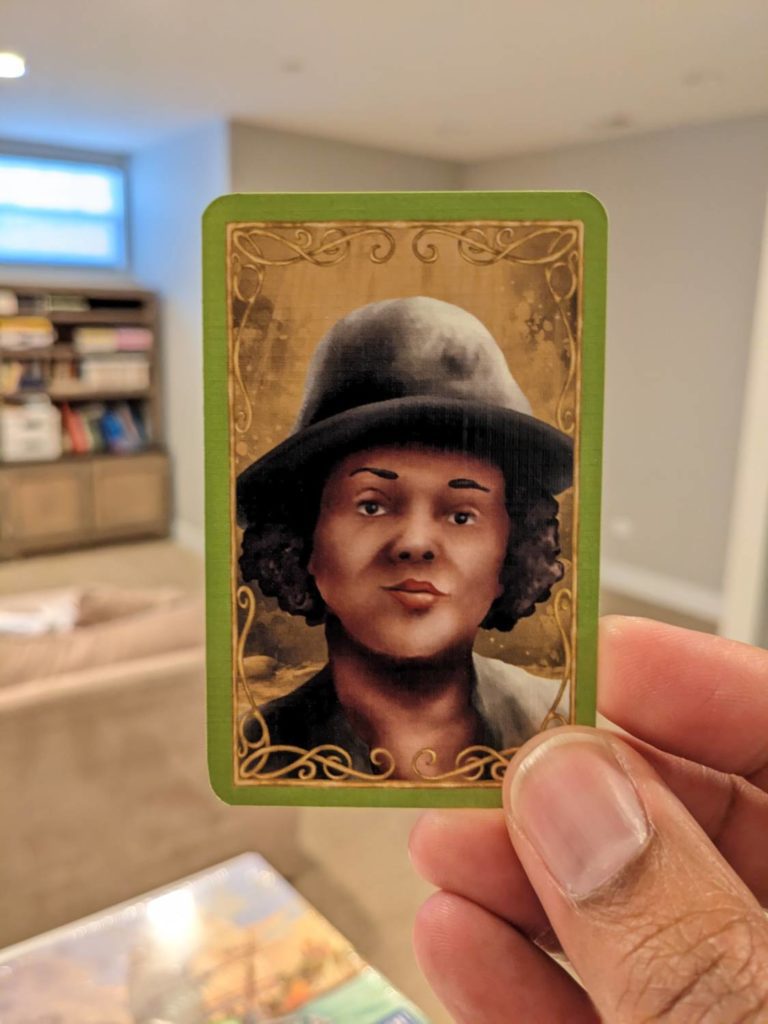 The Cards
So, what kind of cards are you picking up along the way?
The most important thing about the cards is the way they score. Cards with crowns score positive points; those with what looks like dirt (the dirt symbol is never named in the rules) score negative points. Some cards score in pairs, some score in longer sets, some score individually.
Each of the 12 suits included in the box plays differently. During setup, only six of the 12 suits are used, and each suit has six cards. In addition, six individual cards (in a two-player game) are removed from the deck before the Path is built, so that no one knows how many of each suit was removed before play.
The cards are fun. There are plenty of pheasants, like the Golden Pheasant and the Blood Pheasant. There are also nests, mirrors, traps, and foxes, all of which have different powers that affect the scoring for other suits.
And all of the cards look good. I liked the card stock used in Fancy Feathers; a nice weight and a beautiful finish makes the cards easy to shuffle and manipulate on the Path. I also love that each box of Fancy Feathers can hold two sets of cards, so I was able to recycle my first box and consolidate two full decks plus the servant discs all in one box, just in case I want to do a four-player game in a pinch.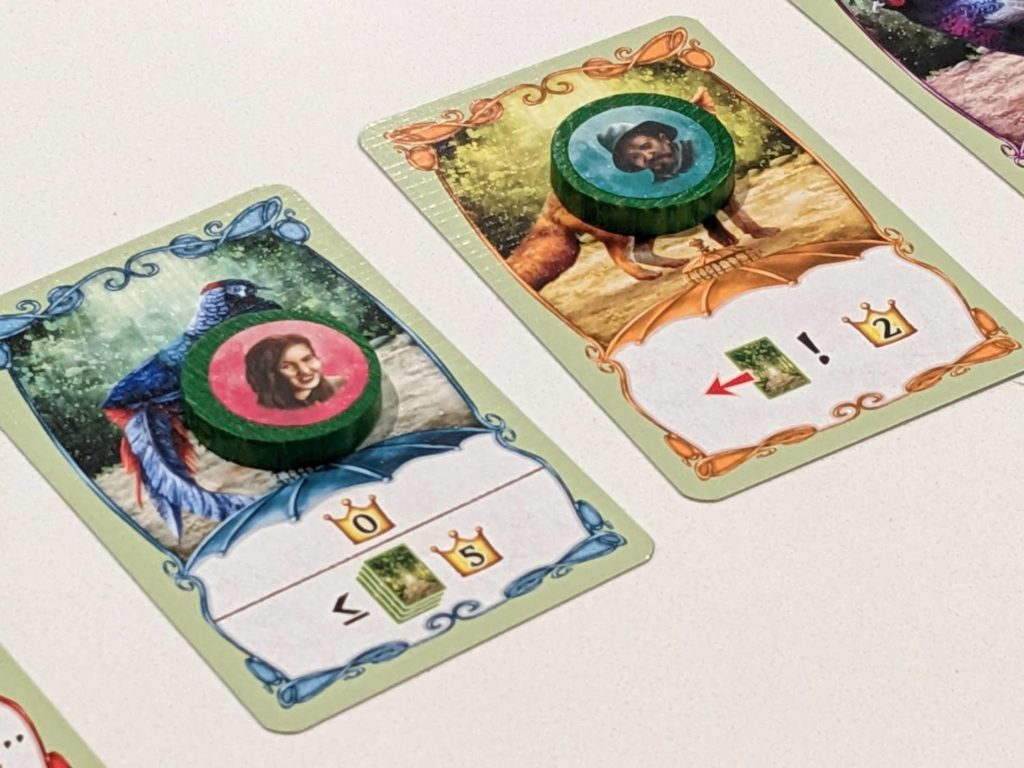 Phantastic
Fancy Feathers, designed by the king of F's, Friedemann Friese (Power Grid, Findorff), is a surprisingly deep game for something so fast. My favorite part of each game is figuring out which space of the Path to stop my movement, so that I can ensure I get the right cards while (hopefully) not taking many cards that won't help me.
The variability in card setup is great, because only half of the available cards are in use each game. The cards are not vastly different, but it's enough to keep a game fresh for 3-4 plays in an hour with another player. This is especially true when resetting the game for another quick run down the Path.
There's a slight bump to describing to others how movement works, particularly someone who is not familiar with rondel play (or any game where the last player is also always the active player). Once that hurdle is cleared, there's no need to constantly refer back to the rulesheet to understand play.
I liked Fancy Feathers quite a bit and have added it to my collection. Games that are quick to set up, teach, and finish? Check, check, check!