Justin dives into the latest Cold Case game in his spoiler-free review of End of the Line, from ThinkFun!
"Oh, did we get another Cold Case game? Can we break that out tonight?"
My wife and I play games on Friday nights, and on occasion, she walks into the game lair that is my 5'x5' closet in the basement where all of the games live. I have a stack of review copies that I work through, mostly in order, and I had a Cold Case game on top along with a few much heavier options.
She loves a good murder mystery game. Anything co-op also means that she is in. Plus, we have already played the two 2021 entries in this line, A Story to Die For and A Pinch of Murder. (Cold Case games never seem to be about a kidnapping or blackmail situation that went unsolved…nope, somebody had to die.)
Cold Case: End of the Line is the newest entry from ThinkFun (makers of family brain games and puzzlers like Zingo 1-2-3 and the Escape the Room series). End of the Line features all the things you'd expect from a one-time-play gaming experience—ripped-from-the-headlines newspaper clippings, evidence photos, witness statements, and the like.
This format feels like it can never get old. But, the format should get harder.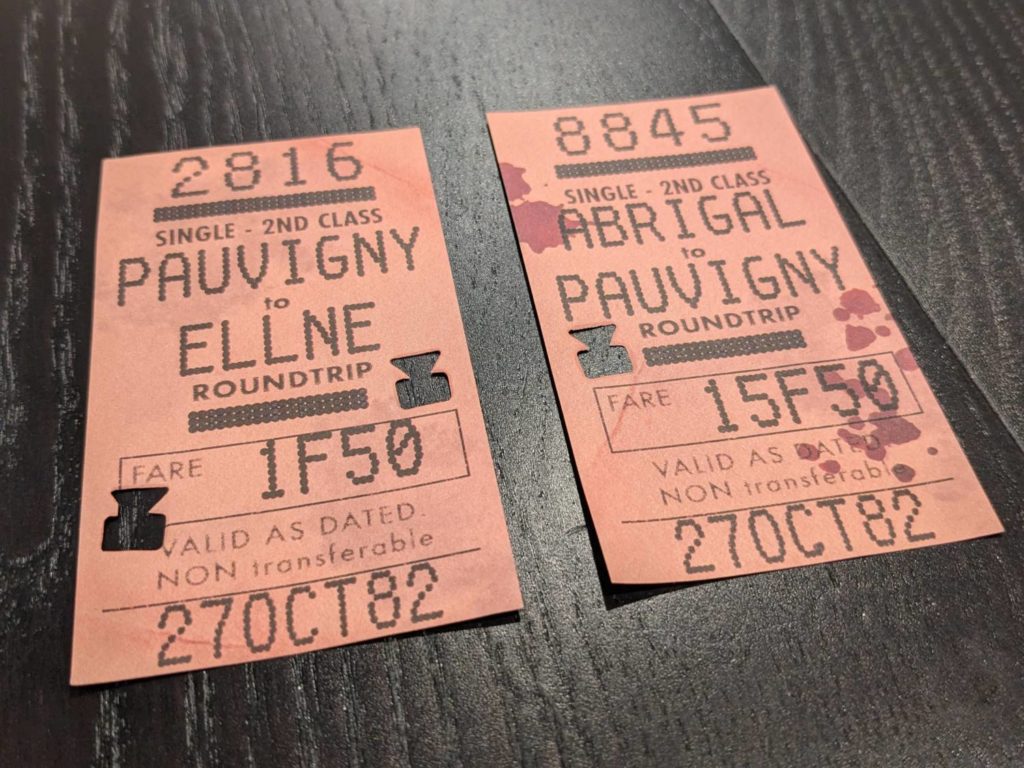 Murder, She Wrote…Uh, Twice
The game's story takes place on two fronts.
First, it's the early 1960s, and in a heist-gone-wrong origin story, Leonce Junot is shot and killed while trying to stop a robbery in his jewelry workshop in a small town in France. The man who was accused of the murder, Henri Valentine, was caught while trying to escape town and sentenced to more than 20 years in prison.
Sold out by his getaway driver and jewel thief accomplice, Henri didn't tell the cops anything, but given the blood on his clothes and the fact that cops saw Henri flee the jewelry store at the time of the robbery/murder, it seemed like a cut-and-dry case.
Fast forward to the early 1980s. Days from his release, Valentine is granted a 24-hour temporary release so that he can visit the children he left behind after he entered prison. Upon his arrival at a train station, Valentine is shot and killed by a mysterious assailant.
Players have to solve four questions, including who murdered both Junot and Valentine, as well as figuring out where the jewels from the original heist are now located. Using about 20 pieces of evidence and a limited pool of potential suspects, you'll have to figure out how to solve these murders!!
Easy Mode
Whenever my wife and I play games like End of the Line, we prepare by doing two things: setting aside about two hours to play, and making a couple of really nice cocktails. Then, we read all of the evidence files—and sometimes, we use voices to bring suspects to life—then begin to discuss our initial thoughts on the answers to the game's questions.
Often, games like Cold Case (and other one-shot mystery games like ones from the Unsolved Case Files series, Exit: The Game, or the Unlock! series) take us anywhere from 90 minutes to two hours to finish up. But for a variety of reasons, End of the Line is much, much shorter than other similar games.
I think this was multifold:
End of the Line's story is really, really straightforward, particularly if you've watched movies or TV shows that have a similar vibe/theme. When we finished reading the evidence, I said to my wife that this felt like a few movies I had seen in the past, so it wouldn't surprise me if ______ and/or ______ was the killer in the first half of the mystery, then [details omitted]. I'm shocked to say that I was right on target for two of the game's four gates that needed to be checked, and only had to use informed guesses to get the other two.
Some games like this ask you for a solution on their website—fine. Most also ask you to provide evidence as to how you came up with your answer. End of the Line doesn't do that, which feels like a miss. You could just, you know, guess at all of the answers for each question and probably end up in the same place we did. Many players want games like this to challenge them, and I would be surprised if a mass audience struggled to get through this one.
There's a lot of reading, but not a lot of looking through pictures or hunting down an answer that didn't seem that obvious. End of the Line almost feels like a game that is responding to commentary that the previous games were too difficult.
We finished End of the Line in 40 minutes. Much like going out on a date at a sushi restaurant that serves patrons too quickly, End of the Line feels like it's a bit light on content and then it rushes you out the door. I don't want my date to be over just yet, we often tell servers at restaurants where they wheel out the food too fast. End of the Line should have a more difficult arc or more evidence to boost the time commitment.
So, End of the Line is too easy. But it was still entertaining to work through the reasoning. The characters are, as usual, ripped out of Central Casting, so the family of the killer that was left behind by his prison term is understandably angry about his life choices. Picking up on certain visual cues is another key to solving at least one of the four main questions. Using the app is fast, easy, and free, and when you guess incorrectly, the game points you in the right direction or to the place/evidence page that might have your answers.
For players looking for a starter round of these one-shot experiences, End of the Line is perfect. I think even a solo player might knock this out in an hour. As a gift for a couple looking to shake up their Friday nights after putting the kids to bed, End of the Line works wonders.
Now? I need to find a harder challenge.