It is said that there is strength in numbers. That really depends on how those numbers are split, though. Read our review of Berrymandering to find out why the cake is a lie.
"Gerrymandering is a practice intended to establish an unfair political advantage for a particular party or group by manipulating district boundaries, which is most commonly used in first-past-the-post electoral systems. Two principal tactics are used in gerrymandering: "cracking" (i.e. diluting the voting power of the opposing party's supporters across many districts) and "packing" (concentrating the opposing party's voting power in one district to reduce their voting power in other districts)." – Wikipedia
Cakeland's got a power vacuum and it needs filling (of the berry kind). The blueberry party and the strawberry party will square off in an effort to divide Cakeland between them, each in an effort to guarantee themselves the bigger slice. Will the strawberries come out on top or will the blueberries take the cake? Only one way to tell. It's time for some Berrymandering!
Mmmm… Berries
In the game of Berrymandering, two players are going to be taking turns slicing up the cake that has been laid out between them. The cake is made up of 36 small square tiles, each illustrated with 1 to 4 blueberries or strawberries. There are also a few mystery tiles that, when flipped, will reveal between 1 or 2 mystery berries apiece (each fruit has an equal number of single and double berries).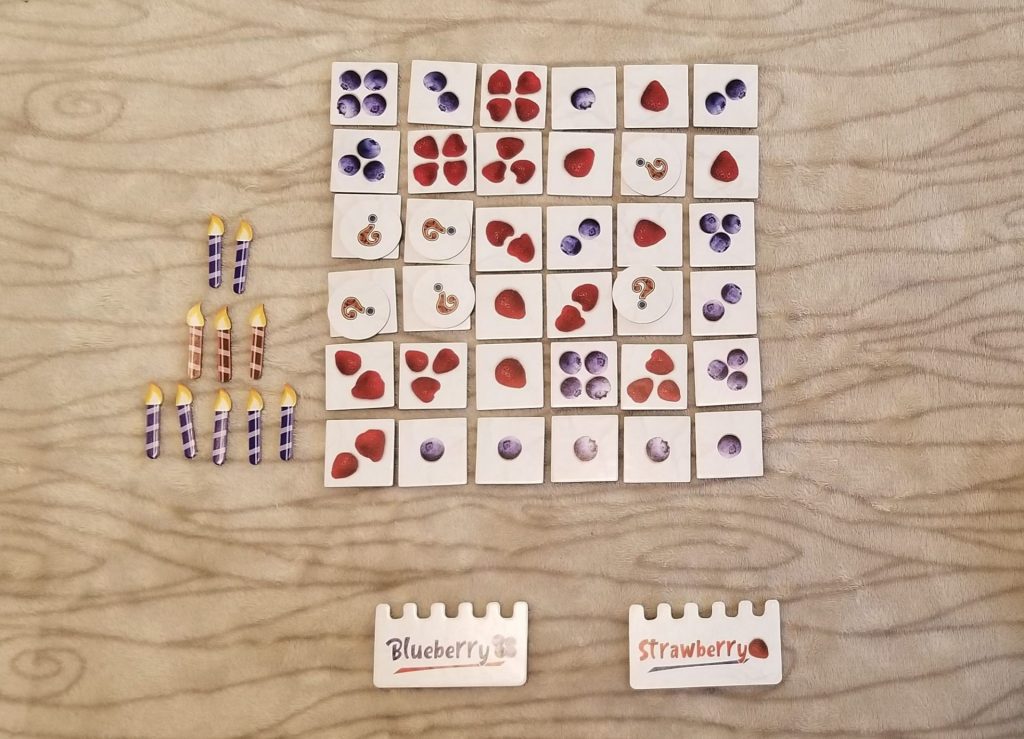 On a player's turn, they will cut the cake into groups of 4 tiles each and then their opponent will choose one of these to eat (a mechanic known as "I split, you choose"). If any mystery tiles have been placed, these are revealed at this time. If the selected slice contains more strawberries than blueberries, the strawberry player receives a candle. If the reverse is true, the blueberries receive a candle. If there is a tie, then nobody receives one.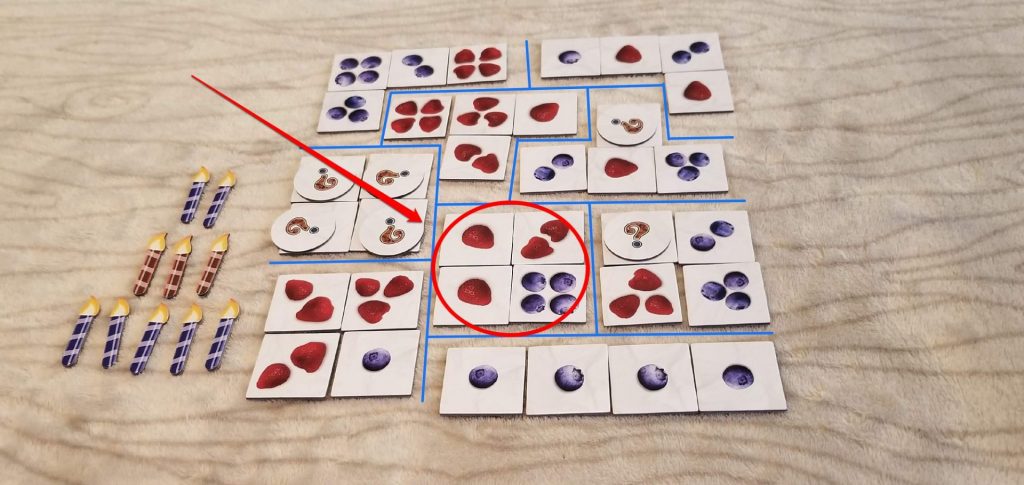 After scoring the slice, the 4 tiles are turned face down. Then the second player becomes the active player and, without changing the position of any of the tiles, will divide the remaining cake into 4-tile segments. Then the other player chooses a slice to eat.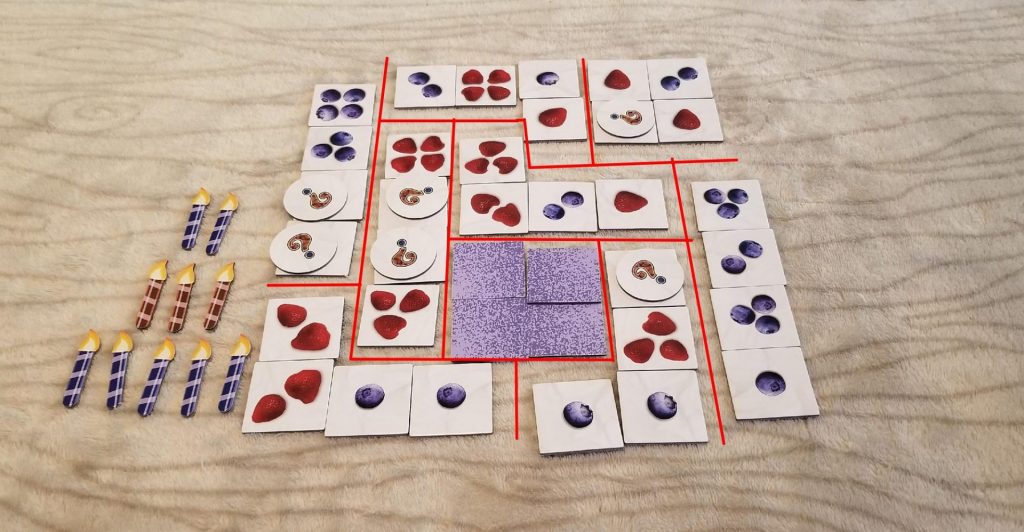 This process is repeated over and over until the entire cake has been eaten at which time the player with the most candles wins.
Thoughts
One of the most charming aspects of Berrymandering is that it is an incredibly easy game to set up, teach, and play. The game is very small — its box landing in a size range somewhere between The Mind and Tiny Epic Quest — but its compact size is not indicative of a paucity of challenge. What Berrymandering lacks in table presence, it makes up for in gameplay.
Berrymandering is always forcing you to think several moves ahead, measuring risk versus reward. Ideally you'd want every group of berries to have more of your own kind in it than your opponent's so that, regardless of what they chose, you'd win. But this is never the case. Each person has the same collection of berry tiles and they're all randomly placed out when the game begins, so every split that you create is going to require some critical thinking.
Do you try to find balance by setting multiple splits that will result in a tie knowing that pieces will be sacrificed if they're chosen? Should you set up your opponent for a definite win but try to make each win as costly as possible for them? Or should you do the same for yourself? Truth be told, you'll often be mixing these strategies. The crucial thing to remember, though, is that whatever the outcome, you're also setting up the possible splits for future turns.
This adds a very spatial element to the game, a different puzzle to have to solve while at the same time trying to resolve the split dilemma. If you split here and your opponent chooses it, then next turn that means your opponent has no choice but to split there, right where you want them to. Or perhaps, right where you don't want them to. Maybe you should set up the split so that you're not getting boxed in when they're setting up theirs.
And I haven't even touched on what goes inside of your head when it's your turn to select a slice to eat. Is your opponent setting a trap for you? Do you give them what you think they want or do you do something unexpected? In 1956, Bobby Fischer sacrificed his queen during a chess game that has come to be known as "The Game of the Century". This unexpected move rattled his opponent so much that it ultimately won him the game. Sometimes being crafty requires a sacrifice.
The chess analogy here is purposeful. There are times when playing Berrymandering that it almost feels like you're playing that most sacred game. And while I doubt that Berrymandering will ever find itself on the world stage like chess, one can only hope it does. It's just that good of a game.