Bummed you can't attend Gen Con, PAX Unplugged, or Spiel in person? Check out Gary's top 6 tips for attending online board game conventions and make the most of your time at home.
If you're like me, you've been gaming at home for months. I think it was around mid-April 2020 when one of my online gaming friends posted these four words on Facebook: Online Board Game Convention. My response to him was, "Whose crazy idea is this? That will never work. No one would attend such a thing." Playing an online game with four or five friends is fine but having an online board game convention with hundreds of games and thousands of people who don't know each other would just be complete chaos. Four months later, I've never been happier to have been so wrong. 
I've never been happier to have been so wrong.
Since I first saw those words, I've attended three online board game cons: Protospiel, Con of Champions, and Virtual Gaming Con. I experienced each of these cons while sitting at my computer in my basement and I had a great time at each. Granted, I think online cons are unlikely to replace in-person cons. But during these cons I made new friends, played new games, and even sold copies of my game Saints and Scoundrels. These are all aspects I think make a successful in-person con.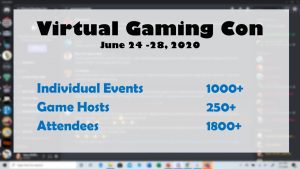 I learned much from attending these online cons. Navigating these online cons can be a little complicated, but they can be a lot of fun. Here are 6 tips to help you make the most of attending these events.
Find an Online Board Game Convention
With many in-person cons cancelled for 2020, online cons have been announced in their place. But it is difficult to keep track of which ones you want to attend. Luckily some board game influencers out there created their own calendars for upcoming virtual cons. My favorite is our very own comprehensive list of board game conventions.
The calendar provides convention names and dates as well as a link to each convention's web page. You will need to go to the convention web page to find out how much it costs. However, most conventions are free. In particular, you'll want to go to the convention's web page to see what local time they will use. For the cons I attended, you needed to convert the event times (in local con time) to your own time zone to make sure you didn't miss your event. Furthermore, the hours for technical support and moderators will be in line with the local con time. So if you have questions or need some help during the con's off hours, you may experience a delay in getting a response.
Understand How You Will Communicate OUTSIDE of Your Events
Currently there are no standards for how online cons are run. For example, the process for finding and signing up for game events will likely slightly differ from one con to another. Before your con begins you'll want to understand how you will communicate with the con organizers, event hosts, and other players. The cons I attended were run by Tabletop.Events. They typically provide logistical support for in-person cons such as ticketing and event submission. They were one of the first to create a online con. With at least three successful virtual cons under their belt, I suspect other online cons will likely follow their example closely. But it's best you find out the specific system your con will use. Interestingly enough, Tabletop.Events was recently purchased by Board Game Geek. This bold move signals Tabletop.Events will undoubtedly continue to influence online conventions in the near future.
At some point you'll have to communicate with the Game Masters (GMs)/Hosts of events you signed up for. With the cons I attended, once you signed up for an event, you were provided a link to email your host if you have any questions. A good host should email you and the other event attendees the night before an event with any last minute details and to make sure there are no questions.
For the virtual cons I attended, the organizers mainly used Discord as a communication hub. Discord is a free text, voice, and video application designed to provide real-time communications among users online. Con organizers created a Discord server with several channels. Some channels were for games, some channels were for socializing, other channels were for technical support. You could post a question or request and the issue was addressed. At the virtual cons I attended, the server moderators were also listed so you could direct-message them in real time with any issues you had.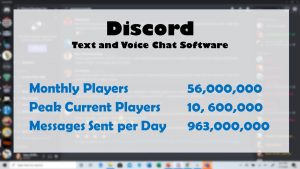 In one instance, I demoed my game to several players. After the game, they all left my voice channel except one who forgot to leave. I think he put his headset down and went about the rest of his day. That wasn't a problem except he started blaring acid rock with his microphone still on and I had another event starting soon. I was able to contact a moderator and he was able to take him off my voice channel in a matter of minutes.
Understand How You Will Communicate WITHIN an Event
In the cons I attended, Discord voice channels were the main method of communication within events. The con organizers created a Discord server as a hub for their events and activities. The name of the Discord server was the same name as the con. Furthermore, the con organizers provided an invitation link to find the Discord server. When you signed up for a game, you were provided a specific text and voice channel on that con's Discord server. For example if your event was located at BG05, you would find the BG05 text and voice channels. The host would use the text channel to provide any final details such as links, server names or passwords. Then during the event the host and players would communicate with each other via the BG05 voice chat channel.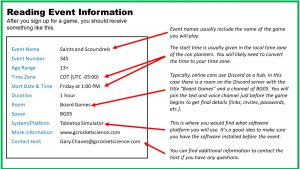 Be aware that running game software along with Discord can be taxing on your computer. If your computer is on the older side, you may experience some game slow downs or spotty voice chats. There's a couple of workarounds for this. You can use an ethernet connection to hardwire your computer into the internet rather than use Wi-Fi. You can also use two devices – you can run your game on your computer while running Discord on a second computer, tablet, or smartphone. The Discord app for the smartphone is a little different than on a computer but it still works great.
It is possible to use other means of communication within an event. Tabletop Simulator (TTS) has its own voice chat feature. Furthermore, the TTS voice chat allows for team chat so you can talk to another player without other players hearing. Discord doesn't have such a feature but in general, Discord's sound quality is a little higher than TTS. I've seen other people use Zoom for voice chat although I've never done that myself. Zoom is a free videoconferencing app more typically used for business meetings but has increased in popularity with online board gamers.
Buy a Ticket and Sign Up for Events As Soon As Possible
Most virtual board game conventions are free or under $20. Even if there is a fee, some cons will reduce or waive the fee if you host a gaming event. Be aware that, while the admission is free, some cons may charge you to play a game or attend an event. In my experience, the cost of an event at an online convention is still comparable to a low price event at an in-person convention.
Events are typically listed on the con's website. You should be able to filter the list of events by day, start times, and event types (i.e. RPGs, board games, wargames, etc.) so you can more easily find events you're interested in. Keep in mind, the events you sign up for will be in local con time rather than your local time. If you find an event you like, sign up for it as soon as possible. Popular events tend to fill up quickly. Even if all the spots are taken, see if you can sign up on a waiting list. Some people drop out of events just before the con begins. Also check the event just after it starts for any no shows.
Even if you can't get into the event, check if the event host will be livestreaming gameplay. Discord allows the host or players to livestream their screen. This is also just a nice way to explore the con and see what games are being played. You can peruse the voice channels and look for a red "LIVE" icon then check out the streams.
Not Familiar with Online Gaming Platforms? No Problem!
I enjoy using Tabletop Simulator (TTS) and Tabletopia. But both have a steep learning curve. So some may find it discouraging that most online board games at the virtual con will run using these platforms. But that's actually not as much a problem as you think. In my experience, the conventions offered crash courses in both platforms. The lessons were often coupled with an opportunity to play an online version of a popular board game. I taught classes in both TTS and Tabletopia. After a short practice game, most of the players manipulated the keyboard and mouse controls like it was second nature.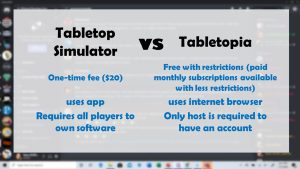 If you're too late to sign up for these classes, that's not a problem either. In my experience, the virtual cons had a lobby where attendees gathered and socialized in-between events. I remember several instances when one attendee asked for some lessons in TTS or Tabletopia and several people offered assistance.
But if you want a surefire method to find a willing teacher, locate an indie game designer with an upcoming or current Kickstarter. Make the game designer an offer. Suggest to them in exchange for lessons in TTS or Tabletopia you will play their game for an hour. Most of the game designers I know would never turn down such an offer. It's a win-win for both of you.
Mingle…Socialize…Build Community …Virtually
A good con, whether it's virtual or in-person, is more than just attending events. It is also about meeting new people in the community. A good virtual con should provide a way to mingle and socialize with other attendees. In my experience, the virtual cons had a lobby with voice and text channels. You can hop in there and ask questions, jump into conversations, or just share your con experience.
The virtual cons also had a Looking-for-Game text channel. If you had an event cancelled at the last minute or just found yourself with some free time, this text channel was a great way to join a game about to start. I've seen people be very specific about the game they want to play. For example, someone could write, "Looking for a game, preferably a medium-weight Euro". Other people asked if someone could teach them a specific game. If you're looking for something in particular, don't be afraid to ask for it.
Admittedly, I was initially hesitant to socialize during a virtual con. I think because the event was on the internet, I had the notion that everybody would be some kind of cyber-bully ready to pounce on me at the first sign of being a newbie. But the reality is just as you find helpful and supportive people at in-person cons, you will find helpful and supportive people at online cons. So feel free to introduce yourself and talk to other attendees.
Final Thoughts
I'm really surprised by the success of the recent online cons; their attendance has exploded overnight. It's not unusual to find hundreds of people at one time on a con's Discord server so this presents some interesting questions. What happens with virtual cons when the pandemic is over? Will attendance remain high? Is this initial success just a fluke?
After some thought, I believe the answer is surprisingly simple. What happens with virtual cons after the pandemic is whatever we want to happen. The virtual con is something the board game community built. No one told us to do it. We just did it because we wanted it. The future of virtual cons will reflect the aspirations of you, me, and the rest of the board game community. I don't think virtual cons will ever replace in-person cons but I still like them. I like connecting with people whom I otherwise would have never met. I like including people who previously felt excluded. So I intend to continue supporting virtual cons. I hope the rest of the board game community also recognizes the benefits of virtual cons and does the same.