Join Captain Ahab on the hunt for the great white whale in the new 18 card micro game from Past Go Gaming. Read our review of Leviathan, a fast-paced, fun, 2-player game based on the classic novel, Moby Dick.
Disclaimer: Meeple Mountain was provided a pre-production copy of the game. It is this copy of the game that this review is based upon. As such, this review is not necessarily representative of the final product. All photographs, components, and rules described herein are subject to change.
"Call me Ishmael".  
That short sentence starts Moby Dick, the captivating tale of Captain Ahab and his doomed quest to fell the great white whale that robbed him of his leg. It's a tale that spans oceans, is full of clever dialogue on the human condition, and ultimately ends with the demise of a relentless and reckless Ahab after a series of encounters with Moby Dick himself.
For our purposes, it's also the inspiration for Leviathan, a game from Greg Loring-Albright and Past Go Gaming. Greg says that, "I made this game, in short, because I love Moby-Dick. It's my favorite book, for too many reasons to list here. I wanted to give readers an easy way to appreciate Moby-Dick, and Leviathan is hopefully that."
Overview
Leviathan is an asymmetrical, 2-player game focusing on the last fateful battle between Captain Ahab and the great white whale.  It's made up of only 18 cards, and can be played in as little as 15 minutes on any table or flat surface – although it's best on a table that's at least 3 feet square.
One player is Captain Ahab, represented by his ship the Pequod, and an assortment of whaling ships. The other player is Moby Dick, other whales, and two "tricks of the light" shadow cards. Both players get one movement card and special maneuver cards.
The goal is simple. The player that plays as Captain Ahab must find and kill Moby Dick.  The player that plays as Moby Dick must destroy the Pequod.
Setup
Setup is super easy for this game.
Players place their cards opposite each other on the edge of the playing table.  The Captain Ahab player places only the Pequod at first, while the Moby Dick player places all cards face down.  This player will have the element of surprise and deception in their favor.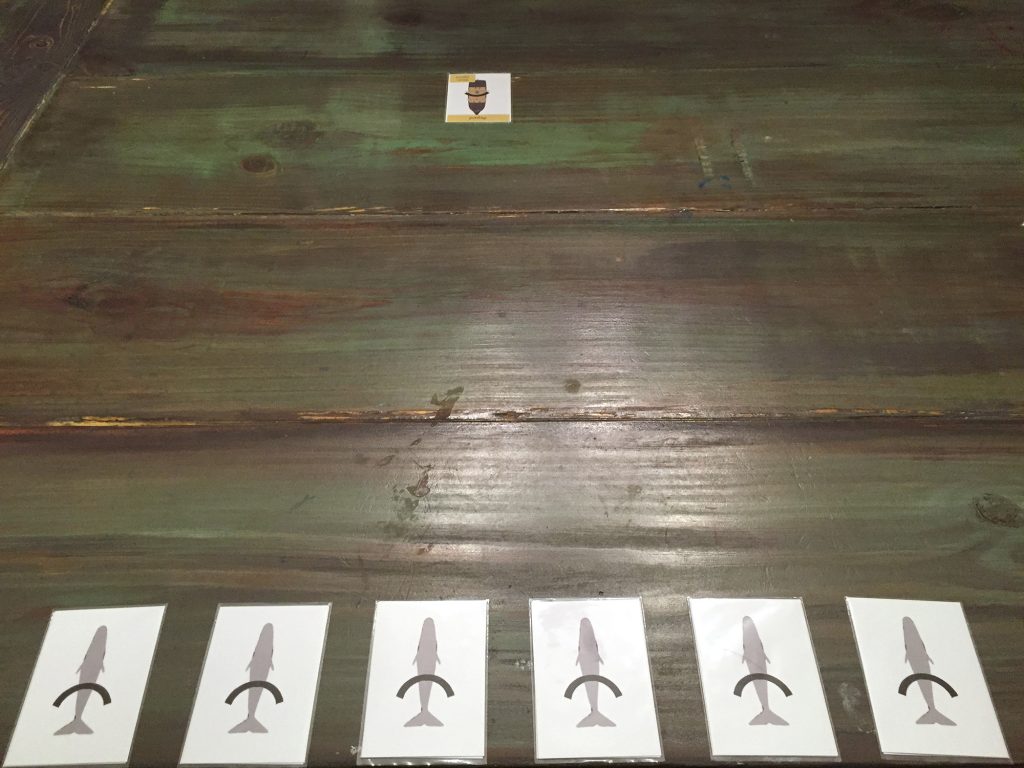 One idea that I like is to make "islands" or other formations on the playing surface using bottles, cans, bowls, or other items.
How to Play
The player representing Moby Dick starts the game.  During each turn, players must move ALL of their vessels/whales, which can get interesting at times as vessels can actually collide with each other causing them to capsize. Whales, of course, are underwater, so the whole colliding thing doesn't apply.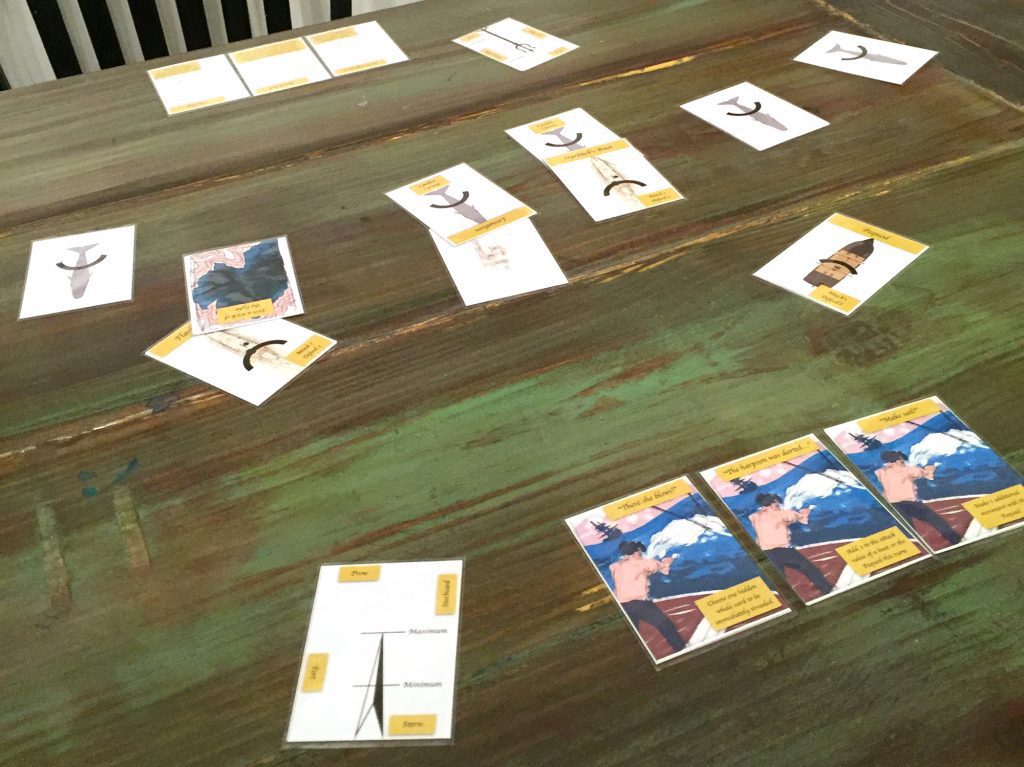 Each player has a unique turn sequence and unique maneuvers.
Captain Ahab's Turn –
Once all vessels have been moved, the player may move one additional vessel or perform a maneuver.  The maneuver for this player is to lower an additional boat – there are 3 additional boats available to start the game.  If a player chooses to do this, they place the new boat on either side of the Pequod.
After the actions have all been completed, if the vessel is overlapping with a whale card, they may choose to resolve an attack. I'll describe that more in a minute.
Moby Dick's Turn –
Once all of the whale cards have been moved, the player may either move an additional whale, perform a maneuver, or resolve an attack.  The distinction is subtle, but I think it's a helpful balancer in the game.
The maneuvers for this player center on underwater actions. A player may switch the position of two whales or they may turn one of their whale cards 180 degrees so it can move in the opposite direction on the next turn.
Attacking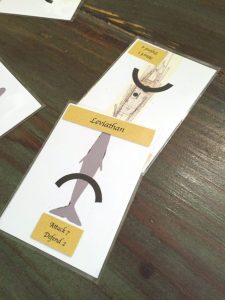 The strategy has all been building up to this point.  Defeating the great white whale was all Captain Ahab could think about for crying out loud!
If any vessel and whale cards overlap, a player may resolve an attack on their turn.  Each card has an attack and a defense value that is taken into account during an attack. If the attack value is higher than the defense value, the defending player loses.
If the defending player is Captain Ahab, the ship is capsized and the crew can be rescued later. If the defending player is Moby Dick, there are two options.  If it's a "trick of the light" card, the card is flipped over and removed from the board. If the card is a whale, that whale is destroyed and removed from the board.
To supplement attacks and defenses, each player has tactical cards that can be played during turns.  These are unique to Captain Ahab and Moby Dick.  For Moby Dick, the cards are single-use.  For Captain Ahab, if you're able to rescue the crew from a capsized boat by overlapping that boat with the Pequod, you can regain one card per crew rescued.
Ending the Game
The game ends when either the player representing Captain Ahab finds and kills Moby Dick or the player representing Moby Dick destroys the Pequod.
Final Thoughts
I like this game for a few reasons.
The theme. I love the idea of translating the struggle between Captain Ahab and Moby Dick into a 2-player game. I think the game could easily be used in a classroom setting to teach the book, which, as a former teacher, is something that I pay attention to…especially when the game focuses on a literary masterpiece.
The gameplay. I enjoy playing both Captain Ahab and Moby Dick, as there are good strategic differences to both. There is a depth in the gameplay that can almost be missed due to how fast it plays. Which for me, means that this is a game I could come back to time and time again, learning or trying something new each time.
The speed and size of the game. This is an appealing feature. Having a quick, 15-minute game that I can take and play anywhere is something that is really important to me.
Leviathan lived up to the enjoyment that I felt when I heard that there was a tabletop game based on Moby Dick, and I look forward to future adventures on the tabletop sea chasing a great white whale or capsizing the ever-charging Pequod!
I hope you enjoyed my review of Leviathan from Greg Loring-Albright and Past Go Gaming. Be sure to check it out on Kickstarter starting October 9th!