In a World Where B Movies Rule, Do I Have A Game For You!
At the Late Night Double Feature Picture Show
Starting in Hollywood's silent era, film studios created double bills,  or pairs of films shown to provide a full evening's worth of entertainment. The first film of these Double Features was the main feature, the longer film with the biggest stars, or the A Movie. The second, shorter film with lesser-known actors, became known as the B Movie.
By the 1940s B Movies were becoming their own genre of films. Moving away from low-budget versions of their counterparts, B Movies took on "topical issues"—frequently sordid and controversial topics featuring violence and prison. This led to the teen movie craze and cheap horror films of the 1950s with titles like "I Walked With a Zombie", "The Body Snatcher", and "I was a Teenage Werewolf."
The undisputed King of the B Movies was Roger Corman. Corman's filmography has some amazing titles: She Gods of Shark Reef; Teenage Caveman; A Bucket of Blood; X: The Man with the X-Ray Eyes; Rock 'n' Roll High School (featuring The Ramones); and perhaps his best-known film, 1960's The Little Shop of Horrors.
Chances are, you've seen movie titles like these and thought, 'I could come up with something better than that!'
Well, have I got a game for you!
See Androids Fighting (Ooh Ooh Ooh) Brad and Janet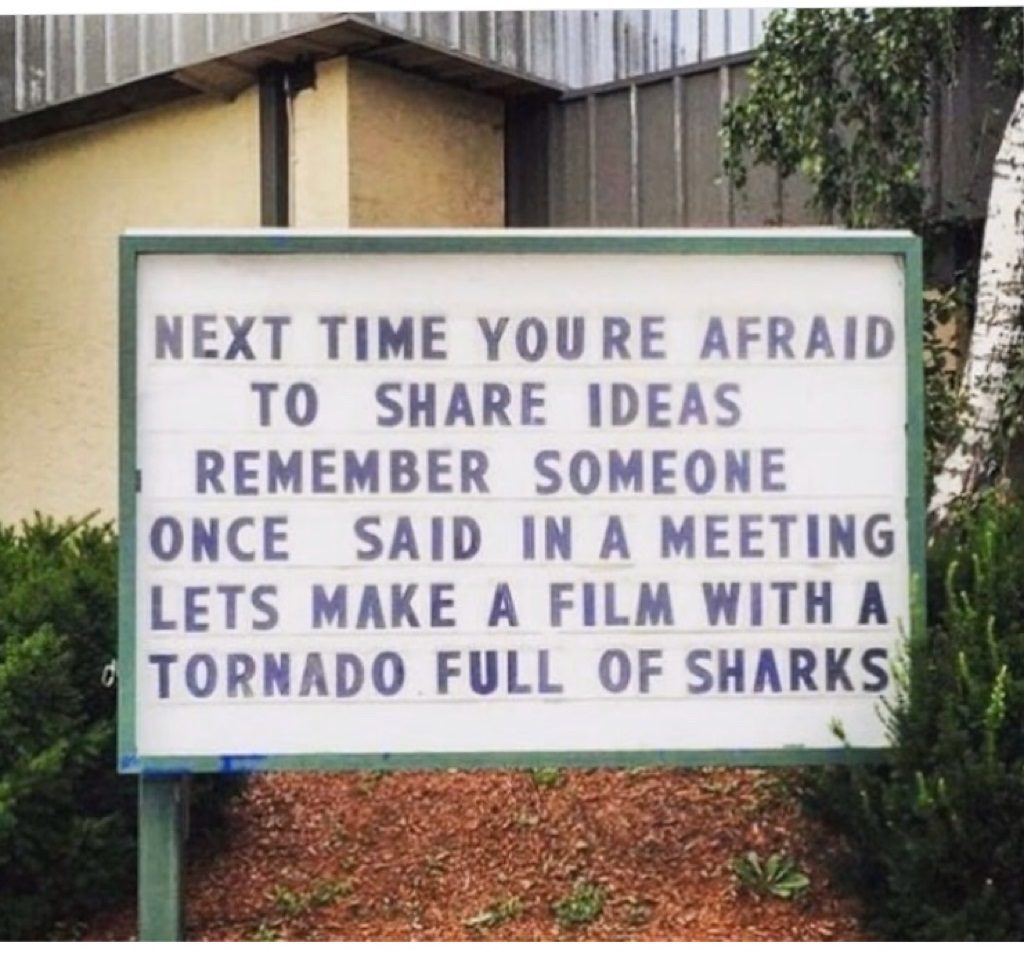 Start by setting the popcorn kernel scoring tokens face down within easy reach of all players.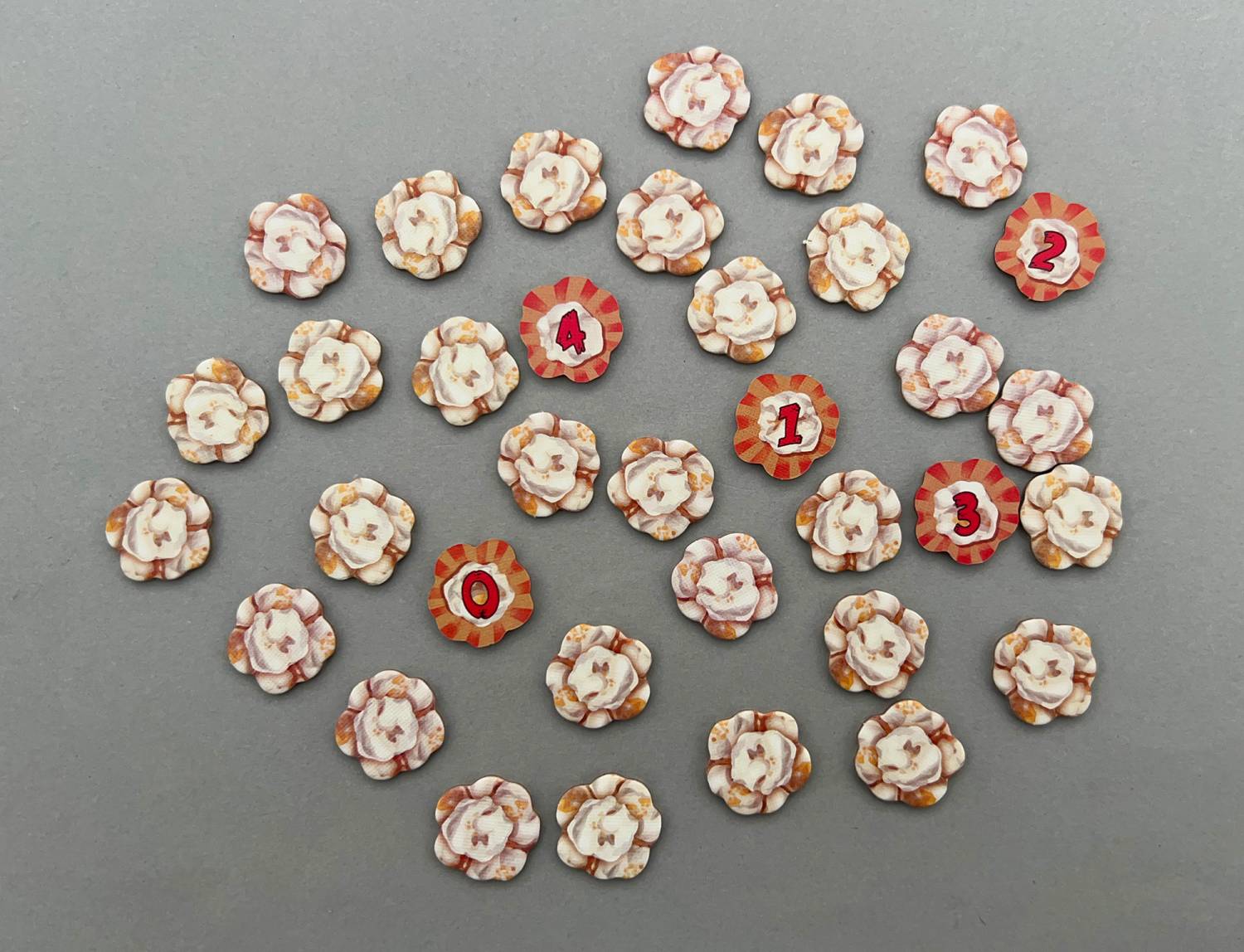 In B Movies, once per round you'll be playing as the writer pitching your blockbuster movie. The remainder of the round, you'll be one of the Producers who is deciding whether to back the idea or not.
To craft their movie, each person is dealt five cards from the large deck of cards. Each card will have one or two words on their face that you'll need to work into your movie title. (e.g. Tornado,  Madhouse, Earthquake, Piranha, Degenerate, etc.)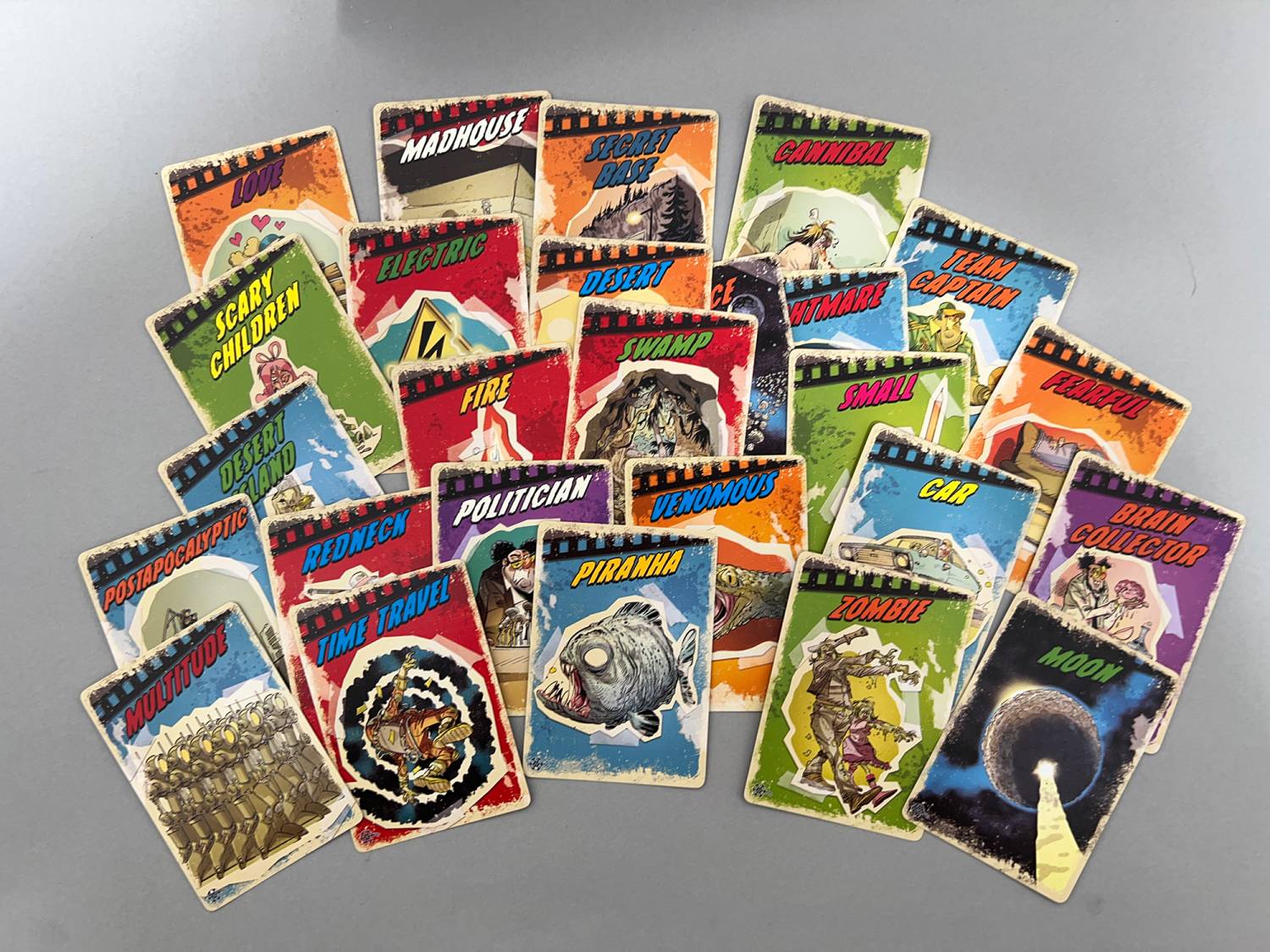 On your turn, as the writer, you'll need to combine between two and four of these cards into a convincing movie title that you'll deliver to the Producers. After you pitch your movie with a narrative background, you'll lay down the cards as you use that word in the title of your film.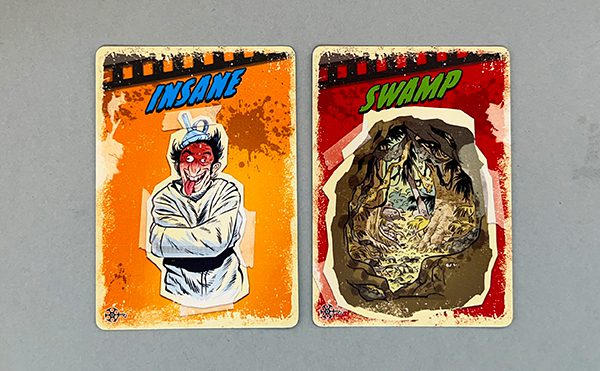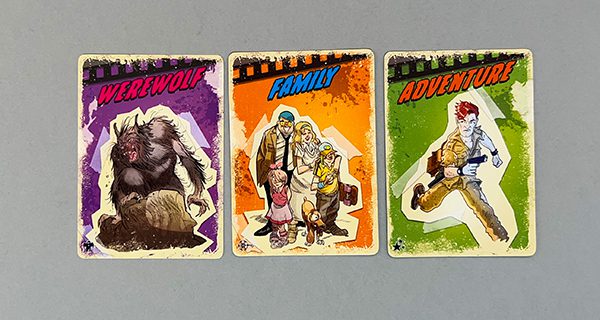 Players are also each given three decision cards: Yes, No, and Yes!
If, as a Producer, you like the movie, you can vote Yes to produce the film. If not, you can vote No. Once per round, you can vote Yes! The difference here comes down to scoring.
Voting comes down to the majority, with ties going to a Yes vote.
As a Producer:
If you voted Yes along with the majority of the other Producers, the movie gets produced. Each Producer who voted Yes collects one face-down popcorn kernel from the box.
If you voted No, you don't get any popcorn.
If you voted Yes! and the movie gets produced, you get one popcorn kernel for every card used in the title.
As the Writer:
If the majority voted Yes, you take your cards and place them face-down beside you for additional scoring (one point per card) at the end of the game.
If the majority voted No, your cards don't score and they go into the general discard pile.
Popcorn kernels have numbers on their face-down side ranging from 0 to 4. This keeps your final score a secret until the end of the game.
You'll play a set number of rounds based on the player count. After the final round, you'll count the cards you kept and turn your popcorn kernels over. The player with the highest score wins.
Doctor X (Ooh Ooh Ooh) Will Build a Creature
Before we move on, I need to do something I rarely do in a game review.
I want to show you the inner box of this game.
The standard 'box' to B Movies is a sleeve that all-but disguises the actual name of the game. However, once you remove the sleeve, you'll see a classic VHS cassette tape, both on the front, the side and back.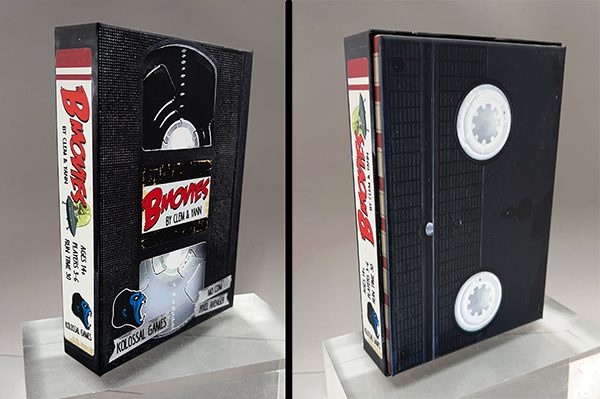 Seriously, if you're of a certain age, you gotta love it.
But When Worlds Collide, Said George Pal To His Bride, I'm Gonna Give You Some Terrible Thrills
Let's just say that there's not a lot of depth to B Movies. Your only decision is whether to vote Yes or Yes! so you can get some potential point-scoring popcorn at the end of each turn. (Why bother voting No? Especially when ties go to the Yeses.) Although, to be honest, this is one of those games where winning doesn't really matter all that much.
Let's also say that B Movies is a lot of fun. Stupid fun, but fun nonetheless. I can think of a lot of worse ways to spend an evening with friends than making up bad movie premises and titles.
And chances are, like me, you will want to do your best Don LaFonaine or Redd Pepper movie trailer announcer voice as you start your pitch with:
"In a world where…"
All of which will make you and your friends laugh as you all try to outdo one another with even more outlandish movie ideas and titles.
So, in a world where I'm not a big fan of party games, with the right group of people, this game is a lot of fun.