Join us as we review the 2019 Best Reprint nominees for Meeple Mountain's 2nd Annual Diamond Climber Board Game Awards.
What makes a good reprint? First, it should fill a need by reprinting a well-liked but hard-to-get title, making it more accessible for those who missed the original. Second, it needs to add something: new artwork, updates to the rules, or incorporating previous supplemental material. Here are the titles that we think hit these marks in 2019.
Don't forget to cast your ballot in our 2019 Fan Favorite voting.
We'll be announcing the rest of the nominees over the next few weeks; then check back on Friday, January 17th when we announce the winners of the 2nd Annual Diamond Climber Awards.
Age of Steam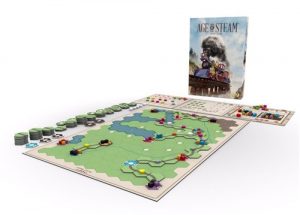 Age of Steam has seen a number of versions over the years, but none have been as attractive as the 2019 reprint by Eagle-Gryphon Games. The gameplay is an intricate route-building puzzle centered around a punishing auction. The original game is iconic for having over 150 expansion maps, each changing up the rules in minor or major ways. This new edition comes with six maps and more are available with Ian O'Toole's artwork.
Publisher(s): Eagle-Gryphon Games
Designer(s): Martin Wallace
Artist(s): Ian O'Toole
Bus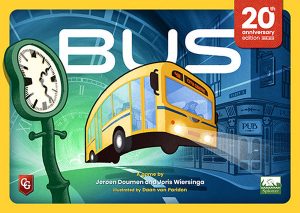 Most games from 1999 don't hold up 20 years in the future, but Bus isn't most games. Though it was one of the first worker placement games, it still does a number of things that are truly unique such as having a limited number of workers to use for the game. Though the rules for Bus aren't too complex, it is a rich, deep, mean game that rivals the quality of most modern games.
Publisher(s): Capstone Games
Designer(s): Jeroen Doumen, Joris Wiersinga
Artist(s): Daan van Paridon
Castles of Burgundy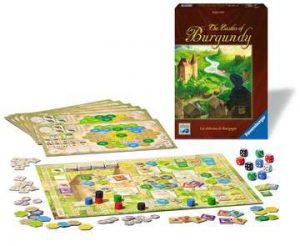 Stefan Feld's Castles of Burgundy was first published in 2011 and has gone on to spawn a number of different expansions. This new reprint combines all of those hard-to-find expansions in one package while also updating the game's old and tired artwork.
Publisher(s): Ravensburger Spieleverlag GmbH
Designer(s): Stefan Feld
Artist(s): Harald Lieske, Julien Delval
Read our review of The Castles of Burgundy.
Dune
Since its initial release in 1979 from Avalon Hill, Dune has been coveted both by fans of the book series and those who appreciated its tense gameplay. With the new reprint by Gale Force Nine, even novice gamers can try their luck in this sandstorm of shifting alliances and asymmetric player abilities.
Publisher(s): Gale Force Nine, LLC
Designer(s): Bill Eberle, Jack Kittredge, Peter Olotka
Artist(s): Ilya Baranovsky
Irish Gauge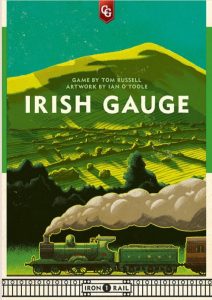 Originally published as part of a Winsome set in 2014, Tom Russell's Irish Gauge saw a reissue by Capstone Games this year, with new art from Ian O'Toole. The game is a lightning-fast investment game about building rail networks, with uncertainty in the dividend payouts. The reprint is the first in Capstone's Iron Rails series.
Publisher(s): Capstone Games
Designer(s): Tom Russell
Artist(s): Ian O'Toole
Read our review of Irish Gauge.
Q.E.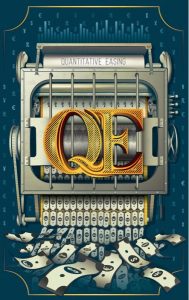 Gavin Birnbaum's economic auction game was based on drastic measures taken by various countries during the 2008 global financial crisis. Players (via dry erase markers and boards) may bid any amount of money they wish during the game to acquire valuable companies, but lose if they have bid the most overall at game's end. For the first printing of Q.E. in 2017 only 43 copies were made and the game consisted of a wooden board and components. Thankfully this critically acclaimed title was distributed by Boardgametables.com for a 2nd Kickstarter campaign with a wide 2019 release.
Publisher(s): BoardGameTables.com
Designer(s): Gavin Birnbaum
Artist(s): Anca Gavril, Gavin Birnbaum