Ah Christmastime or Birthdaytime or (Insert holiday here) time. You've got a bunch of new games and you're dying to play them with your friends. How do you transport all of those games from point A to point B, though? Might we recommend the Wide Load Smart Cart?
As you may or may not be aware, a little while ago I wrote an article in which I compared and contrasted several board game carrying solutions in preparation for my trip to Gen Con. Three of the bags that I overviewed in that article actually belong to other writers here on Meeple Mountain. The remaining three were untried and untested. I could only write about them theoretically. However, that has all changed! In the time since the writing of that article, I have obtained samples of all three of those  bags and I present the second of those three to you now.
Dbest Product's Wide Load Smart Cart
In the interest of consistency, I am going to grade each of these bags on the criteria which I listed in my earlier article: Straps, Portability, Price and Availability, Functionality and Durability, and Capacity. So let's talk about…
Straps: The Wide Load Smart Cart (WLSC) does not come with any backpack straps, but it does come with two durable handles. These straps are fairly long and well crafted. While they work together to provide a handy over-the-shoulder carrying strap for the cart in its broken down state, they are four or five inches too short for them to work as an over-the-shoulder solution when the cart is fully assembled and brimming with games. I can hoist the cart up by its straps onto my upper arms and carry it that way, but it's awkward and uncomfortable to do so.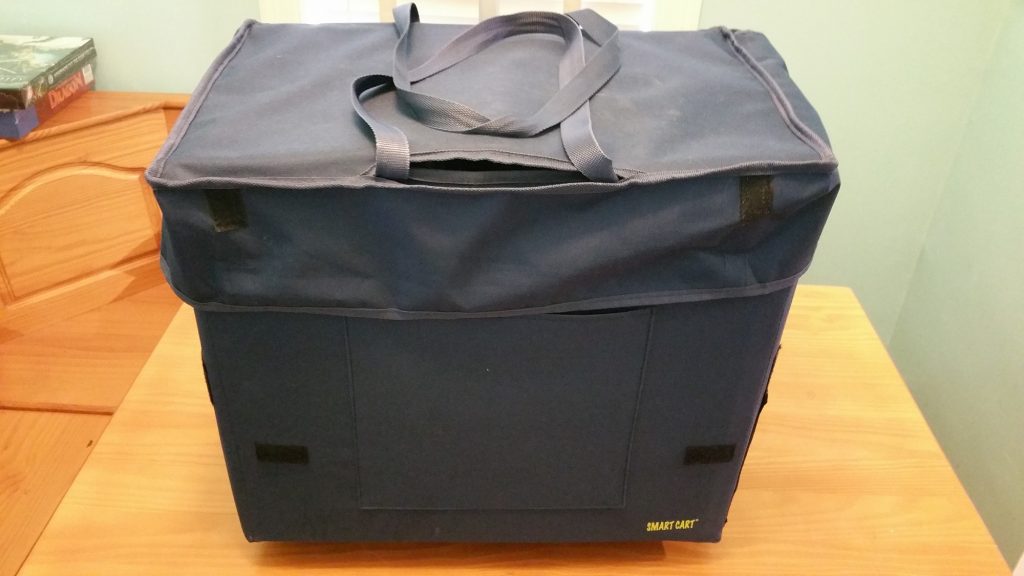 Portability, Price, and Availability: This is where the WLSC excels. Because the WLSC has an extendable handle and wheels, it's very portable (assuming you're moving over a smooth surface). When not in use, the WLSC folds up into a fairly flat bundle which can be stowed away in a closet or under a bed without taking up a great deal of space. It's easily obtainable directly from the manufacturer's website or online shopping outlets like Amazon and the prices can vary. I've seen it for less than $40 and as high as $80. While that $80 price tag might seem a bit high, it's a great value because this cart can be used for more than just carting board games around. My wife uses it when we go grocery shopping, for instance.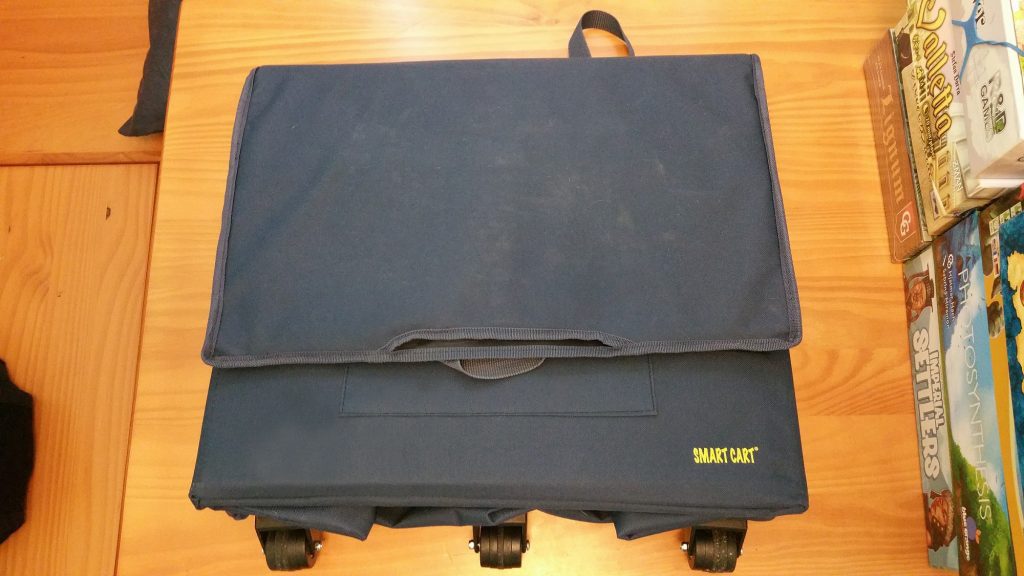 Functionality and Durability: I touched on this in the previous section and it bears repeating, the WLSC is a very functional device. Because of its dimensions and portability, it can be used for a whole host of various purposes – shopping, crafts, as luggage, and transporting board games (of course!) to name a few. Also, because this is a "wide load" smart cart, the cart is able to accommodate games of all shapes and sizes including games such as any of Queen Games's Big Box series without having to set them on their sides. There aren't many board game hauling solutions out there that can boast this.
The WLSC is very durable and well constructed. Nothing about this cart feels cheaply made. I do worry about the handle, though. I'm concerned that it will inevitably break at some point. It extends up the side of the cart and it's made of pretty tough stuff. However, since it's directly in the middle of the cart and it's just one single piece, it means that all of the stress of the weight is put directly on that one single point each time that the cart is tilted back on its rollers. I wish that the handle was made up of two extendible bars as opposed to just one. That would result in more even weight distribution. It is what it is, though. It's held up thus far and my fears may be unfounded, but it's still a realistic concern. As such, I try to use the handle carefully and sparingly. For instance, if I am going up stairs, I put the handle away and use the straps instead of trying to drag the cart up the stairs behind me.
Speaking of dragging the cart behind me, I also wouldn't complain if the wheels were slightly larger. While they are perfectly serviceable as they are, their size makes them not conducive to being rolled through non-flat terrain (i.e. – shag carpet, grass, etc.). If they were slightly larger, the cart could be even better than it currently is because there would be more opportunities to use it to its fullest.
Capacity: The WLSC holds a ton of stuff. At L12" x W21" x H19", it is wide enough and deep enough to accommodate virtually any board game that you can imagine. For instance, consider the game Gloomhaven, one of the largest board game behemoths that I have ever seen. This beast of a game, laid flat, is roughly 8" tall and 16" x 12" in width and length. The WLSC could easily carry two copies of this game with another 3" of height to spare. If that's difficult for you to envision, then consider the following image. I was able to fit all of this inside of the cart. Tiny Epic Defenders was contained in the handy pouch on the outside of the cart: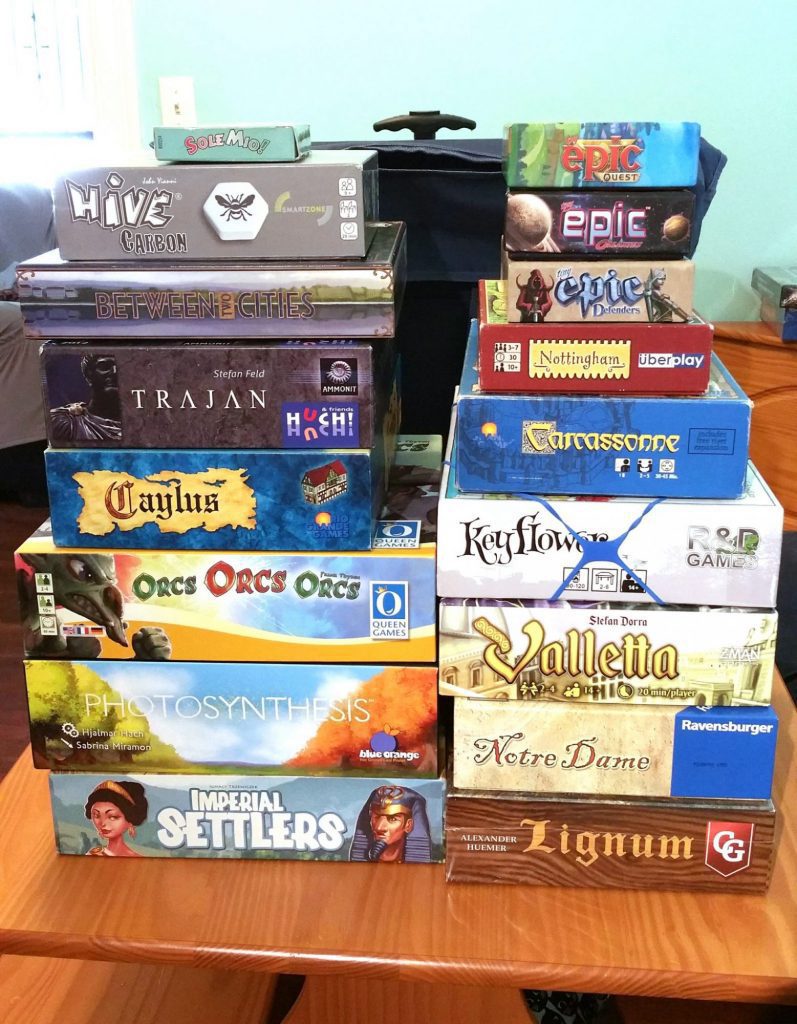 That's 17 different games in that image. As you can see, the WLSC definitely has a great deal of capacity.
Final Thoughts
The biggest drawback to the Wide Load Smart Cart is the price. At nearly $80, it's definitely an investment that you'll want to consider carefully before going all in on it. However, from my experience, it wouldn't be a bad investment. Sure, you could obtain other carrying solutions at a fraction of the price, but none of them offer the same level of portability that the Wide Load Smart Cart has. You just can't beat those rollers!
I really love this cart. It's stylish and functional and does everything that I need it to do. In fact, it's quickly become my go-to board game carrying solution (and my solution for carting around just about anything else) each time that the opportunity to do so arises. Whenever I arrive at my destination, this cart inevitably turns heads. As soon as it rolls in and I lift up the handy, weather resistant flap on top to reveal the treasure trove of games hidden inside, a new fan of the cart is born. I cannot recommend it highly enough!