Quilts & Cats of Calico is a loving digital implementation of the popular board game. Join Andrew in the quilting circle for this Meeple Mountain review.
The team at Monster Couch, the developers of the new digital implementation of Calico, clearly adores the source material. The word "loving" was invented to describe just such an effort as this. Not only is this a solid rendition of the original game; the environment is sprinkled with excellent little details.
On the home menu, for example, you can squish the quilting. You can walk about with your mouse, depressing whatever area of quilt you land on. During the game, when you select and place a tile, little threads appear and tighten around its perimeter, sewing it in. Most importantly, perhaps, you can pet the cats roaming around the screen.
Yes, my friends, you can pet them. If you click on one of these free-roaming felines, they stop immediately, ready for your attention. Other cats gather, envious. The soothing music—acoustic guitar paired with a variation on lo-fi beats that your grandmother would absolutely enjoy—renders the scene so inviting that you could very well find yourself spending several minutes simply petting these cats. Granted, I don't particularly enjoy Calico, so it isn't the most surprising thing in the world that I could get distracted in this way.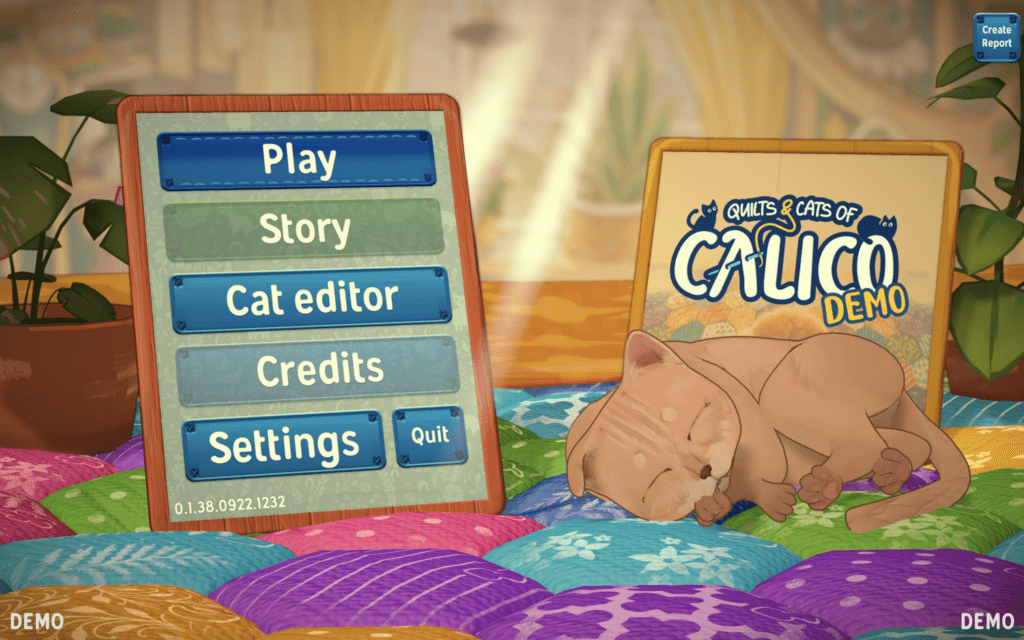 Cali-quoi?
Our fearless leader here at Meeple Mountain, Andy Matthews, reviewed Calico several years ago, before its release. If you're looking at the digital implementation, it seems likely you already know what it is. On the off chance that you don't, though, a quick summary: The goal of Calico is to create a quilt so cozy that the local cats cannot resist it. You score points by arranging tiles in certain arrangements of color and pattern, as dictated by your board and three cats chosen randomly during setup. Players take turns placing a tile and choosing a new one from the market. Once all of your quilts are full, you score.
That's really it. It's a simple little game with a great theme and adorable art. If it isn't interactive enough for my tastes, it is meditative enough to be enjoyable, and its popularity is entirely understandable. People love cats, people love quilts, and people love placing tiles according to randomized scoring requirements.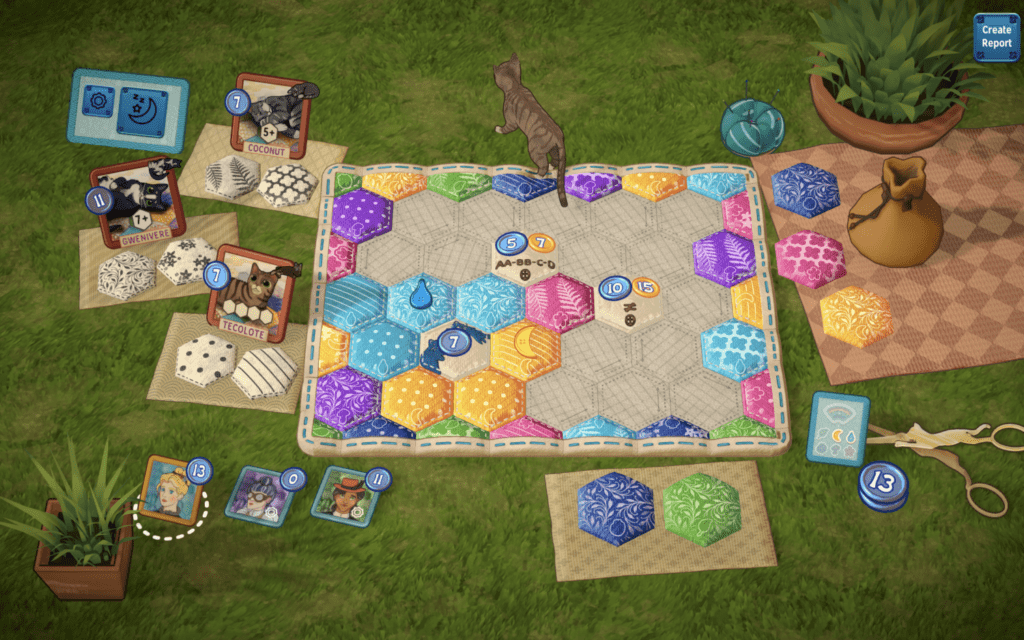 Cali-could
Quilts & Cats of Calico is a great digital implementation. If you love the game, there's no reason to think you wouldn't enjoy the Steam implementation. The music is chill, the cats are cute, and the graphics are good. I didn't get a chance to play the store mode while testing the game in beta, but I have no reason to think it won't be equally as satisfying. If you wish you could play Calico more often, this is your chance. To those about to quilt, we salute you.