Just how are playing cards made? Join us as we partner with Panda Manufacturing to find out everything you wanted to know about playing cards, and more!
Playing cards have a rich and lengthy history. Dating back over 1,000 years to the Tang Dynasty in China playing cards quickly spread to India, Persia, and then throughout Europe.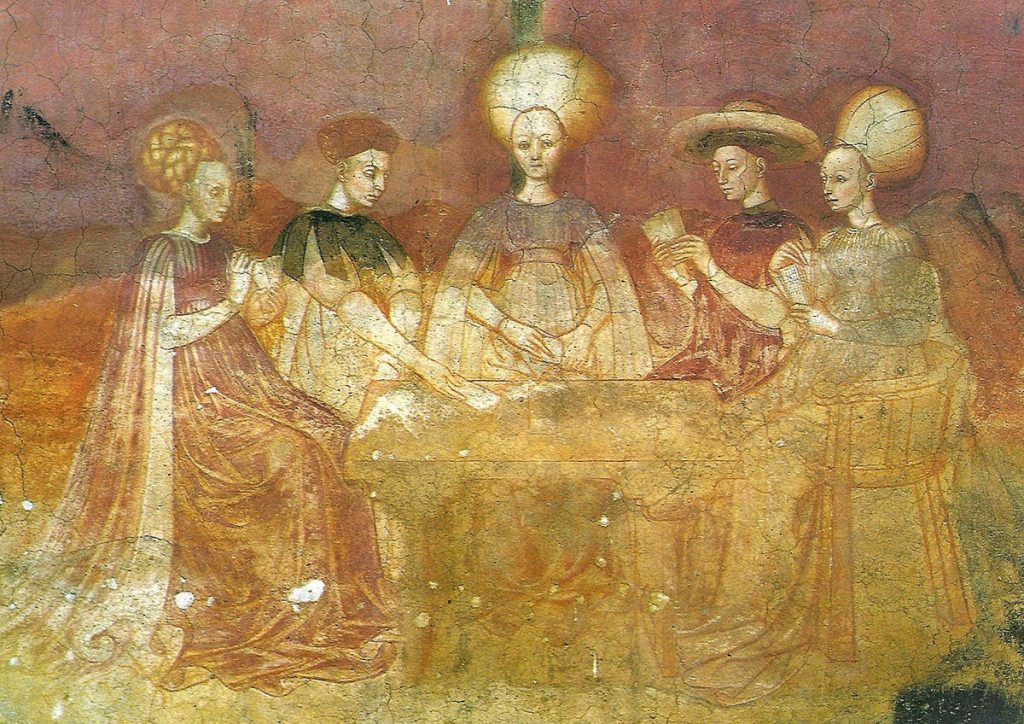 Today's playing cards bear little resemblance to those ancient bits of wood pulp. Sleek, sturdy, and highly produced, the playing cards of today come in an untold multitude of styles, shapes, colors, and thicknesses. Today we learn how Panda Manufacturing produces millions of playing cards per year for all of its customers, and the gaming customers they serve.
Returning from our "How Meeples are Made" article, Brent Kinney, Panda's Vice President of Business Development, is going to take us on a journey through the playing card production process and answer questions you never even knew you had.
Take it away Brent!
Are all cards made from the same basic material?
All cards are made from a cardstock material that has a core. We offer 3 different kinds of cardstock – 300gsm greycore, 310gsm ivorycore, and 310gsm black core cards.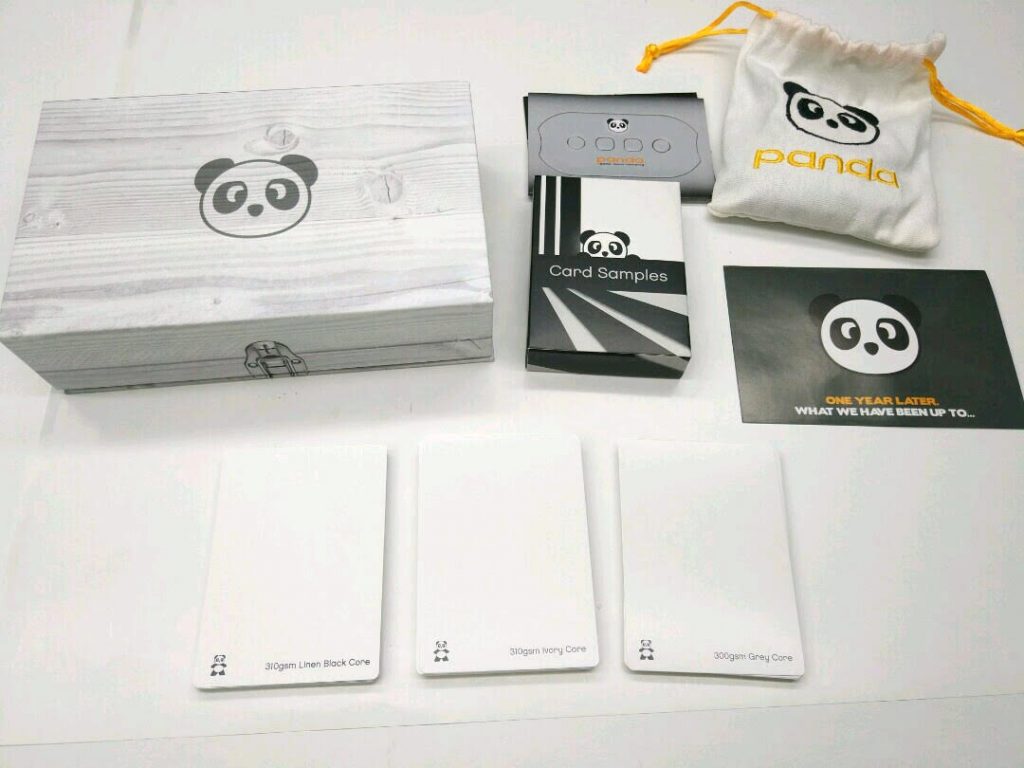 Many publishers use the term GSM to describe their cards. What does GSM stand for and why is it an important measurement?
[The term] gsm stands for grams per square meter – it is a unit of weight when it comes to paper. So a card that is 300gsm would weight 300 grams per square meter of the material. It is important because publisher can tell generally how heavy the cardstock is that is being used. The type of card stock may be named differently or vary from manufacturer to manufacturer (what we call greycore another manufacture may call silvercore), but the gsm measurement is something that can be compared on a near apples to apples basis when it comes to cards.
What are the most commonly printed card dimensions?
The most common card sizes we print are Blackjack (88x63mm), Bridge (57x87mm) and Mini cards (44x67mm) in that order.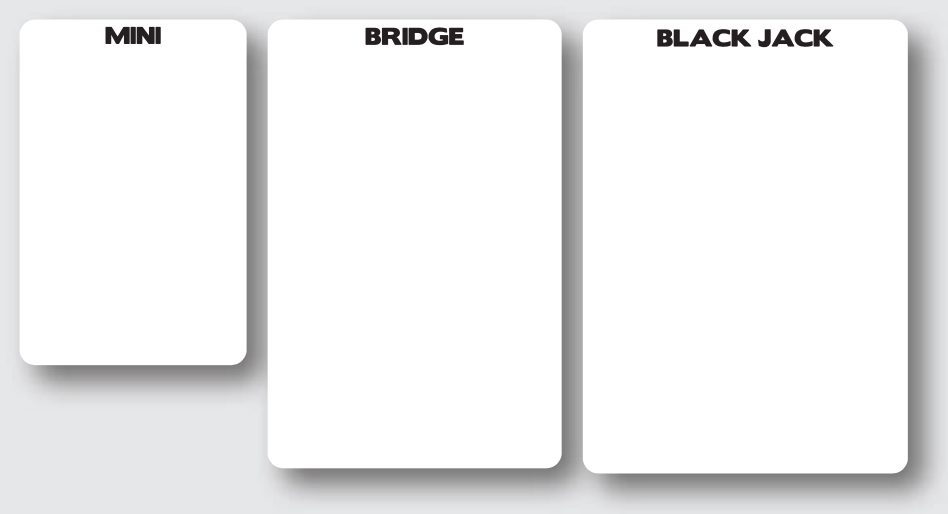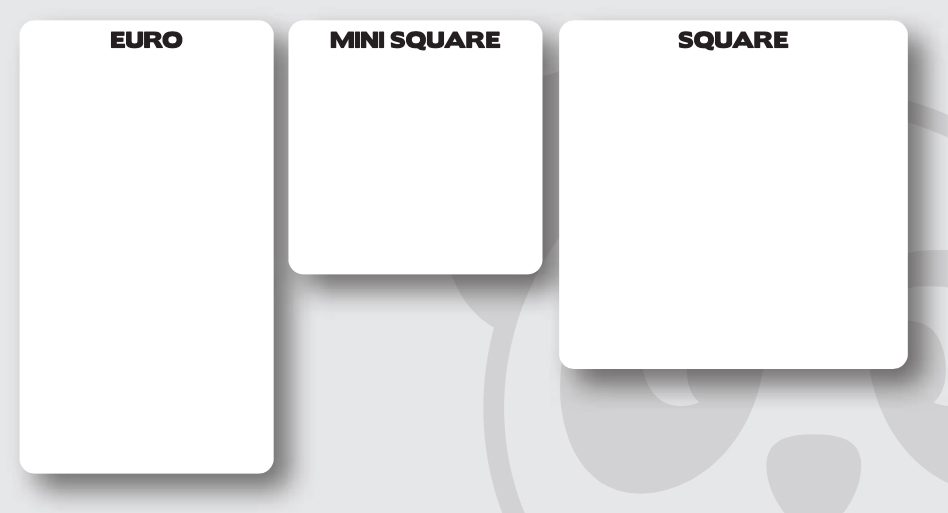 Why are some cards thicker than other cards? Is it primarily a cost difference, or is there a functional purpose?
We look for function in all of our materials. Publishers may choose a thicker cardstock for a gameplay reason – say the cards are laid out on the table as locations for the game or are not shuffled into a deck that often – that would be a good situation for a thicker card. Thicker cards do not always mean more expensive or higher quality, though. There are a lot of factors that go into how a card will perform in a game – its outer finishing, the core of the cardstock, and the weight of the cardstock all come into play when it comes to how a card is used in a game.
What type of cardstock is the most commonly selected, and why is that?
300 gsm greycore cardstock is the most commonly selected cardstock that we offer. It is popular because it is a very good stock at a solid price and works well in a wide variety of game types
Some cards appear to be raw paper, while other cards are glossy? What is that called, how do you do it, and what is the purpose?
All our our cards are finished with an aqueous (water based) finish. This finish helps seal the card and preserve the paper for a longer time. Another finish that can be added on to our cards is called linen finish – this is a cross hatching type pattern that is pressed on to the cards and gives them more texture. The linen finish gives the cards more of a matte finish while cards with just aqueous finish and no linen are more glossy.
Can you briefly walk us through the process of manufacturing playing cards?
The card manufacturing process involves quite a few steps. First obviously the client will indicate how many cards they want to have made and in what cardstock and finish. Then they will upload their art for the cards and our prepress team will review those art files. If the files are acceptable to our printing standards then we will upload a digital proof for the client to approve to make sure there are no typos or any other items they want to change on the files. Once those digital files are approved, our team will make a PPC (preproduction copy) of the game and the cards and send it to the client for final approval – this is a single copy of the game that is made from special machinery.
Once the PPC is approved then we mass produce the game and the cards. The artwork for the cards is laid out front and back on printing plate sheets and then it is printed onto the chosen cardstock sheets.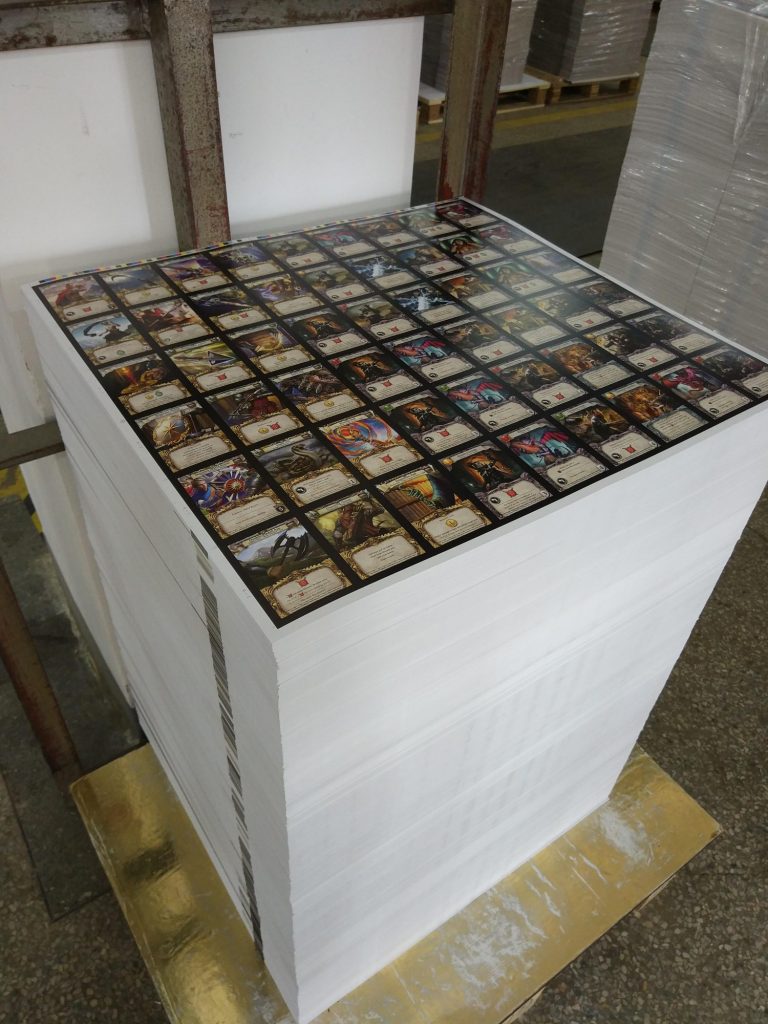 Once the sheets are printed then they are run through a cutting machine that cuts the sheets lengthwise and then runs down a track and cut cross wise to divide up all the individual cards.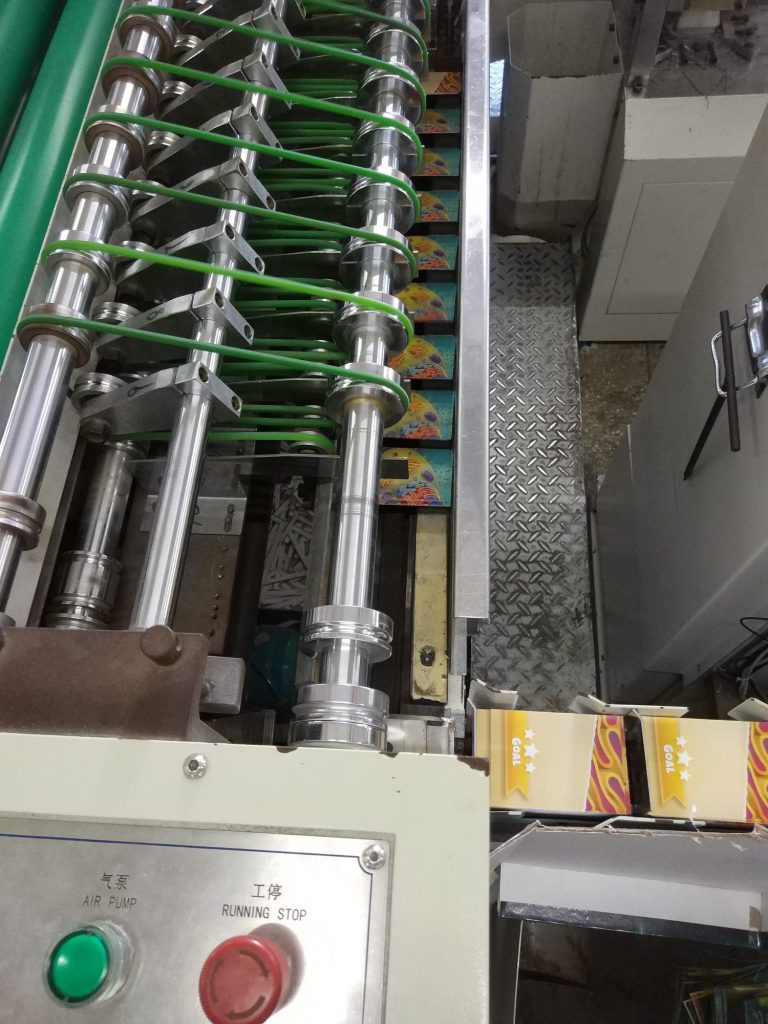 The cards then go through a sorting machine that puts them into individual decks and those decks are run through a shrink-wrapping machine that binds the cards together. Those cards are then assembled into the final game box.
How is the linen finish applied to cards?
It is pressed into the cards in the finishing process. There is a machine that has the pattern on it and it works like a big stamp that is pressed down onto the cards to make the cross hatching pattern of the linen finish.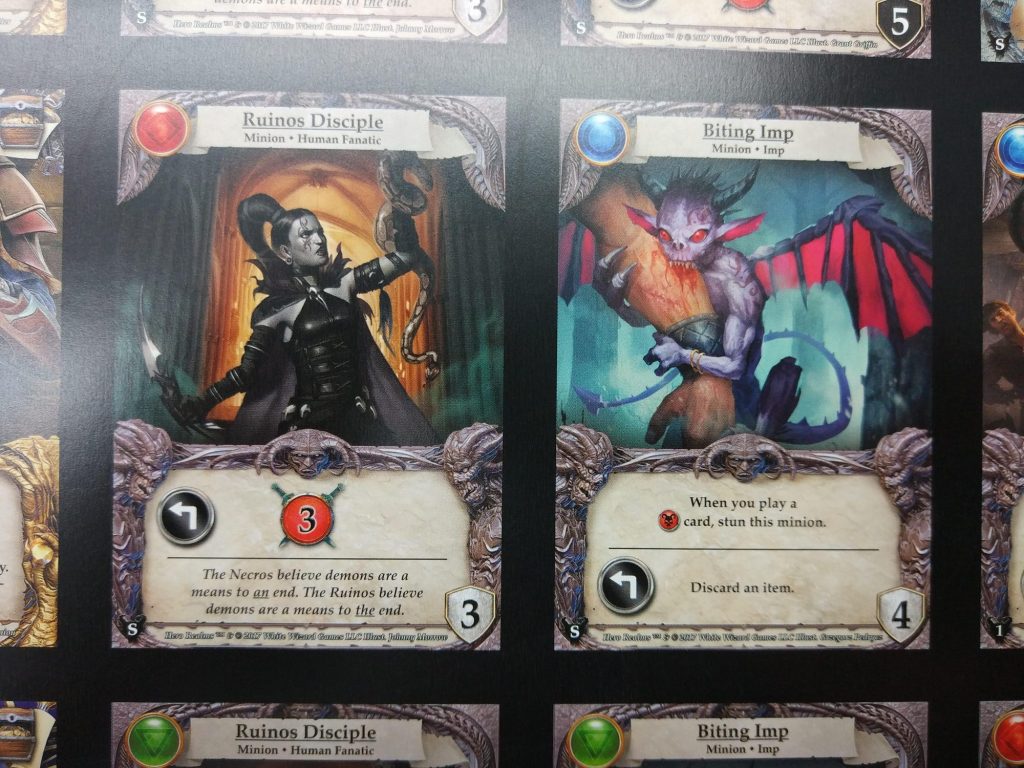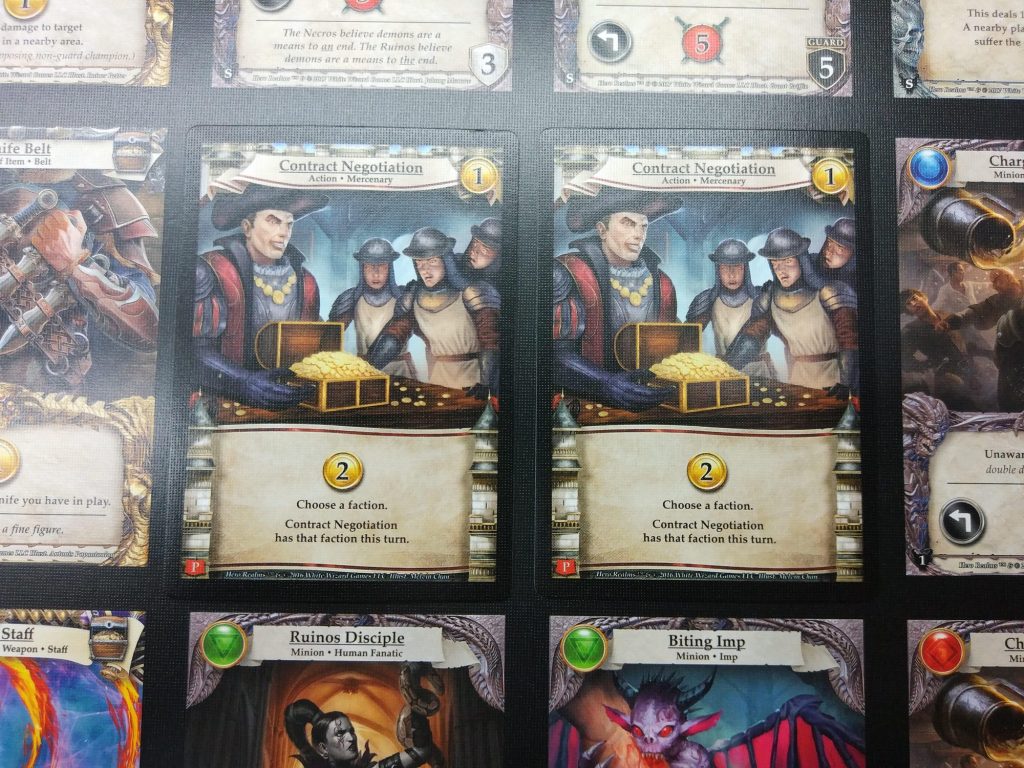 Some cards (collectible card games) boast the terms Ivory, Black, or Blue core cardstock. What is the purpose of these inserts? Does that make the card better, and why?
The core of the cardstock is what determines its flexibility or bend and its recovery. The terms Ivory, Black, grey, or blue core refer to the actual color of the material in the middle of the card. It is not for the faint of heart, but you can rip a card in half and you will see the actual color in the middle – that's why its called by the color of the core! Different core materials allow for better bend and snapback recovery.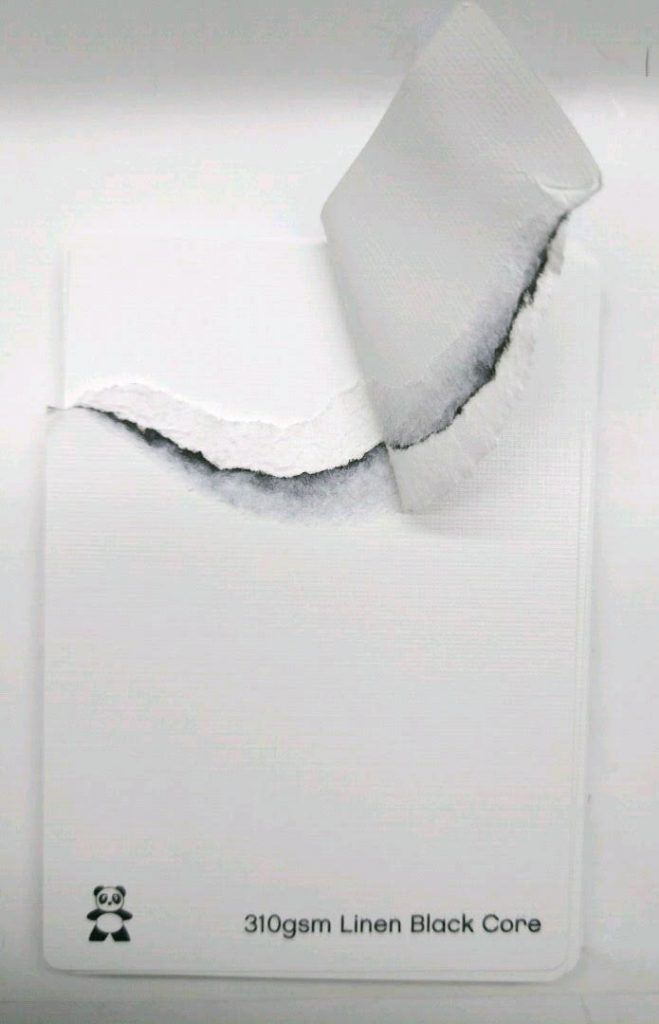 When you print playing cards do you primarily run 4 color? Do you ever do spot color or hexachrome printing?
Yes – our cards are made on a 4 color printing press. We are able to do some spot finishes like UV, metallic ink, or metallic stamping
Does Panda Manufacturing provide playing cards with foil overlays? If so, can you talk to us about that process?
Yes we do, but we usually don't recommend it because the foil can get in the way from a gameplay standpoint – the shininess of the foil [also] makes text harder to read across the table.
What's the biggest print run of playing cards that Panda has ever done?
Our biggest print run of cards probably wouldn't be for a playing card set at all but for a board game. We usually make more total board games than just card sets or decks. So the biggest run of cards we have done would have to be one of our more widespread board game titles like Pandemic or Scythe.
What's your personal favorite set of cards that Panda has produced?
My favorite set of cards that Panda will have produced is not quite finished yet, but we are planning on making a custom poker deck to have at Gen Con this year as samples and that is pretty near and dear to our hearts because it is something that our marketing team has designed themselves internally and it is also a nice nod to our CEO Michael who is an avid poker player.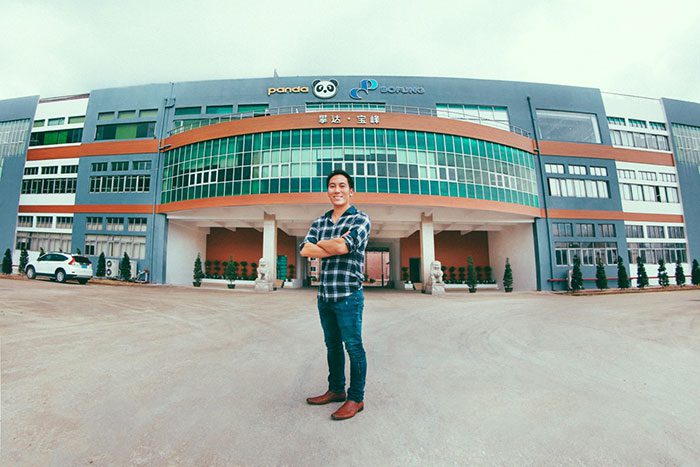 ---
Thanks agin for your time Brent! See you in the next piece! Hankering for a history of playing cards? We have you covered!
---
What do you think about How Playing Cards Are Made? Give us your opinions in the comments below!