Reading Time:
3
minutes
When we announced that we were opening a board game cafe in Nashville we got some odd looks from friends, family, and perfect strangers who don't understand what it is we plan on accomplishing.
"What's a board game cafe"?
"You mean like Sorry and Scrabble and Chutes & Ladders?"
"Aren't board games for kids?"
Why board games?
Board games are big business. At last estimate the board gaming industry was valued at over $1.4B dollars and hobbyists are buying games in ever increasing numbers. An inside industry source indicates that Target has increased its game purchasing budget by 350% and has recently released more than seventy Target exclusive games. But for every person who buys a board game there are a dozen people whose last experience with board games ended with them throwing a tantrum and getting a scolding from their mother.
Board gaming is fun! It's a great way to spend time with friends and family, challenge yourself mentally, learn deductive reasoning, eye hand coordination, and other useful skills. Our goal with the Meeple Mountain Board Game Cafe is to bring both "gamers" and "non-gamers" together into a comfortable, space with nice furniture, a warm decor, tasty treats, and lots of fun games.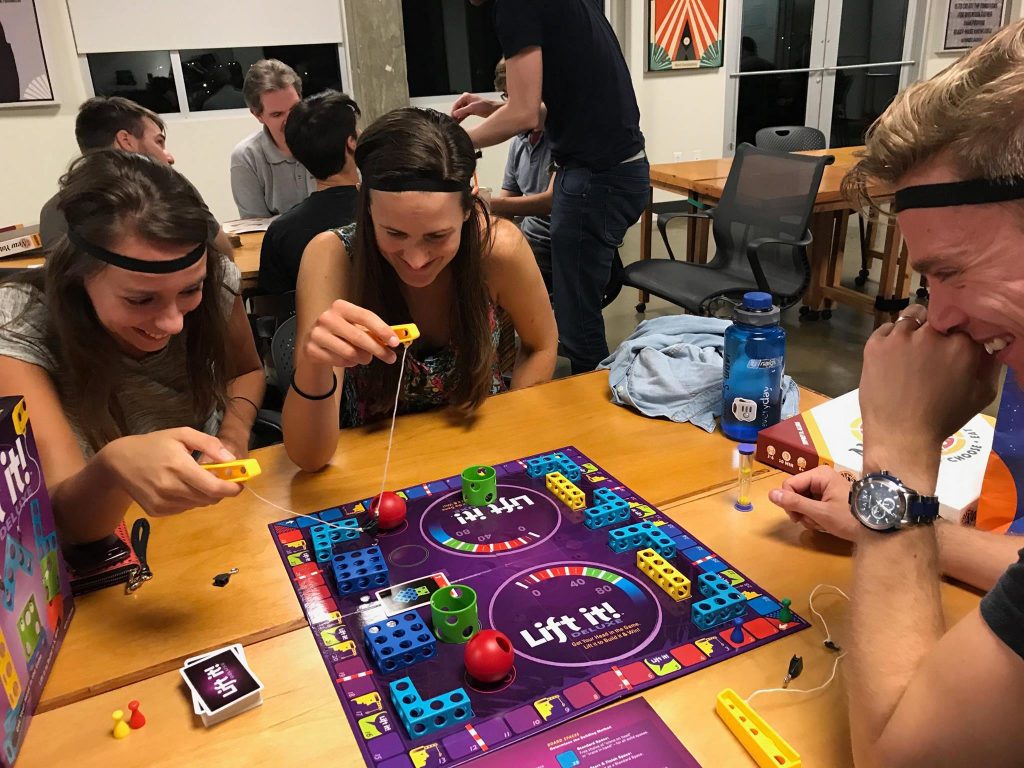 Board gaming in Nashville
Board gaming in Nashville is a happening scene which is totally underrepresented. The nearest game stores are in Madison or Hendersonville and people regularly drive 45 minutes or more from Bellevue and points West to get their fix. Weekly and monthly game nights are cropping up all over the city and yearly events have been a fixture for years.
Nashville Game Night, run by Meeple Mountain had its largest event ever on September 21st with a crowd of over 120. And our yearly event, Nashville Tabletop Day (in it's second year), drew over 300 this past April. Both events have been featured on News Channel 5 within the past year (Nashville Game Night, Nashville Tabletop Day). But these events wouldn't be successful without the large community of gamers we've built up.
Board gaming is gaining such popularity that businesses all over town are beginning to feature games in their stores as a way to attract that extra set of customers. Embers Ski Lodge, JJ's, The Mainstay, Dose, East Nashville Beer Works, Village Pub, Jackalope, Sky Blue Cafe, and more. But the common thread for these establishments is that board gaming is an afterthought, and the games they offer are often worn out, or uninteresting.
That's where Meeple Mountain Board Game Cafe comes in. Board gaming is part of our DNA and we plan on offering hundreds of games to accommodate any level of player, or type of interest.
Board Game cafes are cropping up all over the world. Snakes & Lattes in Toronto is one of the most successful of this genre and runs two wildly popular business in Toronto. People regularly wait hours to get into their Annex and College locations to play games, drink beer, and spend time with their friends. Board game cafes can also be found in California, Georgia, Ohio, Massachusetts, New York, Colorado, and in almost every other state in the country.
Nashville is Ready!
Meeple Mountain is ready to step into the void. Follow us our progress on Facebook as we bring board gaming to the masses in Music City!