Meeple Mountain hosts one of the largest and longest running Game Nights in the city of Nashville. Started in 2014, it has grown from 10 or 15 people to more than 60 people every month. Nashville Game Night is open to gamers of all beliefs and backgrounds and our goal is to cultivate a community that can come together over our shared love of board games.
In addition to growing the board gaming community Meeple Mountain partners with a different Nashville business to host each event.
Why Host Game Night?
From the beginning, Game Night has always been about more than just the games. It's always been about connecting people. One way we facilitate that is by partnering with local companies to host Game Night at their locations. For the price of snacks and drinks and leaving the lights on for a few extra hours, you can introduce dozens of people to your company, your office space, and your culture. Some of those people might be potential hires, leads, or customers.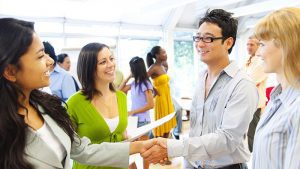 Testimonials
I can't speak highly enough of this meetup …. I met someone whose company was hiring. That chance encounter led to an interview two weeks later, and two weeks after that I started my first day as a front-end developer at Smartvue.

– Zoltan Alberts
What Game Night Needs From You
If your company is interested in hosting a game night, please contact us using the button below. We ask that hosts provide the following:
A safe, non-threatening space for 40-50 people in a semi-central location.
Parking accessibility. Doesn't have to be free, but nearby and safe.
Light snacks and drinks for that many people (we will provide a head count 2 days before the event). Food is great as well, but not necessary.
Past Hosts